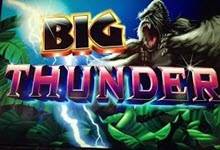 Ainsworth
Big Thunder
Take a trip into the jungle and explore a tropical paradise with Big Thunder, the online video slot from developer Ainsworth. Discover the inhabitants of the rainforest and delight in unexpected sights such as tumbling waterfalls and ancient artefacts while you spin the reels to win.
Play for free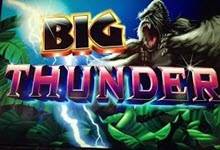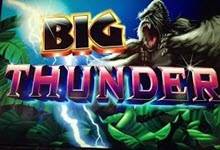 Unfortunately, this game is not available in your location
Why am I getting this message?
Thank you for informing us. Our engineers will work to fix the problem as soon as possible.
Get notified by email when this game is fixed
Thank you. Our engineers will inform you when the problem has been fixed.
Try these similar games instead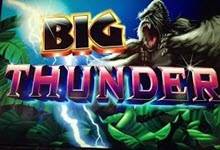 Ainsworth
Big Thunder
Rate this game:
Take a trip into the jungle and explore a tropical paradise with Big Thunder, the online video slot from developer Ainsworth. Discover the inhabitants of the rainforest and delight in unexpected sights such as tumbling waterfalls and ancient artefacts while you spin the reels to win.
Play for free
Report a problem with this game:
Big Thunder Slot Review
Big Thunder is a very interesting video slot. It has a very obvious influence in its theme, with the giant gorilla taking a prominent place in the title screen giving off a big King Kong vibe. However, the game itself certainly isn't derivative. It has a really nice bonus feature included as well as the ability to win a set of fixed jackpots on any spin. There's a bonus reel that's attached to this which makes it really interesting. Keep reading to learn more about what this game has to offer.
Pros and Cons
The bonus reel can help to trigger the jackpot on any spin

The free spins round has multipliers included in it

Extra spins can be earned during the bonus round
Maximum payout is quite low for a high variance game
Big Thunder Overview
Big Thunder is a standard video slot (1). When players have set their stake the reels are spun and if the right combination of symbols lands on a payline then a win will be paid out. It really is as simple as that. There are bonus features included in the game which help to add a little extra engagement and fun. In terms of what it offers in a technical sense, Big Thunder manages to compare well to other titles on the market.
RTP
The RTP for Big Thunder is a little bit below the market average. It's set at 94.38%. This is lower than the range for most titles which tend to set just above the 95.5% mark. The RTP of 94.38% means that on average when 10,000 credits are wagered on the game, there will be a return of 9,438. Obviously, this won't be the case for every game for every player, but when it's averaged out this should be how the payouts work out.
Variance
The variance for the Big Thunder slot machine is set at high. This means that it's a game that's been designed mainly for more experienced players. A high variance will provide wins less often than lower variance games, but when the wins do take place they will normally be of a higher value.
While the RTP is below the market average, the high variance means that there are some excellent wins available in this game.
High variance games will often be hard for beginner players to access due to the low hit frequency (2), however more experienced players will be able to see past this and will be able to get more from the game.
Hit frequency represents the percentage of spins that result in a payout of at least one coin. This is another way of expressing the variance. A low hit frequency equates to a high variance.
Wager Limits
The limits on wagers for Big Thunder are set at 3,000 credits for the upper limit and 0.01 for the lower limit.
Theme and Graphics
The theme for Big Thunder is all set out around a giant gorilla. It has obvious parallels with King Kong, but it approaches it from a slightly different perspective, possibly due to copyright issues.
All of the images in the game are based around the jungle where Big Thunder lives and it really helps to set a fantastic atmosphere. Each symbol has a small animation that players when it's involved in a winning line. The sounds also match up to the graphics very well, with the spinning reels and a win creating an excellent jungle themed sound.
How to Win at the Big Thunder Slot
Game Rules
The game is very simple to start playing. All that has to take place is setting the stake and then spinning the reels. While there are some additional features included in the game, we will cover them in more detail a little bit further down. Wins are created when at least 3 symbols appear on a payline and the scatter symbol can pay out wherever it lands.
There is also an autoplay feature which allows players to set a number of spins that will be carried out automatically. This stops when a bonus round is triggered or if specific parameters that the player can set are met.
Betting Options
The wager range is set at between 0.01 and 3,000.00 credits. This is due to the coin size being set at 0.01 and 100.00. As there are 30 paylines in the game, which can be customised, this is where the maximum and minimum wagers come from.
It should be noted that while it is possible to lower the number of active paylines in the game, this isn't something you want to do. The more paylines that are active, then more chances you have of creating a winning line.
Symbols and Values
The symbols in the Big Thunder online slot all match up to the overall theme of the game. There are a range of jungle themed symbols in place for the higher paying symbols in the game with the standard slot staple of card symbols for the lower paying symbols.
There is also a wild symbol and a scatter symbol included. Both of these are integral to how the game plays. The wild symbol doesn't pay out anything during the base game, but in the bonus round it does pay out for at least 3 on a payline. The scatter symbol pays out an instant win when at least 3 are collected as well as awarding the free spins round. The high paying symbols are as follows:
Waterfall
Snake
Shield
Drum
Mask
As is almost always the case, the lower paying symbols are card values. Most slots use this method and it's pretty much an industry standard at this point. Here's what you can expect to see in Big Thunder:
No symbols appear stacked in Big Thunder, so this means that full sets of reels aren't possible. This does slightly lower the win potential, but the wild symbol and multipliers in the bonus round helps to increase things slightly. In a change from the usual slot mechanics, wilds can replace scatters during the bonus round.
The exact values of the different symbols can be found in the paytable below:
| Symbol | 3 on a Payline | 4 on a Payline | 5 on a Payline |
| --- | --- | --- | --- |
| | 0.60x | 6x | 15x |
| | 0.10x | 0.50x | 2x |
| | 0.10x | 0.50x | 2x |
| | 0.08x | 0.75x | 1.50x |
| | 0.08x | 0.75x | 1.50x |
| | 0.05x | 0.50x | 1x |
| | 0.05x | 0.40x | 0.75x |
| | 0.05x | 0.20x | 0.50x |
| | 0.05x | 0.20x | 0.50x |
| | 0.05x | 0.10x | 0.40x |
| | 0.05x | 0.10x | 0.40x |
| | 0.05x | 0.10x | 0.40x |
Big Thunder Features
There are a number of features included in the Big Thunder slot machine. These are mainly applied to the scatter symbol and the bonus reel in the base game. The free spins is where multipliers can be found and the bonus game is what awards the fixed bonus jackpot.
Jackpot
There are technically two different ways to win a jackpot in Big Thunder, each one paying out a different fixed jackpot. Although Big Thunder is a high variance game, there isn't a progressive jackpot in place (3).
The first is the bonus jackpot which pays out 333.33 times the player stake if it's won. The second is a fixed payout during the free spins round which pays out 500 times the player stake on a single spin.
A progressive jackpot offers a larger payout through an increase in the population base (through joining a consortium of states or countries) which will increase sales and make it possible to offer larger jackpots.
Bonus Games
The bonus game is the jackpot bonus in Big Thunder. It's basically paid out whenever 5 of a single symbol appear on a payline during the base game, without wild symbols, and the king strike symbol lands on the bonus reel. The higher the value of the 5 symbols the higher value the bonus jackpot will be.
Free Spins
Free spins are awarded whenever at least 3 of the scatter symbols land on the reels. Players are awarded 15 spins straight away and then taken to a new set of reels. Here there are 6 individual reels with the final reel reserved for the multiplier values or additional scatter symbols. 3 or more scatters will award an extra 5 spins during this round. A multiplier of 3 or 5 can land on the bonus reel and this will be applied to any wins that are created.
Play Big Thunder on Mobile
Big Thunder has a fantastic mobile version available. Although it's one of the older titles on the market, it did receive an update in 2020 to ensure that it's HTML5 compatible. It means that most modern mobile devices can easily run Big Thunder, making it one of the top mobile games around. This shows that Ainsworth is dedicated to making sure its players have the ability to enjoy its games no matter what device they are playing on.
Big Thunder saw an update in 2013 which made sure that the game had HTML5 compatibility. This means it can be played on most mobile devices.
Big Thunder Slot Game Tips
Big Thunder uses a random number generator to decide how the reels are going to land. Because of this it makes it impossible to accurately predict where each reel will land. Players cannot create a guaranteed winning strategy because of this. Even though this limits the amount of skill involved in playing the game, there are ways to increase the chances of you walking away with a profit. We've collected our top tips to help you on your reel spinning journey.
Be Sensible with your Budget
Poker players might go all-in on a single bet from time to time, but you wouldn't see them doing this without having any idea of what will happen. That's what a video slot gives you, no idea of what will happen on each spin. Because of this you have to be sensible with your stake level. Give yourself as many spins as you possibly can, this will make it more likely that you will get to the bonus round, which is where the best payouts are.
When your Budget is Done, so are you
Making an extra deposit when your budget is finished is one of the worst things that you can do. Too often players will make an extra deposit to try and win back what they have lost. This is called chasing losses and it can end up getting you into a lot of trouble. Once your budget is finished, accept that it wasn't your day and walk away.
Don't be Afraid to Practice
While it might not make any sense to practice in demo versions of the game, it can actually help a fair bit. You won't be able to guarantee how the reels will spin by playing demo versions, but you will be able to get a feel for how the maths model works in the game. A demo mode lets you do this without spending any of your budget. So you can get a feel for the game and work out how many spins you are likely to need to get to the bonus round.
Overall Rating
Big Thunder is a great video slot game. It has a lot going for it and even though it looks like a standard video slot, it's still quite innovative. The bonus reels help it to stand out in a big way! We have put together a quick capsule review of the most important things you need to know about Big Thunder to help you decide if it's the game for you:
Big Thunder has a great user experience in place. It's simple to use, has a great autoplay feature and is compatible on the majority of mobile devices. This really is one of the most user friendly titles on the market.
There are two main features in Big Thunder, which is a pretty good amount. The free spins round is a lot of fun, with the new set of reels making sure it provides something different to the base game. The bonus jackpot can trigger at any time, making big wins possible on any spin. It's a good selection that makes this game a lot of fun.
The payouts here are a big lacklustre for a high variance game. The maximum payout of around 500 times the player stake on an individual spin is quite a bit below what other high variance games have to offer.
Although the sounds could be improved here by playing at all times, on the whole the aesthetics for Big Thunder are very good. The graphics are very well designed, with each symbol that's included in a win playing a small animation to add a bit of extra polish to proceedings. This is a very nice looking game and it has aged extremely well.
Big Thunder will grab your attention right away. The graphics look very nice, the base game is interesting and the bonus rounds add a lot of extra fun. Although the RTP is a little bit low and the maximum payouts could be higher, it can pay out high payouts in quick succession. This is definitely a game that is worth more than the sum of its parts.
Big Thunder FAQs
Where can I play the Big Thunder slot for free?
You're able to load up and play a demo version of Big Thunder here at MrGamez.com. You'll be able to get to grips with the game without using any of your budget.
Is the Big Thunder slot game available at real money casinos?
Yes it is. Just search for the best real money casino for your needs and you will be able to get playing almost right away.
Can I play the Big Thunder slot machine in my country?
You will need to look over our casino reviews in order to find out if there's a casino in your jurisdiction that offers this title. It is available in a lot of countries so the chances of you not being able to play it are quite slim.
What is the highest payout on the Big Thunder online slot?
The highest payout in Big Thunder online is 1,500,000 in a single spin. This is achieved on the maximum stake and with the 5 times multiplier added to the top win in the free spins round. However, this can be achieved multiple times if the free spins awards this payout more than once.
References
Slot Machine (2021 October 23). Retrieved August 26, 2021, from https://en.wikipedia.org/wiki/Slot_machine

Singh, A (2008 May). Retrieved August 26, 2021, from https://www.researchgate.net/publication/247785177_Decreases_in_a_Slot_Machine%27s_Coefficient_of_Variation_Lead_to_Increases_in_Customer_Play_Time


Cook, P (1989 April). Retrieved August 26, 2021, from https://www.nber.org/system/files/working_papers/w2928/w2928.pdf
Game statistics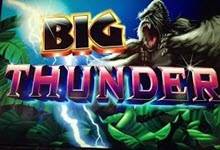 Players who played this game also played: