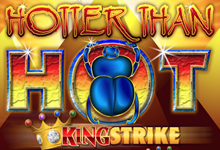 Ainsworth
Hotter Than Hot
If you have been touring the slot game universe for a while, you know exactly how popular Egyptian games can get.
Play for free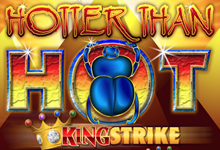 Ainsworth
Hotter Than Hot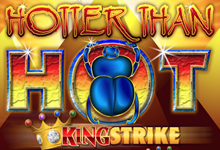 Ainsworth
Hotter Than Hot
Unfortunately, this game is not available in your location
Why am I getting this message?
Thank you for informing us. Our engineers will work to fix the problem as soon as possible.
Get notified by email when this game is fixed
Thank you. Our engineers will inform you when the problem has been fixed.
Try these similar games instead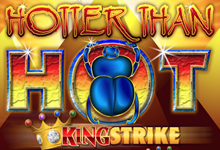 Ainsworth
Hotter Than Hot
Rate this game:
If you have been touring the slot game universe for a while, you know exactly how popular Egyptian games can get.
Play for free
Report a problem with this game:
Hotter Than Hot Slot Review
Hotter than Hot approaches the classic video slot theme of Egypt in a fun manner. The symbols in the game are obviously related to Egypt but it's the features that really grab the attention of players. The expanding wild symbols and wild stacks make this a game that can provide big wins on any spin. On top of this there is a bonus reel included and four fixed jackpots. If this sounds exciting to you then keep scrolling to learn everything that it has to offer.
Pros and Cons
The jackpot can be won on any round

During the free spins the final reel is completely wild

Additional spins can be offered during the bonus round
The fixed jackpot is set at 333.3 times the player stake, quite low for a high variance game
Hotter than Hot Overview
Hotter than Hot is a video slot that's made the move from land based casino game (1) to online title. It follows the standard video slot template with the reels spinning when a stake is set and then paylines being used to create the wins. It also has bonus features included which makes it more fun and exciting. With a fixed jackpot in place this is a game that can provide wins in a variety of different ways.
RTP
Hotter than Hot has an RTP that comes in a little bit lower than other video slots on the market. Set at 94.4% this is below the market average. This is definitely a bit of a downside to the game. The RTP value basically means that over the course of an average play session every 1,000 credits that players wager, 944 will be returned. Of course, you shouldn't take this figure to mean every game will end that way. Because it's an average this was worked out over millions of spins of the reels.
Variance
Hotter than Hot has a high variance. High variance games are normally aimed at players who are comfortable with how slot machines work. This means players with a lot of experience or high roller players. High variance games don't provide regular wins in the way a low variance game will, but they do have higher win values when they do come along.
The high variance means that big wins are possible in Hotter than Hot. However, the low RTP means that you will have to manage your bankroll sensibly in order to get the most out of it.
The high variance means that wins won't come along too often but when they do they tend to be wins that are higher than the stake. (2) This does mean that although it takes longer for wins to come along, when they do they offer a better level of return.
Because Hotter than Hot is a high variance slot it means that it doesn't feature many wins that are set below the stake level. This means its wins tend to be of a higher value than the initial wager.
Wager Limits
Hotter than Hot has between 1 and 30 active paylines at a time. A single coin is wagered on each payline. With a minimum coin value of 0.01 and a maximum coin value of 100.00 it means that the wager range is set at 0.01 to 3,000.00 for this title.
Theme and Graphics
Hotter than Hot has an Ancient Egypt theme in place. It means that all of the graphics are based around Egyptian items. There are Egyptian symbols in place as well as the scarab beetle that's pretty much expected in titles like this.
The graphics all look fantastic in this game, which makes them look great on the screen. It instantly makes the game stand out, especially with the colour palette that has been used. The sounds also match up well, although it would be nice to have some music playing during the game. On the whole, the aesthetics match up with the theme superbly.
How to Win at the Hotter than Hot Slot
Game Rules
It's an extremely simple game to play. The first step that players have to take is to set their stake. Once this has been done then the button to get the game started is located in the bottom right hand corner. Once this has been pressed the reels will spin. If at least 3 matching symbols appear on consecutive reels from left to right on a payline then a win will be created.
If you want to use a bankroll management system then there's also an automatic play button. This makes it easy to set up a specific number of spins. There are also win and loss limits included in the autoplay menu. The autoplay stops if any bonus rounds are activated.
Betting Options
The betting options in the Hotter than Hot slot allow bets of between 0.01 and 3,000.00 credits to be placed. The reason for this is the large coin value choices combined with the customisable paylines of up to 30 on the reels at any time.
While players can make the number of paylines on the reels lower for each spin, it's important to remember that this also lowers the chances of creating a win. It does increase the total wager, but having more paylines active means more chances to create a win.
Symbols and Values
All of the high paying and bonus symbols in the Hotter than Hot slot are all based around the game's theme. So, it means that Egyptian style symbols appear on the reels on a regular basis. What the game does for the lower paying symbols is use the standard trope of playing card values.
The wild and scatter symbol are the two bonus symbols in the game. The wild can appear in stacks on any reel except the first reel. The scatter symbol triggers the bonus round and also pays out an instant win. The wild shows the pyramids and the scatter is a scarab beetle. They both add a lot to the excitement that can take place in the game. The high paying symbols for Hotter than Hot are as follows:
Bird
Necklace
Treasure
Eye of Horus
Flower
There is also a King strike symbol which only appears on the sixth bonus reel. The low paying symbols in the game are all related to playing cards. These are the low paying symbols that are featured in the game:
The wild symbol in Hotter than Hot only appears on the 2nd, 3rd, 4th and 5th reels. It can appear stacked on each of these reels. This is the only symbol that can appear stacked on the reels, which slightly lowers the possible wins that are on offer.
If you want to get a full picture of what the potential payouts for the Hotter than Hot slot machine are then check out the paytable below:
| Symbol | 3 on a Payline | 4 on a Payline | 5 on a Payline |
| --- | --- | --- | --- |
| | 1.50x | 6x | 30x |
| | 0.05x | 1x | 3x |
| | 0.05x | 1x | 2x |
| | 0.05x | 0.75x | 1.50x |
| | 0.05x | 0.75x | 1.50x |
| | 0.05x | 0.50x | 1.20x |
| | 0.05x | 0.40x | 0.80x |
| | 0.05x | 0.20x | 0.80x |
| | 0.05x | 0.20x | 0.80x |
| | 0.05x | 0.10x | 0.50x |
| | 0.05x | 0.10x | 0.50x |
| | 0.05x | 0.10x | 0.50x |
Hotter than Hot Features
There are two main features included in Hotter than Hot. The first is a jackpot feature that's linked to the bonus reel. The second is a bonus spins round that provides extra wild reels to players.
King Strike Jackpots
The jackpot in Hotter than Hot is won through the bonus reel. There are 4 different jackpots available with the top jackpot paying out 333.33 times the player stake. This is a relatively low jackpot payout, especially for a game with a high variance. It's a fixed jackpot (3) as opposed to a progressive one.
Each jackpot is won when different combinations of wins are created in conjunction with the king strike symbol appearing on the bonus reel. The higher the value of the symbol that is included in the winning line the better the jackpot that is offered. It also has to be a complete payline with 5 symbols included for the jackpot to be awarded. If wild symbols are included in the win then the size of the jackpot is lowered slightly.
A non-progressive jackpot has a fixed prize whereas a progressive jackpot has potentially no limit on the prize.
Bonus Games
The only real bonus game that's included in Hotter than Hot is the free spins round. While the jackpot certainly counts as a bonus feature, it's not a bonus game as it is instantly paid out when it lands.
Free Spins
The free spins round is activated in Hotter than Hot when more than 2 of the scatter symbols land on the reels at the same time. This will pay out an instant win of between 5 and 100 times your stake and awards 10 free spins. During the free spins round the final reel is completely full of stacked wild symbols. On top of this, whenever a wild symbol lands on the 2nd, 3rd or 4th reels these will expand to fill the reels. It means that creating wins during the free spins round is much easier. On top of this, if 3 or more scatters land during this round then an extra 5 free spins are awarded.
Play Hotter than Hot on Mobile
Hotter than Hot is available to players on mobile. Despite being created in 2013 it was updated in 2020 to make use of HTML5 technology and be compatible across a number of devices. So, mobile devices can easily run the game without having to worry about slowdown or stretched graphics. This is a fantastic move from Ainsworth to give mobile players the opportunity to enjoy the game on the go.
With an update taking place in 2020, Hotter than Hot has been crafted to ensure that all players are able to enjoy it no matter which device they like to play on.
Hotter than Hot Winning Tips
The way the reels land is all decided by random numbers. This is because video slot games use a pseudo random number generator in order to create the spinning sequences. Hotter than Hot is no different. While this makes sure the game is fair for everyone, it also means that it's not possible to guarantee wins. So, video slots aren't a skill based game when related to each individual spin. However, you can make some tweaks to how you play in order to make the game play a little bit more in your favour. Take a look through our tips to get up to speed with supercharging your slot action.
Manage your Bankroll
Too many players go all out right from the start with the maximum stake they can afford for each spin. Unfortunately, this is very rarely successful. Video slots are unlikely to trigger bonus rounds or big payouts off just a few spins. This is why you need to set your stakes at a level that will give you at least 150 spins. From here you will have a better chance of getting into the bonus rounds, which is where the bigger wins are available.
Never Chase Losses
If you are on a bad run and your budget has run out, then it's time to stop playing. Making another deposit because you think a big win is on the way is the easiest way to lose money you didn't intend on playing with. While it might pay off sometimes, more often than not it won't happen that way.
Demo Games are your Friend
This may be one of the most confusing aspects to playing video slots for some players. Although we've gone over that video slots are random due to the maths models that are in place, demo versions of games still have a lot to offer. They allow players to get used to how the gameplay works and from there, players can work out a sensible strategy in order to budget their bankroll and trigger the bonus round as much as possible.
Overall Rating
Hotter than Hot has a lot going for it. It's a very interesting title with a really engaging theme. It also has some great features included which can enhance gameplay when they appear. The bonus reel is a nice touch for the jackpot as well. We've covered the vital areas of the game to make it simple for you to discover if you want to feel the heat with Hotter than Hot:
Users are treated very well with Hotter than Hot. The autoplay feature makes it very simple to choose how the spins are carried out. This is perfect for players who want to enact a bankroll strategy. On top of this it works wonderfully well on mobile devices, with great visuals and controls.
In terms of features, Hotter than Hot is a little bit above average. The free spins round is enjoyable and it offers plenty of wilds to increase wins, however the lack of multipliers does mean that some of the wins are on the small side. The ability for the jackpot to be awarded on any spin is a big positive which does make the bonus features a slightly better prospect.
When it comes to payouts, it does leave a fair bit to be desired. The jackpot offers the largest single payout at 333.33 times the player stake, however the free spins round can offer more than this over the course of the entire feature if players manage to regularly fill the reels with wilds.
The visuals look really good for Hotter than Hot. Everything is well designed and it matches up to the theme of the game superbly well. However, the sounds do drag things down a little bit. There's no music playing during the game and the sound effects are a bit generic, they don't match to the theme at all. If the sounds were on a par with the graphics then it would increase the overall quality of the aesthetics.
Visually, Hotter than Hot is a game that demands attention. This is always a good start. The gameplay is also very simple to get into making it an easily accessible title. However, with a low RTP and payouts that could do with being made higher, it does take away from its shine a little bit. It's a lot of fun to play, but it has a few areas that could do with improving.
Hotter than Hot FAQs
Where can I play the Hotter than Hot slot for free?
Here at MrGamez.com we have a great range of different free slots to play. You can load up Hotter than Hot and start playing right away. We make it easy for you to get to grips with games without spending any of your bankroll.
Can I play the Hotter than Hot online slot for real money?
Yes you can. All you need to do is find a top class online casino to play at. We have a great selection of reviews where you can find the perfect online casino to play Hotter than Hot for real money.
Is the Hotter than Hot slot safe for me to play?
Yes it is. Ainsworth is a trusted developer and as long as you choose an online casino we have recommended then you will be secure playing Hotter than Hot.
How do I withdraw my winnings from the Hotter than Hot slot game?
Once you have created winnings in the game you will need to go to the accounts page at your chosen online casino. From here there will be a withdrawal option which will take you through the steps needed to make a withdrawal.
References
Casino Game (2021 August 30). Retrieved September 16, 2021, from https://en.wikipedia.org/wiki/Casino_game

Dunning, J (2012 December). Retrieved September 16, 2021, from https://opensiuc.lib.siu.edu/cgi/viewcontent.cgi?article=1395&context=gs_rp


Rockloff, M (2013 December). Retrieved September 16, 2021, from https://www.researchgate.net/publication/270341885_The_Impact_of_Electronic_Gaming_Machine_Jackpots_on_Gambling_Behaviour
Game statistics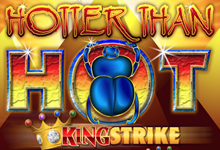 Players who played this game also played: