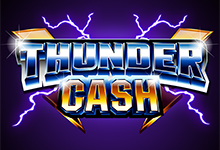 Ainsworth
Thunder Cash
Once this slotu2019s colourful loading screen has cleared, youu2019ll find yourself gazing at a machine placed in a standard casino gaming lobby, with roulette and poker tables visible along with a bank of Thunder Cash slots. A series of flashing lightbulbs above adds to the gaudiness of it all.
Play for free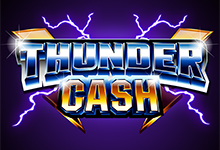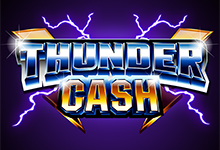 Unfortunately, this game is not available in your location
Why am I getting this message?
Thank you for informing us. Our engineers will work to fix the problem as soon as possible.
Get notified by email when this game is fixed
Thank you. Our engineers will inform you when the problem has been fixed.
Try these similar games instead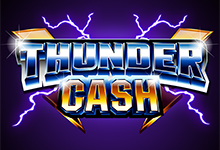 Ainsworth
Thunder Cash
Rate this game:
Once this slotu2019s colourful loading screen has cleared, youu2019ll find yourself gazing at a machine placed in a standard casino gaming lobby, with roulette and poker tables visible along with a bank of Thunder Cash slots. A series of flashing lightbulbs above adds to the gaudiness of it all.
Play for free
Thunder Cash Slot Review
The Thunder Cash slot title is a highly interesting game. It's got a retro theme in place that ensures it grabs the attention of classic slot players right from the start. There are 20 paylines for Thunder Cash, this is pretty much in line with what's expected from the market. Thunder Cash also has some good features in place which helps to add some engagement and interest to the title.
Thunder Cash has a retro theme which is always popular with players. It has a great background which really helps to drive home the theme. It adds to better levels of immersion as players are able to feel as though they are actually there playing the game in a casino.
Pros and Cons
Fantastic theme in place

Players are able to trigger the free spins more than once

Wild stacks can land on the reels helping to create numerous wins
The free spins round is the only real bonus feature included in the game
Thunder Cash Symbols & Values
Thunder Cash has a classic theme in place. Fruit machines (1) have long been a theme that's popular with players. The nostalgia that these games create helps to grab the attention of players right away. However, despite having a classic theme the graphics aren't aged. They look fantastic. The symbols are based around classic fruit machine symbols with 7s and Diamonds appearing on the reels.
A poker chip with a lightning bolt on it is the wild symbol in the title. This manages to link the name of the game to the retro theme. The logo for the game acts as the scatter symbol. This pays out 100 times the player stake when 5 land on the reels as well as triggering the bonus game. The top paying symbols in the Thunder Cash slot include:
There are lower value symbols included in the game as well. These are all based around the values you would find in a deck of cards. What's available is included here:
Symbols can be stacked. This includes the wild symbol. As such, some large wins that cover numerous paylines at a time can be created. The wild symbol only appears on the middle three reels. So it can help to create wins between the first and last symbol. The scatter symbol is the only symbol it can't replace.
For a more detailed look at the paytable for the Thunder Cash slot machine you can find all pay out information here:
| Symbol | 2 on a Payline | 3 on a Payline | 4 on a Payline | 5 on a Payline |
| --- | --- | --- | --- | --- |
| | - | 1x | 2x | 20x |
| | 0.05x | 0.20x | 1x | 5x |
| | - | 0.20x | 1x | 4x |
| | - | 0.10x | 0.50x | 2x |
| | - | 0.10x | 0.75x | 2x |
| | - | 0.05x | 0.40x | 1.50x |
| | - | 0.05x | 0.40x | 1.50x |
| | - | 0.05x | 0.20x | 1x |
| | - | 0.05x | 0.10x | 1x |
| | - | 0.05x | 0.10x | 1x |
| | - | 0.05x | 0.10x | 1x |
Thunder Cash Betting Options
You can place wagers of between 0.20 and 2,000 in Thunder Cash. With all 20 lines active at all times, it means 20 coins are always in play. The coin size is between 0.01 and 100.00. All wins on the paytable are calculated using the coin value that's active.
There is an autoplay available which allows players to easily set a specific number of spins that will be carried out. This feature ensures that players can simply and quickly set how many spins they want to play for. It's a good feature for bankroll management, as a stake can be set with a certain number of spins based on the budget that is in place. If the free spins round starts then players will have to manually accept the bonus.
Thunder Cash Slot Game Bonus Features
There is just a single bonus round included in the Thunder Cash slot. It's a free spins round which is linked to the scatter symbol. Whenever at least 3 of the scatter symbols land on the reels then the free spins round will begin. This instantly awards players 8 free spins and takes them to a new set of reels.
The new set of reels is much more impressive to players. In the base game the stacked symbols are extremely rare. However, in the free spins round there are significantly more stacked symbols in play. It means that players have a much better chance of creating multiple wins across the paylines. In fact, the Thunder Cash jackpot is available in the free spins round if the entire reels are filled with 7s.
Added to the improved reels is a sticky wild feature in the free spins. This means that whenever a wild symbol appears during the free spins round it will be locked in place for the rest of the free spins. So, if the entire middle three reels can be filled with wilds it can lead to some impressive wins during the bonus round.
It's not just the increased chance of winnings that makes the free spins round so impressive. It also offers players more scatter symbols. If 3 or more scatter symbols land on the reels during the bonus round then an extra 5 free spins will be added to the total. There's no limit here so lots of free spins are available. As well as the extra spins being awarded, the scatter payout will also be added to the player winnings. Even though up to 15 scatters can land on the reels at a time, the payout for 5 scatters is still the maximum that can be awarded.
Thunder Cash Device Compatibility
Thunder Cash is a relatively new release so it's not a shock that it can be run in a range of mobile devices. While Flash was used initially, HTML5 has allowed it to be played through both mobile browsers and mobile apps. This makes sure that players are able to play Thunder Cash on mobile with ease.
There's no stress here. Thunder Cash is easy to use on both desktop and mobile devices. If you want to play when you're on the go then Thunder Cash makes it easy.
Very quickly after its 2016 release, Thunder Cash had an update. It's latest update was carried out in 2018 and this has ensured that it's managed to remain compatible with the latest devices. In terms of being easy to play, the design of the game is perfect for mobile with large buttons and simple commands making it a perfect game for smaller screens.
Thunder Cash Fixed Jackpot
The Thunder Cash slot machine uses a fixed jackpot. As most slot machines work (2) by using the paylines to work out the jackpots, it's quite simple to understand what the jackpot is. There's no progressive jackpot with Thunder Cash, so the maximum possible payout is always set at the same level.
The payout of the slot is determined by the mathematical structure of the game, not by how recently the machine has paid out. The amount of the win is inversely related to the probability of a symbol coming up on the payline. This is how the fixed jackpot is calculated.
In order to win the fixed jackpot when playing Thunder Cash players will need to completely fill the reels with the 7 symbol. Wild symbols can also be used in order to help create this win.
Thunder Cash Visuals and Sound
Graphically Thunder Cash is perfectly set to its theme. It provides a great retro style that really takes players into the casino where the game is set. All of the symbols look great and there's a little animation that plays when a winning line is landed. By staying with the classic feel it manages to mesh the modern world with the retro style of fruit machines.
The sounds also manage to nail the theme. There's no music playing in the background, which is exactly what you would expect from a classic fruit slot. The sounds start whenever the reels spin. Then classic slot machine sounds start to play, with music playing if a win appears.
Aesthetically Thunder Cash doesn't provide fireworks like some of the more modern games on the market. However, it is perfectly aligned with the theme of the game and this really ensures that players can engage and connect with the title.
Thunder Cash Slot Strategy
Video slots use what are known as pseudo random number generators (3) to create their gameplay. This is essentially an algorithm that uses mathematical formulae to create as close to a random event as is possible. Because of this it makes it impossible for players to predict the outcome of different spins. While this may sound frustrating, every slot out there uses the same technique, so this does not put Thunder Cash at a disadvantage when compared to other games on the market.
With 20 paylines offered, it's essentially the average for the market. There's no opportunity to customise the paylines, so players have to stick with the amount that's offered from the start. Even if customisation was an option, it still would be best to play with the most paylines possible anyway. More paylines means that there is more chance to create a winning line when the reels are spun.
Because the free spins round has an improved set of reels and sticky wilds, it's definitely the best opportunity to create big wins. This makes it the most lucrative aspect of the game.
Thunder Cash RTP/Volatility
Thunder Cash has an RTP that's set below the market average. With a return of 94.07% it is a little bit of a disappointing amount. The RTP means that players will average a return of 9,407 credits for every 10,000 credits that are wagered. This shouldn't be taken as a guarantee though. If you get a big win on your first spin then your return will be significantly above what the RTP says. The RTP is an average and is calculated over a huge number of spins, so you are unlikely to get it exactly right across your game.
The medium volatility is usually what most players are looking for. It means that the number of wins that take place is in the middle and so are the size of the wins. It keeps players interested due to regular wins while also offering some decent sized payouts.
The below average RTP is slightly disappointing. It doesn't mean that Thunder Cash should be discounted though. The bonus round offers the opportunity for some great wins to come your way.
As a medium volatility game it does mean Thunder Cash is unlikely to offer life changing prizes to players on a regular basis. However, it does mean that there are some decent sized payouts available to players that make it worth spinning the reels.
The low RTP puts a bit of a shadow across this game. The medium volatility does help to make it more appealing though with regular and decent sized payouts
Players can walk away from Thunder Cash with up to 500 times the player stake. This is slightly below what you would expect from a medium volatility game, but not by much. The free spins round does allow for lots of wins to come along, which rescues the title somewhat.
Thunder Cash Slot Game Tips
Players who want to try and improve their playing have a number of options available to them. Of course, the reels being completely random does mean that predicting what will happen is impossible. Fortunately, there are some fantastic ways to increase your chances of winning. Look through our list of strategies to help you bolster your potential.
Set your Stake Sensibly
Stake management is something that many people ignore. They just start playing at the highest stake possible and spin away. This isn't a sensible way to play a video slot. You need to carry out as many spins as possible, without setting the stake at too low a level. This will give you the best chance of activating the bonus round while also keeping the stake high enough to give you some good wins when it is triggered.
Walk Away at the Right Time
Lots of players will keep playing even if they completely use up their bankroll. This can be the start of some serious issues. If you have a bad run and your budget dries up, take it as a sign and stop playing. That way you can always come back next time and play with a clear head.
Practice Makes Perfect
Thunder Cash has a fantastic demo version available to players. While this won't allow you to build up any skill with the game, it does mean you can get a sense of how the game mechanics work. This will make it easier to create a bankroll strategy and improve your chances of making a profit when playing for real money.
Overall Rating
Thunder Cash is a slot that offers a lot of fun to players. It has a really good retro theme attached and is enjoyable once the reels start spinning. We have put together all of the important aspects of the game into bite sized chunks so you can work out if you should give it a try.
Thunder Cash is simple to play with easy to understand controls. There's no issues with setting the stake and it is fully mobile compatible. This is one of the best user experiences on the market at the moment.
The bonus feature that's included in Thunder Cash is a good one. It improves the output of the reels as well as making wild symbols sticky. On top of this more free spins can be awarded in the feature. The only reason that this has been marked down is because this is the only feature that's in the game. It would be nice to have a couple more in there.
The payouts are okay in Thunder Cash. Up to 500 times the player stake can be awarded, which is very slightly below the average for medium volatility games. It means that while some decent sized prizes are on offer, there is room for improvement.
Both the graphics and sounds are great for Thunder Cash. They match up to the theme of the game with complete perfection. It does mean that they are held back slightly by this though. Other games do have more impressive offerings, purely because they have themes that match up to a flashier aesthetic.
Thunder Cash is generally a really enjoyable video slot. The bonus feature that's included is absolutely superb, it can be played on a number of devices and it has aesthetics that perfectly match up to the theme. The only real issues are that it is slightly below average in some key areas. RTP and payouts could both be increased a little bit. Other than this though, it's a great title that will keep you interested in the long term.
Thunder Cash FAQs
Where can I play the Thunder Cash slot for free?
You're able to get access to a fantastic version of Thunder Cash with MrGamez.com. We make it simple for you to get started without having to risk your real money bankroll.
Is the Thunder Cash slot game available at real money casinos?
Yes it is. All you need to do is search for the best online casino for your needs. You can use top class reviews to do this. Once you've done this you will be able to easily start playing for real money.
Is it safe to play the Thunder Cash slot machine?
Most definitely. Thunder Cash is created by a trustworthy software developer. On top of this it's available to play at fully regulated online casinos, which require it to be a legitimate game.
What is the max win on the Thunder Cash online slot?
Players are able to walk away with up to 1,000,000 credits when playing Thunder Cash.
References
Slot Machine (2021 June 4). Retrieved June 23, 2021, from https://en.wikipedia.org/wiki/Slot_machine

Turner, N (2004 May 5). Retrieved June 23, 2021, from https://jgi.camh.net/index.php/jgi/article/view/3654/3614


Jampani, SB (2017 January). Retrieved June 23, 2012, from https://www.researchgate.net/publication/319479854_The_statistical_approach_for_slot_machine
Game statistics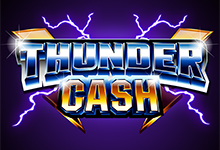 Players who played this game also played: