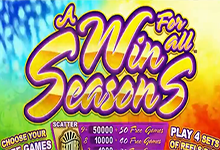 Aristocrat
A Win for All Seasons
Rate this game:
A Win for All Seasons is one of the slightly simpler Aristocrat games to have hit casinos in recent times, but the simplicity is what makes it so special.
Play for free
A Win for All Seasons is one of the slightly simpler Aristocrat games to have hit casinos in recent times, but the simplicity is what makes it so special. Rather than trying to reinvent the wheel, they have made use of extra reel boards to really make the game stand out, and it allows for big wins without having to wait around for a progressive jackpot to hit. Basically, if you enjoy reel based action taken to the maximum and see free games and multipliers as your best ticket to a big win, then this is sure to be the game for you. Unfortunately, online versions of simple slots don't seem to be in fashion at the moment so if you're waiting around for a version of A Win for All Seasons that can be played online, we'd have to advise you not to hold your breath! However, that certainly hasn't stopped us putting together the very best online alternatives as we certainly don't mind some simple action every now and again, and you can find the results of our research on the dedicated page here on the site. We'll cover that in more detail at the end of the feature, but in the meantime, let's see how Aristocrat has gone about making this particular game a hit.
A Win for All Seasons Theme
As you'd expect from the name, Aristocrat's first job when putting this slot together was bringing all of the seasons to the reels and Autumn, Winter, Summer and Spring are represented by the falling leaf, snowman, beach ball and ladybird respectively. That's not the only way in which the name comes to life though, as you'll immediately notice that there are also four sets of reels, which are also based on one of the four seasons. In line with the overall idea behind the game, the graphics are kept bold but simple, and we certainly don't have any complaints!
Gameplay and Prizes
The gameplay is actually rather tricky for such a simple game, although you'll be into the action in no time and there's definitely nothing to worry about when it comes to putting together a strategy. At the core of the options is deciding how many of the four reel sets you want to play, as you have to bet on each one individually. A Win for All Seasons can be launched with a simple ten credit bet, for example, but you're then restricted to a single reel set which affects prizes during both normal play and the bonus round. Our advice would always be to go for the full set, which costs forty credits but almost always provides better value in the long run. After all, if you're going to win then you want to win big and all sets of reels pay out whenever a prize lands, so it makes sense to us.
Features and Bonuses
Rarely do you see an Aristocrat slot that doesn't make use of free spins and this one is no different, but they have been modified slightly to take into account the fact that there are four sets of reels in play. For starters, you might be used to needing three scatters in order to launch the round, but here you'll need at least five. That's another reason to play all four reel sets, as if you're only playing one then you'll need a scatter on every part of the board. You'd also be limited to the five scatter reward, which is ten spins. Bump that up and you'll receive a huge number of spins, with nine or more scatters across all reel sets awarding a massive fifty free spins.
The other reason to play all of the boards is that they apply to the free spins too, and even bring a multiplier to the table. However, here is where you have input into how the bonus game works. At the lowest end of the scale, if you're playing on a single board then you'll only be allowed to play a single board during the free spins, and will receive a three times multiplier as a result. However, if you're playing all four during regular play, you can opt for one, two, three or four boards for your free spins. The fewer boards you play across, the bigger the multiplier. For example, four boards in regular play and then opting for four during the bonus will apply a three times multiplier to all sets of reels. However, if you opt to play out your spins over a single set of reels then you'll scoop a twelve times multiplier on all prizes. The choice is yours, and practice will definitely make perfect there!
As noted, you won't find an exact version of A Win for All Seasons online, even at casinos that currently carry Aristocrat slots. However, the use of four sets of reels is by no means unique to Aristocrat and we've used that, not to mention every other aspect of the game, to put together what we feel are the four very best online alternatives to the game. Check them out in full, together with the best places to play online no matter where you are in the world, on our dedicated A Win for All Seasons Alternatives page.
Game statistics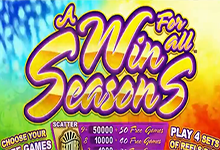 Players who played this game also played: