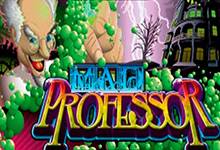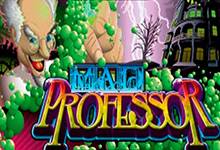 Unfortunately, this game is not available in your location
Why am I getting this message?
Thank you for informing us. Our engineers will work to fix the problem as soon as possible.
Get notified by email when this game is fixed
Thank you. Our engineers will inform you when the problem has been fixed.
Try these similar games instead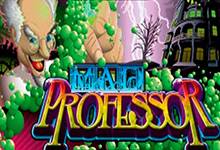 Aristocrat
Mad Professor
Rate this game:
Report a problem with this game:
Mad Professor Slot Review
Have you ever played a Reel Tube slot before? The chances are that if you've never come across Mad Professor at the local casino then you haven't but it's a feature that simply has to be seen to be believed! You don't have to have a screw loose to play the game, but it certainly helps! The Mad Professor himself kicks off the action and for some reason he reminds us of one of those old trolls with the crazy green hair. However, there's no affiliation there and he instead remains one of the zaniest characters to land on the reels. The game itself has been around for a while but recently saw a re-release around the world with some added features and options and as far as we're concerned it is as fresh today as it ever was! It may be getting on a bit but still hasn't been released for online play, although the unique action is something that is not to be missed. Whether the game isn't available at your local casino or you simply want all of the benefits of playing at home, we've got you covered with the very best online slot alternatives that you could ever hope for. You can of course check out those alternatives right away, or continue on through the feature to see exactly what this game is all about!
Mad Professor Theme
As you'll have guessed, if this game is out in your local casino then you certainly won't miss it thanks to the massive shock of green hair atop the Mad Professor's head as he sits proudly on the top of the machine. You'll be used to the fact by now that while Aristocrat's games, particularly the older ones, don't do anything too flashy compared to the latest online releases, the graphics are all detailed and, more importantly, fun. What does manage to take this game to the next level is the excellent use of animations and sounds throughout both normal play and the feature based action, making this a truly immersive game that can be a pleasure to play whether you're winning or losing.
Gameplay and Prizes
Mad Professor was definitely ahead of its time when it first came out, and the same could be said of the current incarnation given the fact that you can bet across a truly impressive one hundred win lines. Unlike some games, the number of lines cannot be changed, and you'll need fifty credits to get the reels rolling, although with a minimum credit value of 1c, you certainly won't have to break the bank in order to get into the action.
The fact that bets are fixed is explained by the fact that this is a jackpot game. We'll cover how the jackpot works in more detail below but you can rest assured that a 50c bet on the reels can quickly spiral into hundreds or even thousands of dollars. Even if you don't manage to hit the big prizes, you'll already know that with a hundred win lines on offer, you won't be waiting long for an improvement to your bankroll.
Features and Bonuses
We'll cover the jackpot feature in a moment, but first we simply have to tell you about the Reel Tube bonus as it is the highlight of the slot for us. It can occur at any time following a spin, and will initially see the player rewarded with fifty credits, which is then multiplied by their own bet. That's only the start of the prize action, with things definitely spiralling from there. There are three different features to find and they kick off with the Shrink Ray bonus. All of the playing card icons are removed from the currently displayed board, to be replaced by the symbol above. As you continue to spin the reels, the removal of such icons continues until there are none left – you're effectively playing over a hundred win lines with none of the modest prizes left and only high value wins in play! The next feature is Cloning Device, which awards a re-spin of the reels with up to three of the reels turning into wild stacks. Finally, you could be on the receiving end of our favourite of the features – the Energy Reactor. It's simple but effective, with between three and eight free games being awarded instantly.
Then we come on to the jackpots. Three or more scattered jackpot icons will launch a chance at taking down one of the prizes, and the player must select two of the five animals on the board to combine as part of a wacky experiment. The Professor's Combinator will then do the same and the aim is for your selections to match those selected by the machine. You win credits for a perfect match, or even half, then move on to the next stage where the same process takes place. If you manage a perfect match in the third stage then you scoop a randomly assigned jackpot prize, with consolations of one hundred, three hundred or a thousand credits. You'll always end up with something from the round, so it's never a bad thing to find!
The features on Mad Professor are unique in many ways, but if you're a fan of jackpots and quirky games and want to be able to play online then we're on hand with the very best action that you could ever hope for. You'll find our selections on the dedicated Mad Professor Alternatives page here at Mr Gamez, and you can try all of our recommendations for yourself with absolutely no deposit required!
Game statistics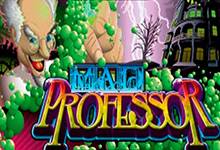 Players who played this game also played: