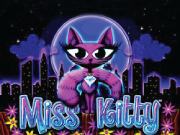 Aristocrat
Miss Kitty
We often choose to compare our Aristocrat slots to others in the range, usually to give players that are already fans of certain titles a head start on knowing what to expect.
Play for free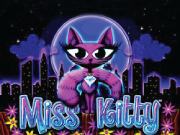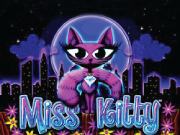 Unfortunately, this game is not available in your location
Why am I getting this message?
Thank you for informing us. Our engineers will work to fix the problem as soon as possible.
Get notified by email when this game is fixed
Thank you. Our engineers will inform you when the problem has been fixed.
Try these similar games instead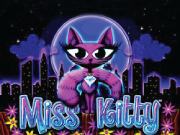 Aristocrat
Miss Kitty
Rate this game:
We often choose to compare our Aristocrat slots to others in the range, usually to give players that are already fans of certain titles a head start on knowing what to expect.
Play for free
Report a problem with this game:
Miss Kitty Slot Review
If you love cats, then Miss Kitty is the perfect slot for you. This cat-themed slot is chock-full of different items and accessories you can find in a cat-lover's world. Moreover, with the slot being developed by Aristocrat, you can expect great gameplay and a fluid user experience throughout your session.
But, is Miss Kitty the right slot for you? After all, Aristocrat has created plenty of great titles throughout its history as a slot provider. To answer your question, we're going to take a deep dive into everything that Aristocrat offers. We'll look at the payouts, gameplay, and even their graphics and audio.
Pros and Cons
Free spins bonus game

50 paylines

Large betting range
Lower-than-average RTP

Poor payouts
Miss Kitty Slot History
Miss Kitty was released on November 28th, 2011 by Aristocrat, a slot provider that has been creating titles since 1953. (1) After its release, the Miss Kitty slot quickly took off and became a favorite at casinos around the world.
In 1953 Aristocrat was born. This marked the start of a great company story that's still being told today.

Aristocrat
The slot mainly takes its theme from items that you might find with a cat. For example, one of the symbols is a ball of yarn. This is a common toy that cats play with. (2)
According to zoologists, the reason for a cat's strong affinity for yarn seems to be rooted in its natural hunting instincts

DarnGoodYarn.com
How to Win at the Miss Kitty Slot
In order to win when you're playing the Miss Kitty slot, you'll need to match the same symbol in a payline from left to right.
Miss Kitty also has a fairly simple setup. There are 5 reels, 4 rows, and 50 paylines. Considering that most online slots have only 15-20 paylines to win from, you'll have more opportunities to get paid than the average slot.
Game Rules
Before you can spin the reels, you'll need to make a bet. The bet must be more than the minimum amount and at most the maximum amount.

Miss Kitty's paylines are adjustable, meaning that you can change the number of paylines you bet on each time you spin.

We recommend that you keep this number at the maximum, which is 50. This is because when you're spinning with less than 50 paylines, you're not guaranteed a win if you hit a payline.
Betting Options
The betting range for the Miss Kitty slot is quite large, with the minimum bet being $0.01 and the maximum bet being $100.
This allows the slot to accommodate both low-rollers and high-rollers alike. If you like to play conservative and bet small, you can bet $0.01 a spin and play one hundred rounds with just one dollar!
If you like to bet big, then you can bet up to $100 per spin and reap the rewards when you hit a payline with a nice multiplier.
Therefore, no matter what playstyle you have, you'll always have a good time when you play Miss Kitty! 
Missy Kitty Slot Symbols and Values
There are 13 symbols that you can find when playing the Miss Kitty slot. Of these thirteen symbols, twelve will pay you some type of amount while one goes towards enhancing the gameplay.
The lowest-paying symbols are the 9, 10, Jack, and Queen symbols. All of these will only pay out 5X your line bet if you match three in a payline.
On the contrary, the highest-paying symbol is the fish symbol. This symbol pays you 100X your line bet if you manage to match five in a payline.
For more information on symbols and their respective payouts, be sure to check out our paytable below!
| Symbol | 2 on a Payline | 3 on a Payline | 4 on a Payline | 5 on a Payline |
| --- | --- | --- | --- | --- |
| | 5x | 15x | 50x | 100x |
| | 5x | 15x | 50x | 75x |
| | 5x | 15x | 50x | 75x |
| | - | 10x | 25x | 75x |
| | - | 10x | 25x | 75x |
| | - | 10x | 20x | 50x |
| | - | 5x | 15x | 50x |
| | - | 5x | 10x | 50x |
The game also features a wild and scatter symbol. The wild is a pink cat and substitutes for all symbols except the scatters. This pink cat can only show up on reels 2, 3, 4, and 5.
When you see the moon symbol, you're looking at the scatter. The scatter will pay you 2X your wager when three symbols land anywhere on the reels. Landing three moon symbols will also trigger the bonus game.
We'll get more into this now.
Miss Kitty Slot Features
Unfortunately, Miss Kitty is pretty limited when it comes to their in-game features. There are only two in-game features: the gamble option and the free spins bonus game.
The bonus game is pretty detailed. When activated, you're not only given several free spins to use on the reels, but you're also given other features that help you win even more paylines.
The gamble feature allows you to go double-or-nothing on your money. It's a great feature to use whenever you want to multiply smaller winnings. However, there is a lot of risk that comes with using the gamble option.
Jackpot
There is no progressive jackpot in Miss Kitty nor is there a non-progressive jackpot that you can take advantage of.
The maximum you can win is when you land five of the fish symbols together, equaling to 100X your line bet. 
Bonus Game & Free Spins
Miss Kitty's bonus game is by far the best part of the slot. Once you manage to land three scatter symbols on the reels, you can activate the free spins bonus game.
You're given ten free spins which you can then use on the reels. Moreover, there is a sticky wild feature, meaning that if a wild lands on the reels during the free spins game, it stays there until the end of the session.
If you manage to land another three scatter symbols during the bonus game, you can receive even more free spins to use.
RTP and Variance
The Miss Kitty slot has an RTP of 94.94% and a medium variance. An RTP of 94.94% means that, for every $10,000 wagered in the long run, you can expect to win back around $9,494 in winnings. Considering that most online slots have an RTP of 96%, this puts Miss Kitty's payouts below what the average slot would pay you. However, you shouldn't use RTP as your main way of determining how much you can win from a particular slot.
The reason is that RTP is a long-term average estimate of the total winnings divided by the total wagers. In the short run, luck will always play a factor, affecting the estimates. For example, you can hit several high-multiplier paylines early on, putting you over the estimated amount you can win. Similarly, you can go on a cold streak, causing you to lose more money than you are expected to.
Instead, RTP should be used as a way to estimate how well a slot pays out compared to another slot. In Miss Kitty's case, since their RTP is slightly lower than the average RTP of most online slots, you can expect Miss Kitty to pay out less in the long run.
Miss Kitty's medium variance means that there will be risk when you play the slot. However, the payouts will award you enough to make your time worth it. For reference, a high-variance slot pays out the most but has the most risk. This means that it's entirely possible to hit hundred-dollar payouts. However, it's also entirely possible that you go dozens of spins without hitting a single payline. 
Low-variance slots are the exact opposite. There is less risk, meaning that you're more likely to hit paylines. To offset this, the payouts are much lower. As such, when you hit a payline, Miss Kitty's payouts will be larger than most low-variance slots and less than the high-variance games.
Play the Miss Kitty Slot on Mobile
Because of how popular the Miss Kitty slot is, you can expect to find this game at most online casinos. If you want to play Miss Kitty on mobile, the process is really simple! Simply find which online casinos offer the Miss Kitty slot on their site. Then, boot up your favorite mobile browser, log into the casino, and you can start playing.
Some online casinos might offer an app that you can directly access via your phone's home screen. This is a little more complicated, though. For one, not every online casino will offer an app. The reason being is that managing a casino site via HTML5 technology costs less and is more efficient.
Moreover, platforms like Google Play only just began to allow real money casino apps on their store. As such, even if a casino wants to put an app up for download, there's a good chance it's still in development. Nevertheless, mobile casino gaming has exploded in popularity over the past five years. As such, just about every top casino site has made sure that their games are mobile-compatible.
Therefore, no matter where you are, you can boot up the Miss Kitty slot and play from anywhere as long as you have some type of device and an internet connection.
Overall Rating
Here at MrGamez, we like to compile our overall rating of a slot game based on four areas: user experience, game features, payouts, and sounds & visuals.
We applied these ratings to the Miss Kitty slot. That way, we can come up with a definitive ranking to help you determine whether or not you want to put your money here.
The user experience for Miss Kitty was excellent. The slot was able to convey all the different functions easily at the bottom of the screen.
Furthermore, we really liked that they showed which paylines were in play after you adjusted the number. There was also no lag when we loaded the slot and when we spun the reels, everything went smoothly.
There are no complaints from us in terms of user experience. Whenever you load up the game, you'll find that everything is easy to access and the experience is seamless.
While we do think that Miss Kitty could've had more to offer, their free spins bonus game and gamble option really knocked it out of the park.
The free spins game had depth to it. Not only were we able to spin without having to wager, but the sticky wild feature let us hit more paylines the longer we played.
We were also happy to see a gamble option. While it wasn't anything special, it was still nice to see that we could do something outside of the bonus game.
The payouts were the only part where the game really struggled. Despite having a large betting range, a 100X multiplier wasn't really impressive when we compared it to other slots that had both progressive and non-progressive jackpots.
Yes, we were consistently hitting paylines. However, the multipliers didn't feel large enough to make our time worthwhile.
The only thing that really saved this area was that there were way more paylines compared to other slots.
Miss Kitty did a really great job with the sounds and visuals. For one, the graphics had their own unique look to them. Each one adhered to the theme while also using a quirky cartoon-like style.
The background was also a night-view of a city skyline. This added to the overall idea of the slot revolving around a cat's world.
There wasn't really much music to accompany the slot when we played and the other sounds were pretty basic. However, considering that the slot was released in late 2011, we'll give Miss Kitty a pass.
Miss Kitty is one of our favorite cat-themed slots. The game has plenty to offer, with its two in-game features, well-drawn symbols, and awesome user experience.
While the payouts aren't as good as other Aristocrat slots, the sheer number of paylines and great bonus game make up for what's lost.
If you yourself are a cat-lover, then you'll definitely love what Miss Kitty has to offer you. Take a dive into the world of what your own pet cat sees while also winning real money at the same time!
Miss Kitty FAQs
Where can I play the Miss Kitty slot machine for free?
You can play the Miss Kitty slot machine for free here at MrGamez. We offer one of the widest selections of free online slots on the internet.
Are there safe online casinos where I can play Miss Kitty for real money?
Yes, there are plenty of safe online casinos where you can play Miss Kitty. You just need to make sure the casino is regulated and licensed by an external body.
How fast can I claim my wins from the Miss Kitty slot game?
You should be able to claim your winnings pretty fast when playing Miss Kitty. However, this largely depends on the payout option you use at your casino.
Is there a progressive jackpot on the Miss Kitty slot?
There is not a progressive jackpot on the Miss Kitty slot.
References
Our history. Aristocrat. (2020, November 12). https://www.aristocrat.com/about/our-history/.


Snow, N. (2019, August 15). Why your cats are after your yarn, and how to protect it. Darn Good Yarn. https://www.darngoodyarn.com/blogs/darn-good-blog/why-your-cats-are-after-your-yarn.
Game statistics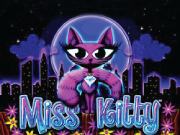 Players who played this game also played: