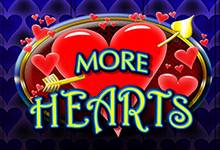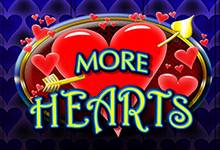 Unfortunately, this game is not available in your location
Why am I getting this message?
Thank you for informing us. Our engineers will work to fix the problem as soon as possible.
Get notified by email when this game is fixed
Thank you. Our engineers will inform you when the problem has been fixed.
Try these similar games instead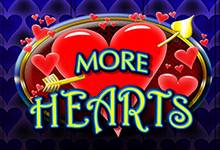 Aristocrat
More Hearts
Rate this game:
Report a problem with this game:
More Hearts Slot Review
More Hearts follows up almost exactly where More Chilli left off, and with both titles featured right here at Mr Gamez there's absolutely no excuse for not getting straight into the action! Here, the subject is romance rather than Mexican food, but the gameplay will definitely be familiar to just about any player with a passion for Aristocrat games. It packs in all of the developer's traditional betting options, together with some excellent features that are sure to keep that bankroll ticking over. For players in accepted countries, there's an online version of the game so you can get straight into it. If you're in Australia or one of the other blocked countries then you certainly don't have to miss out either as we've got some top quality alternatives to offer, which you'll find out all about at the end of this feature. Before then, let's check out all of the quality action that More Hearts brings to the table.
More Hearts Theme
We might have said that More Hearts focuses more on romance than Mexican food, but you won't find any candlelit dinners here and the theme itself is loose at best. Indeed, we'd dare say that the hearts and gifts have been used more because they make for bold symbols rather than any kind of particular theme, but that in no way detracts from the action. The only symbol that doesn't really tie in with the action is the big cat, but seeing as he's here and worth quite a bit of cash in his own right, we better make the best of him!
Gameplay and Prizes
The comparisons with More Chilli particularly fit when it comes to the gameplay. If you've got a favoured strategy or simply like knowing what you're going to win without referring to the pay table then this is an excellent choice of slot. Win lines come in at 25 in the online game, which on the surface is the same as the land based version. However, the online slot also comes with a Plus Five feature. That's simply an added bonus that adds a further five winning possibilities to each spin, bringing more symbols into play. Other than that, higher coin bets make for bigger wins as always, so there's definitely nothing too taxing about getting up and running.
Features and Bonuses
The features that are available on More Hearts continue where the betting options left off by being pretty simple to get to grips with, although that's certainly not to say that they can't be exciting when the wins start adding up. The simple aspect is spinning in three or more of the game's logo to activate the round, where you'll grab fifteen free spins. These are by no means your regular spins though, and you'll quickly find that this can be one of the most lucrative rounds available. The main reels leave the screen, to be replaced with four different game boards with two active at the beginning. As you spin in heart symbols on these two boards, you'll unlock the other two. Your free spins take all of your active win lines into account across each active game board, so if you're lucky enough to activate them all early on then you can effectively enjoy the equivalent of more than fifty free spins.
The addition of five extra win lines makes it slightly more fun to play online than land based where possible. However, with a lot of our Aristocrat players based in the likes of Australia and the US, we couldn't possibly miss out on bringing you a similar kind of action. For that, you'll want to head right over to our More Hearts Alternatives page, where we've put together the most similar online slots that are each available in your country. You can play them for fun here on the site, or discover exactly where to play for real money in your chosen currency and language.
Game statistics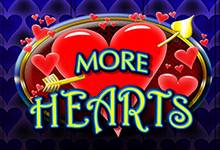 Players who played this game also played: