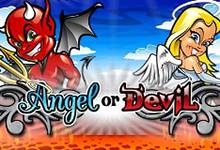 Ash Gaming
Angel or Devil
Knowing whether weu2019re good or bad isnu2019t something we tend to talk about openly with friends, though we may joke about being bad to the bone or a good egg.
Play for free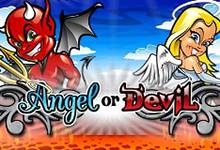 Ash Gaming
Angel or Devil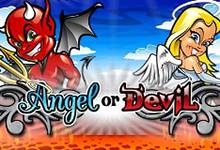 Ash Gaming
Angel or Devil
Unfortunately, this game is not available in your location
Why am I getting this message?
Thank you for informing us. Our engineers will work to fix the problem as soon as possible.
Get notified by email when this game is fixed
Thank you. Our engineers will inform you when the problem has been fixed.
Try these similar games instead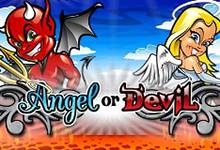 Ash Gaming
Angel or Devil
Rate this game:
Knowing whether weu2019re good or bad isnu2019t something we tend to talk about openly with friends, though we may joke about being bad to the bone or a good egg.
Play for free
Report a problem with this game:
Angel or Devil Slot Review
Knowing whether we're good or bad isn't something we tend to talk about openly with friends, though we may joke about being bad to the bone or a good egg. However, when you play Angel or Devil, you actually make the choice on which side of the coin you'd like to be, with the results different for each.
This Ash Gaming title has a unique feature, known as the Innocence and Temptation Slider, as well as a series of free games, and some hard hitting cash bonuses that make the intensity of this slot hotter than hell. Having played Amazon Wild by the brand, we expected much of the same, but we got something completely different. A brand that can adapt to its chosen theme? That's a massive victory for gamers in our books.
Naughty or Nice
One of the main aspects of the game that needs pointing out is the Innocence and Temptation Slider, a feature that sits atop of the grid throughout your gameplay. You can interact with this part of the title whenever you want, but in doing so will change your experience in a variety of ways.
You could air on the side of good, which in turn will get you more regular wins, however those wins may not be that big in size, or you can go to the dark side and opt in for bigger wins, though they'll trigger less often. You can even meet in the middle and never pick a side, but in doing so it's likely you miss out on an important dynamic of the entire activity. You'll know when you've moved the slider, for not only with the icon have altered position, but the background will be closer to heaven or hell, the animated guardian of each either looking concerned or happy.
Traditionalist Edge
Normally when we refer to a game being traditional, it's due to it having less reels or fruit symbols all over the place, but with Angel or Devil we're referring to tattooing. Sounds mad? Think again – devils and angels are staple designs in that industry that are seen time and time again, and it's clear that Ash Gaming has taken inspiration from that fact.
Both the angel and devil of this game are (tattoo) traditional in their appearance. They have little detail, a cartoony and raw edge, with a cheeky side to even our pure angel over there. We actually like the aesthetic, for it really sets the tone for the entire game, and adds something back into the real cash slots sector not often seen these days. Basically, this title is charming, and with charm comes charisma, and with that it can only mean one thing. More playtime.
The Afterlife
Another part to this slot is that there are free games to be had, thanks to the silver I and T symbol. But they're not just any old free games, they have bonuses with them. To access those features, you'll need to select from the cards shown after every spin, some of them may gift extra wilds, while others will get you multipliers. However, there is a catch to all this fun: the Super Cards. Get one of these and they'll stay in place for the rest of the round, which means that you get significantly less specials with them locked into place.
Lightning Never Strikes Twice… or Does It?
There's another feature included in the grid here and that's the Lightning Cash Bonus, a randomly triggered event that can throw coins in your face. Quite literally. How generous it is is partly down to you, for if you have the progressive jackpot option turned on, you can collect up to three unique coins that grant you the top prize. However, don't have it turned on and you won't get any of that. It's a rewarding extra no matter how you slice and dice it, but we think we'll be keeping that progressive payout on.
Blurred Lines
Angel or Devil does one thing for sure – it blurs the lines of good and evil, and we're loving that fact. There's no moral bearing on what you do here, only an impact on that grid, and sins or good deeds like that are always welcome in our opinion. We hope you feel the same way, but if not, there's plenty of other Ash Gaming activities to try out.
Game statistics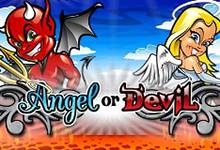 Players who played this game also played: