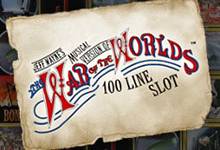 Ash Gaming
The War of The Worlds
Rate this game:
With two high-profile films, itu2019s tempting to think that The War of the Worlds was a cinema storyline. But there was also a 1978 soundtrack that really did capture the booku2019s eeriness and here sets the theme for this 100 payline slot game.
Play for free
With two high-profile films, it's tempting to think that The War of the Worlds was a cinema storyline. But there was also a 1978 soundtrack that really did capture the book's eeriness and here sets the theme for this 100 payline slot game. This 5 reel 4 row slot game by Ash Gaming has a Wildcard, Expanding Wildcard and a Fighter Bonus with a win of up to 700% up for grabs, meaning it's going for the best of both sci-fi and gaming worlds.
(Jeff) Wayne's World
You begin by choosing either the full version or the reduced one. The layout may not be striking in terms of colour, brightness or scale, but it is other-worldly, helped by the preceding introduction which warns of invasions by aliens. The screen background is based on the artwork used in the soundtrack released by Jeff Wayne. Those familiar with the album will recognise the logo used for the game's name, complete with funky red lettering, blue waves and parchment style background. There's also images of outer spaceships, crazy waves and misty clouds.
You can't fail to notice the music either, which veers between creepy with its chilling wind sounds and hints of an external force and its musical tone of an army approaching. There's nothing generic here. With music so distinct and atmospheric it could only have come from such a specialised soundtrack and there's no chance of you wanting to mute.
Reely out of This World
The main screen is a little cramped which is a shame. Removing the button for 100 paylines would be useful as it serves no purpose, especially as the paylines are fixed. While the diagrams for the different ways of winning are too cramped to see much, you won't fail to be blown away by the music that changes when you click onto the paytable.
While normally the information about what you're betting is at the bottom, here is it at the top. Don't be fooled by the artistry and epic music, there's big money to be bet on here. The lowest is 1.00 and it goes up in full numbers to 10.00, before increasing to 15.00, 20.00, 25.00, 50.00 and 100.00. There aren't too many extra settings, with no choice of speed and an Auto Play that only goes up to 25 spins. There's a payout rate of 93.54%.
There are 12 major symbols, made up of 8 themed pictures with an Ace, King, Queen and Jack being worth different amounts. The regular symbols really do take advantage of the unusual theme, including an alien vessel, the site of the invasion and the narrator, Hollywood star Richard Burton. You won't see that anywhere else.
x700 the Bonus Fun
The Wildcard is the same logo evident on the main screen and replaces everything except the Bonus Scatter. It's worth noting that any 2 Wildcards on a reel expand to fill the entire reel with Wilds. That'll do nicely. The Bonus Scatter is a very visual image. It's a Martian spaceship complete with long mechanical legs and a red and orange burning background.
If you get 3 Scatters you'll get the very unique Fighting Machines Bonus. Things do move fast so you do need concentrate, especially if you choose not to fight automatic and instead go Manual Fire. You then have 3 places to protect. You begin with Horsell Common. If you can destroy the 3 invading Martian machines with a cannon for each you move on to London. The level does get tougher as it is even harder to juggle the 3 cannons as they reload at different speeds against the enemy. If you survive then you move onto The Coast and its invaders.
If you manage to get through all that you have a 500-credit bonus, as well as the increasing amount you win past each level. There's also the highly profitable x700 you can win through the game with the right bits of skill and luck. As this is the only extra it's great they've put so much thought into it.
From Another World
When considering how good a slot game is, originality is always a big consideration. Here it wins on all points, especially as there no other slot games relating to the films. While there are plenty of other slot games relating to alien life, such as the intense Aliens (based on the film) and the more light-hearted Alien Life, none have the same eeriness as here.
War…What Is It Good For?
It's official connection to the one-off soundtrack means the music really does sound unique and gives an extra layer. The lack of Free Spins and a Scatter will disappoint some, but there's still more than enough to have a lot of fun here.
Game statistics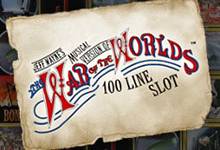 Players who played this game also played: