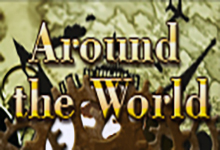 Bally Wulff
Around the World
Rate this game:
Ever wanted to travel around the world? Well, this slot machine wonu2019t physically transport you to your favourite destinations but it might just help feed your wanderlust with 5 reels that are all about the joys of travel.
Play for free
Ever wanted to travel around the world? Well, this slot machine won't physically transport you to your favourite destinations but it might just help feed your wanderlust with 5 reels that are all about the joys of travel. And who knows, with a jackpot worth 9,000x, you might just be able to buy a ticket to do a bit of travelling yourself!
Around the World by Drive Media is far from being the most stunning slot in terms of overall design and visual effects, but it still looks pretty decent with some adventurous symbols and plenty of colour to capture the cultural variety of the world. Plus, the game also promises a bit of extra prize winning action with free spins that multiply all wins by x3.
Around the World in Less Than 80 Days
The world is full of wonders and this Around the World video slot might just give you're a glimpse of what the world has to offer with its 5 reels that based around the theme of travel and adventure. In homage to Jules Verne's epic tale 'Around the World in 80 Days', punters will find some exciting modes of transport such as the a colourful hot air balloon as well as a plane, steam engine train and ocean liner ship. Helping spinners to navigate their way through the wonders of the world is a telescope and a scattered map that might just show you the way to big bonus wins if you find three in any position.
The game's aesthetic is far from being up their with the best slots online. That is because, in lieu of any special 3D graphics, the slot machine uses some relatively simple two dimensional images to depict the various modes of transport. That said, the illustrations still manage to capture the spirit of adventure and wanderlust with some nifty animations and a background scene that reveals some epic icebergs and desert islands.
Spin It to Win It
Gamblers who fancy playing this slot machine for real cash prizes can do so with relative ease. The game has 5 reels with 10 paylines with the option to play with fewer lines if you wish to keep the cost of your wagers down. However, with a medium variance level, it would be a good idea to keep all lines active to ensure you have the best chance of finding a winner.
With all lines active, the slot can be spun with wagers as little as 1.00 credit with a maximum bet level of 1,000.00 coins, making this a perfect game if you are a high roller. The largest line bet multiplier prize on offer in the paytable is worth 9,000x and that is presented whenever five hot air balloon icons line up on a payline. You can compare all of the wins on offer in the slot by checking out the game's paytable.
First Class Bonus Upgrade
As well as being the most lucrative prize-paying symbol in the game, this hot air balloon might also transport punters into bigger winning territory by acting as a wild symbol that will substitute for other icons to complete line wins wherever possible. Of course, this wild icon won't fill in for the scatter map icon since this symbol doesn't need to appear in payline formations to award total bet multipliers worth up to 500x. Plus, any three or more scatter on the reels will trigger a set of 15 free spins during which all wins will be multiplied by x3.
Spins Based on the Works of Verne
It's safe to say that this free Around the World slot machine got its inspiration from the classic tale of adventure by Jules Verne. Punters can find plenty of other games online with no download needed that are based on works by the French writer such as Nemo's Voyage by WMS that is based on Verne's tale 20,000 Leagues Under the Sea and the Epic Journey by Quickspin that makes reference to A Journey to the Centre of the Earth.
Take a Trip
Who needs to actually go on holiday when you can go on a spinning journey across the world with this fun slot machine from Drive Media. The game might not be the most impressive when it comes to the quality of the graphics but it sure does offer up some top notch spinning action with a 9,000x jackpot and a round of triple-value free spins. The mobile-optimised game can even be played on iPhone and Android devices, so you can spin around the world from anywhere in the world!
Game statistics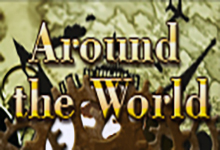 Players who played this game also played: