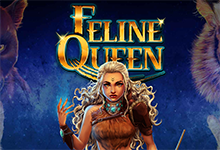 Bally Wulff
Feline Queen
I am woman. Hear me roar! You will be uttering those words from the well-known Helen Reddy song, u201cI am womanu201d after playing Feline Queen software by Bally Wulff.
Play for free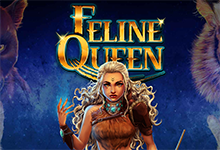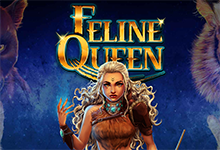 Unfortunately, this game is not available in your location
Why am I getting this message?
Thank you for informing us. Our engineers will work to fix the problem as soon as possible.
Get notified by email when this game is fixed
Thank you. Our engineers will inform you when the problem has been fixed.
Try these similar games instead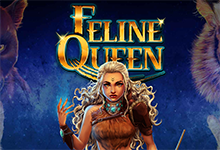 Bally Wulff
Feline Queen
Rate this game:
I am woman. Hear me roar! You will be uttering those words from the well-known Helen Reddy song, u201cI am womanu201d after playing Feline Queen software by Bally Wulff.
Play for free
Report a problem with this game:
Feline Queen Slot Review
I am woman. Hear me roar! You will be uttering those words from the well-known Helen Reddy song, "I am woman" after playing Feline Queen software by Bally Wulff. I have so many friends who are the biggest fans of cats and tigers that we have no doubt that this game will be a complete success. Being a cat lover myself, we loved the feline theme which is running through the game. It is beautiful and we felt powerful when we were playing the game.
Did we tell you about the jackpot prize? Do you want to run with tigers and win up to 200,000.00? We thought that might grab your attention. Yep, you heard right. With this online slot, the maximum prize is of 200,000.00. You can play for free and there is no download needed. So, you are good to get started straight away. Think of all the real cash rewards you could win!
We Are in Love!
The design of this game is so beautiful. The background has two feline characters on either side of the screen. The top part of the screen displays the wins the player achieves with every individual spin. The bottom of the screen has a HOME button, a sound button which only allows the player to turn the music on or off, a question mark which is the 'How To Play' feature and a settings button on the left-hand side. On the bottom right-hand side, the we find the bet amounts. Here the player can simply choose how much they are willing to bet and they can also see how much cash balance they have remaining.
Oh, and the background music sounds so great! It has a relaxing tone to it but you can feel that it is a bit wild. This is the general feel we obtain from the game; relaxation in the wild. Feline animals are beautiful, graceful but powerful and wild. We are sure that they chose this calming yet strong background music to create this effect. We should probably hint that we can mute the sound no matter where we are in the game. We might be in the help section and we would still be able to mute the sound. We found this to be useful.
Take a Look at Those Symbols
The symbols are a treat to look at. We appreciate the work the game designers and artists have put to bring us into the game and make us appreciate these highly-detailed symbols. We have one high-paying symbol of a powerful-looking woman. We are guessing that she is the queen and the payouts for getting three of these symbols are the highest-paying of the lot.
There are 4 different feline characters. The most powerful one of them all is the highest paying of the feline characters. The docile feline animal is the lowest-paying animal of the animal symbols. The lowest paying symbols of all the symbols in the game are the feline eye symbols. We have a symbol with 4 eyes, one with 3 eyes, one with 2 eyes and the last one with just 1 eye.
What If It's Too Slow for You?
Don't spend too much of your time with this slot game if you want to reap the rewards but just don't have the time. This free Feline Queen slot saves you the time from downloading the game because there is no download needed. Oh, and that's not all. There is an autobet/autoplay feature. You can opt to autoplay until a number of rounds have been reached, for example: 5,10,15, 25 or 50 rounds. When the number of rounds have been reached, the autoplay feature stops, or you can opt to autoplay until a loss limit has been reached. This will ensure that the player does not make too many losses that they cannot handle.
Are There Other Feline-Themed Slot Games?
Almost everyone can be classified as a cat person or a dog person, or both so it's not hard to believe that there are many other companies who have designed feline or cat related games. Cats is a 5-reel, 30-line slot game by IGT.
The symbols in this game are comparable to the quality of those found in this free Feline Queen slot. Cats slot does have high value playing card symbols as well, which is common in slot games but not found in Feline Queen. The interface of Feline Queen, however, was unique, interesting and more creative than Cats, since Cats had a very standard slot layout.
Cats gives the players more control as they can choose the line bet and the number of paylines whereas in Feline Queen the player can only choose the total bet they would like to play on a round. Cats had special symbols, which Feline Queen by Bally Wulff seemed to lack.
At the End of the Day…
At the end of the day it really depends what the player is after. If the player is after a great graphical design and a simple interface and rules, whilst also being major feline fans, then Feline Queen will be a hit. If the player is more into bonuses and higher RTP (this game has a RTP of 85%), then this game might not be for them.
Game statistics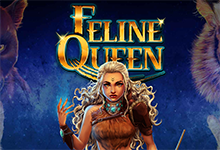 Players who played this game also played: