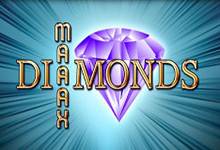 Bally Wulff
Maaax Diamonds
Rate this game:
Ramping up the tension and gameplay is this classic looking real cash slot machine from Bally Wulff, another of their retro titles; those whou2019ve played Explodiac will recognise that a similar design has been used.
Play for free
Ramping up the tension and gameplay is this classic looking real cash slot machine from Bally Wulff, another of their retro titles; those who've played Explodiac will recognise that a similar design has been used. Even though there's familiarity from more than just the paytable, a lot of fun can be gleaned from the compact size of the 5 reels and 10 paylines.
Opening with a steeper bet than you might be used to, plus a combination of no bonus level and free spins, this game might seem like one to pass by. But wait! Before you turn your back on this slot, take the time to explore the full extent of what's on offer. For those that like a higher volatility with low variance, this has the markings of a perfect vintage slot for you.
Shine Bright
Rihanna knew what she was talking about when she sang about shining diamonds. When it comes to Maaax Diamonds, and yes, there are three As thrown in for good measure, the diamonds are shining very brightly.
They function as the wild of the game, though unlike most real cash games where the wilds can land wherever they want, in Maaax Diamonds they can't appear anywhere other than on the second and fourth reels. What is more, there are two types of diamonds that can pop up along the way: normal diamonds that remove other symbols, but lose their function thereafter, and then expanding wilds.
For those not aware of these expanding symbols, they spread out across the reels to potentially enhance your wins.
Sing When You're Winning
The RTP in Maaax Diamonds isn't quite as plentiful as some you've seen, however there's one factor that greatly makes up for that, and that's the amount of cash up for grabs.
This slot is all about getting out what you put in, thus if you spend a lot of money to begin with, you stand to gain a massive payout courtesy of the red 7 coming in at a match of five.
To make setting that first bet all the easier, the Bally Wulff team has included a much needed Max Bet toggle, allowing users to power on ahead, rather than tapping the (+) on the bet display. The lowest you can put down to start is 50 credits on each active payline, of which there's a choice between 5 and 10. Just as the betting range, the bet lines have a (+) and (-) setting as well.
Should you require more speed, there's the cog icon in the top left hand corner that has a turbo mode setting, helping to speed up the action. Furthermore, there's an Autoplay feature back down on the control panel, that begins and starts from a mere tap of the widget.
Should I Stay or Go Now?
Regular players will have seen the two sections gamble option many times, for it seems to be part and parcel of the brand's format, however if you're seeing it for the first time, don't fret. You get to choose how to captain your destiny, via the ladder or from good ol' cards.
The ladder is probably one a lot of customers will opt for, seeing as it's the lesser known of the two options, and therefore more thrilling. You need to start the game by landing a cash amount.
Once that's happened the ladder will highlight two more sums of money, one higher and one lower. To win, you need to land on the higher one, which is a lot easier said than done; considering that the base game is highly volatile, it should surprise no one that here is just as taxing.
Should you go for the card option instead, you'll need to decide which of the two card suits is hidden away from you, with the card flashing from one colour to the next. It's one you've seen a lot before, which will invoke a lot of yawns.
Added support
Those who game via their mobiles are in luck with Maaax Diamonds, for there's a setting option only available when on your portable device: it'll allow you to say whether you're left handed or not. By being able to highlight your favoured hand, you can experience a more fluid and instantaneous experience, rather than having to clumsily fumble your way through.
A Classic, but Not Timeless
There are plenty of slots that are seen as timeless, but Maaax Diamonds isn't one of them. Although it has the vintage flavor a lot of users find appealing, it seems doubtful it'll be a game played in several years time, simply because it lacks variance to keep users stimulated and returning for more.
Game statistics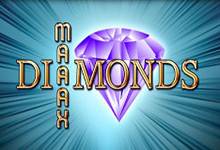 Players who played this game also played: