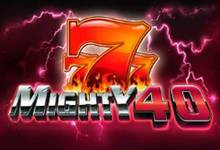 Bally Wulff
Mighty 40
If the familiarity of classic fruit slots appeals to you then Mighty 40 by Bally Wulff is one that you might want to take a look at.
Play for free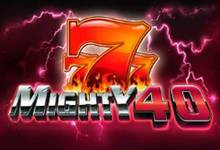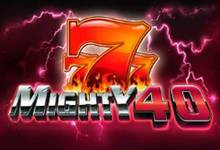 Unfortunately, this game is not available in your location
Why am I getting this message?
Thank you for informing us. Our engineers will work to fix the problem as soon as possible.
Get notified by email when this game is fixed
Thank you. Our engineers will inform you when the problem has been fixed.
Try these similar games instead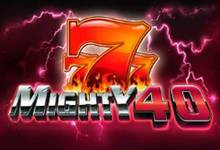 Bally Wulff
Mighty 40
Rate this game:
If the familiarity of classic fruit slots appeals to you then Mighty 40 by Bally Wulff is one that you might want to take a look at.
Play for free
Report a problem with this game:
Mighty 40 Slot Review
If the familiarity of classic fruit slots appeals to you then Mighty 40 by Bally Wulff is one that you might want to take a look at.
With none of the excesses or complications of some of the more complex online video slots, Mighty 40 takes the very best of traditional play and brings it bang up to date. But will you be feeling mighty or melancholy after playing this game? Here's a review of Mighty 40 by Bally Wulff with all the information you need.
Collect the Symbols
In Mighty 40 you'll be playing on five reels with an impressive 40 paylines, providing lots of chances to match up a winning combination. You won't need to worry about setting a coin value per line as you simply have the option to choose the overall bet. This means you can pick between a total min bet of just 0.15 and a max bet of 60.00. In return for the bet, you'll have the chance of winning prizes if you line up matching symbols along one of the active paylines. In this game you'll need a minimum of three identical symbols to get a payout, other than the top value prize where you'll only need a match of two. Of course, the more matches you get the bigger the win will be!
The paytable is responsive to your chosen level of betting so the higher you are willing to wager, the bigger the prize you could potentially win. Based on a max bet, the top value regular symbol of the Flaming 7 pays out 1000 for a match of five. However, this is topped by the star, which doubles up as the scatter, which pays out 20,000 for a match of five.
This is a game with medium volatility and a recorded RTP of 96.01%.
A Helping Hand
As well as playing with the regular symbols you'll find there are a couple of extras on the reels which could help you to scoop a prize. The diamond is the wild and this means it can substitute for any of the other symbols on the reels with the sole exception of the scatter. This means you can line up winning combinations more easily. The star is the scatter and although it is the top value symbol, it also hands out 10 free games. During these games the Flaming 7 becomes a wild, increasing your chances of winning more.
Making More Money…
If you want to effortlessly increase what you could win without having to spend a single credit more, you could opt for the Gamble feature. This becomes available every time you win on the reels. The Gamble is the chance to put your prize up as the stake, allowing you to double it if you win. Of course, there's always the chance that you could lose and if you do, you'll have to return to the main game empty handed.
What's particularly fun about Mighty 40 is that you'll have the ability to pick which Gamble feature you want to play with the choice of either the Card or Ladder Gamble on offer. In the Card Gamble you'll just need to guess the colour of the next card to be turned over, a fairly standard game that's included on lots of slots from different developers.
The Ladder Gamble is also used by others, but isn't as frequently seen as the Card Gamble and potentially offers a more skill-based way of trying to win. Unlike with the cards which is simply pure chance, on the ladder you have the chance of winning more money if your fingers are fast enough! Presented with a column of winnings in ascending order, you'll need to be quick to click on the higher prize. But beware, you could still end up with nothing as one of the prizes the ladder flicks between is 0.00!
Classic Styling
Mighty 40 by Bally Wulff is a simple game which draws upon the popularity of the original fruit slots play. There isn't a lot of extra features but you can bump up your prize money with the help of the gamble feature, if you don't mind taking a risk. With medium variance and the chance to bet low or high, this is a middle of the road game which is suitable for all.
Game statistics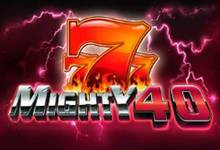 Players who played this game also played: