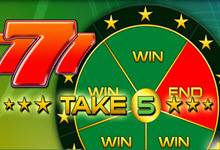 Bally Wulff
Take 5
Sometimes brands just need to keep it simple and stop with the onslaught of fancy themes, one after another.
Play for free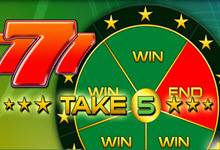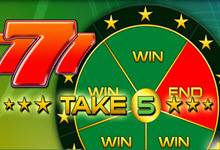 Unfortunately, this game is not available in your location
Why am I getting this message?
Thank you for informing us. Our engineers will work to fix the problem as soon as possible.
Get notified by email when this game is fixed
Thank you. Our engineers will inform you when the problem has been fixed.
Try these similar games instead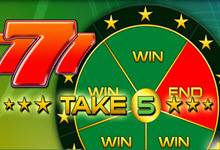 Bally Wulff
Take 5
Rate this game:
Sometimes brands just need to keep it simple and stop with the onslaught of fancy themes, one after another.
Play for free
Report a problem with this game:
Take 5 Slot Review
Sometimes brands just need to keep it simple and stop with the onslaught of fancy themes, one after another. We get that they can develop a modern game, but how about showing us what they can do with less…! Sometimes asking for that throws up a lot of false hope, with many brands missing the mark on what it means to be a pure, conventional real cash slot, but not Bally Wulff. When it comes to designing old school slot machines, this label can't be beaten, at least not easily.
Purist gamers can rejoice as there's only 3 reels to deal with, and just 5 winlines, which means they're in for a challenge as well as a trip down memory lane. And if that wasn't good enough, there's actually a special feature to enjoy, a trait not all that common with vintage slots. So, if you have a passionate for fruit, or can look past an interface with no visual appeal, you may find something special lurking inside Take 5.
Big Bucks Bet
All the bs in this slot machine, as Take 5 doesn't side with the average gamer, though of course some of you will be high rollers without a care in the world. However, for those of us with limited incomes, the stake needed here is going to feel extremely steep; at least 50 per winline is needed to start. That gives you a 250 min bet, hardly the most affordable game to play.
Furthermore, you have the higher end of the scale where the maximum punt is worth a staggering 50,000 credits! That makes our eyes water just looking at it, let alone placing it on an online slot. There is a silver lining to this however, for the currency shown isn't in euros but credits, meaning the conversion rate might actually work out much cheaper.
Also, you have the satisfaction that, should you be able to afford the initial sting, you can win large amounts of money back; Take 5 is all about getting out what you put in. Play inside your means, but if you can, make sure you go big to get the best out of this online experience.
Stuck on Repeat
On the paytable you'll have seen the Win Repeater, a feature that allows you to have five rounds of potential wins whenever it's activated. To get the ball rolling on this though, you need to get a full grid of symbols in the first place, which as we all know, is a lot harder to do than it sounds.
There's a wheel in which several options are to win, with one wedge sounding the end. Hopefully you'll keep getting those wins, but due to the odds stacked against you, we won't hold our breath.
Best of Both
Winning with Take 5 is improbable and almost impossible, but when it does happen (yay!), you'll be given the chance to double the win you've just made. You can do this by either opting for the ladder gamble option or for the card one, both of which you'll have undoubtedly seen before.
There's some times though when the option to double won't be given, like when you're playing automatic rounds or when you make a large win. Considering that getting a win of any kind is unbelievable, it's unlikely the latter option will affect you much, however it seems unfair that the autoplay should hinder you as well as help. After all, the reels spin super slow on their own, so it's no wonder you'll want to take a rest from all that rolling.
Not for Us
There's not polite way of saying a game is bad, so let's just say that Take 5 isn't for us; it lacks presence, charm and detail, all of which are needed to create a good game. Yes, Bally Wulff stripped it back in such a way that they tapped into the purity of old fashion slots, but then they failed to create any charge surrounding the gameplay. Vintage or not, a slot needs to be fun to play, otherwise what's the point.
Game statistics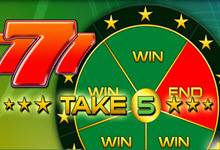 Players who played this game also played: