Michael Jackson u2013 King of Pop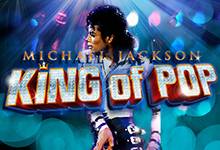 Bally
Michael Jackson u2013 King of Pop
Worldwide, itu2019s not likely that thereu2019s a music lover who hasnu2019t listened to music by the renowned king of pop, Michael Jackson.
Play for free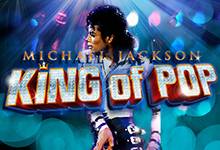 Bally
Michael Jackson u2013 King of Pop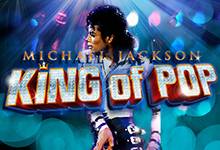 Bally
Michael Jackson u2013 King of Pop
Unfortunately, this game is not available in your location
Why am I getting this message?
Thank you for informing us. Our engineers will work to fix the problem as soon as possible.
Get notified by email when this game is fixed
Thank you. Our engineers will inform you when the problem has been fixed.
Try these similar games instead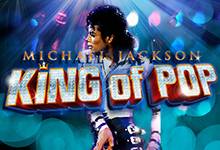 Bally
Michael Jackson u2013 King of Pop
Rate this game:
Worldwide, itu2019s not likely that thereu2019s a music lover who hasnu2019t listened to music by the renowned king of pop, Michael Jackson.
Play for free
Report a problem with this game:
Michael Jackson Slot Review
You can probably tell what the theme of this slot is simply by looking at its name. Michael Jackson is a slot machine that revolves around the artist's life. Get to experience some of his greatest moments with the symbols, animations, and design.
You'll see common references to some of his most famous icons, such as his moonwalk. Plus, the slot pays well!
But, is the Michael Jackson slot the right slot for you? After all, no matter what online casino you play at, you'll have plenty of slots to choose from.
Today, we're going to do a holistic review of the Michael Jackson slot to answer this question. We'll look at symbols and values, RTP, and the game's features. Then, hopefully you'll know whether or not Michael Jackson is for you. Are you ready? Let's get started!
Slot History
The Michael Jackson slot was designed and created on May 5th, 2015 by Bally. The slot has 5 reels, 3 rows, and 20 different paylines you can win from. Furthermore, the slot features many of the acclaimed singer's famous phrases and items.
For instance, you'll find that one of the symbols is a pair of shoes doing the moonwalk, a dance that Michael Jackson invented. (1)
Jackson did the moonwalk for the first time in 1983, performing his hit song Billie Jean on a TV special Motown 25: Yesterday, Today, Forever. 
Furthermore, the bonus games are named after two of the musician's top songs, "Beat It' and "Smooth Criminal." (2)
"Smooth Criminal" was one of the hit songs on Jackson's 1987 "Bad" album, which sold 22 million copies internationally. 
To this day, the Michael Jackson slot is played across dozens of different casinos online, one part due to its association with the famed singer and the other part due to the different features you can find in this game.
How to Win at the Michael Jackson Slot Machine
What good is a Michael Jackson slot machine if you don't know how to win while you play? In order to win, you'll need to know the game rules and betting options, both of which are imperative for winning at the Michael Jackson slot machine.
Game Rules
Whenever you play the Michael Jackson slot machine, you win whenever you hit at least one of their twenty paylines. Players will also need to make a bet that is at least the minimum amount and at most the maximum amount.
The Michael Jackson slot also comes with two bonus games and there are wilds that you can use to help make paylines. 
Betting Options
Michael Jackson has a decently large betting range, with the minimum bet being $0.40 and the maximum bet being $80. The maximum bet isn't as large as some of the bigger online slots we've reviewed.
However, a maximum bet of $80 is still great if you're a high-roller. If you like to keep your money close to you, you'll be glad to hear that a minimum bet of $0.40 will help you last dozens of spins with only $20.
Thus, whether you're a high-stakes slot player or a low-stakes slot player, the Michael Jackson slot can accommodate a wide range of playstyles. 
Symbols and Values
The Michael Jackson slot has twelve symbols that you can regularly find whenever you play this title. Of the twelve symbols, eleven symbols provide some type of payout while the other symbol helps unlock the bonus games available.
The lowest-paying symbols in the Michael Jackson slot are the 9, 10, and Jack card. All of these will only pay out 5x your line bet if you land three in a payline. On the other hand, the highest-paying symbol is the jackpot card.
Matching five of these in a payline will pay out a whopping 2,500x your line bet. For more information on the game's symbols and their respective values, be sure to check out our paytable below!
| Symbol | 2 on a Payline | 3 on a Payline | 4 on a Payline | 5 on a Payline |
| --- | --- | --- | --- | --- |
| | 2x | 50x | 500x | 2500x |
| | - | 40x | 150x | 500x |
| | - | 40x | 150x | 500x |
| | - | 30x | 100x | 200x |
| | - | 20x | 75x | 150x |
| | - | 15x | 20x | 120x |
| | - | 10x | 40x | 100x |
| | - | 10x | 40x | 100x |
| | - | 10x | 40x | 100x |
| | - | 5x | 15x | 20x |
| | - | 5x | 15x | 20x |
| | - | 5x | 15x | 20x |
Wilds, Scatters, and Bonus Symbols
The Michael Jackson slot also has several other symbols that will show up whenever you play. There are three different wilds: the regular wild, the moonwalking wild, and the stacked wild. Each wild is distinguished by different designs and text.
As for the bonus symbol, there is only one bonus symbol you should look out for. This is the symbol that you can use to activate the different free spins game and wheel.
RTP and Volatility
The Michael Jackson slot has an RTP of 96.01% and a medium volatility. An RTP of 96.01% means that, for every $1,000 spent in the long run, you can expect to win back at least $960.10 in winnings.
With most slots having an average RTP of 96%, you can expect the Michael Jackson slot to pay you around what the average slot pays.
It's worth noting, though, that you shouldn't use RTP as your primary way of determining how much you'll be paid. After all, RTP is simply a long-term estimate taken by dividing total winnings by total wagers.
Therefore, in the short-term, RTP can be unpredictable. For example, you might hit a jackpot early on, causing you to win more than the expected amount. Similarly, you might go on a cold streak, causing you to lose more than you thought you would.
Unless you're playing for hours, RTP is going to be hard to implement. We recommend using it to help compare payouts among different slot machines.
Michael Jackson's medium volatility means that the game has some risk and some reward to offset that risk. For reference, low-volatility slots have little-to-no risk. This means that you'll consistently hit paylines. However, payouts and multipliers will be much smaller and there won't be as many opportunities to win large amounts of money.
High-volatility slots have more risk. This means that there's a greater chance of losing money. However, multipliers will be larger and the slot will have more opportunities to win big.
This means that Michael Jackson's medium volatility has some risk, but gives you a few nice ways to make some money.
Michael Jackson Slot Features
Michael Jackson's main features are its two bonus games and its various wild symbols. However, the slot also has a wheel that can be summoned whenever you land at least one bonus symbol within one position of the centerline.
Whenever this wheel is activated, players can win credits, free spins, and multipliers to utilize for their upcoming games.
Beat it Bonus Game
During this game, you'll receive ten free spins. Furthermore, any wild symbols that show up stay in their respected position. The only reel that doesn't have wilds is reel 5.
Smooth Criminal Free Spins
The Smooth Criminal bonus game comes with five rounds. During each round, different reels are filled to the brim with wild symbols that you can use.
Moonwalking Wilds
These wilds will randomly show up whenever Michale Jackson moonwalks across the screen, leaving behind 2-5 double wild symbols. If the wilds help make a winning payline, the payouts are doubled.
Stacked Wilds
Stacked wilds are another type of wild you'll encounter whenever you play. These show up randomly and will fill up two reels with two wilds.
Play Michael Jackson Slot on Mobile
Because of how popular the Michael Jackson slot is, you can expect to find this title at most online casinos. Furthermore, because mobile casinos are also becoming more popular, you can play the Michael Jackson slot on your phone.
All you need to do is find which casino sites are compatible with mobile devices. Then, once you've found a site, simply boot up a mobile browser on your phone, log into that casino. and you can start playing Michael Jackson today!
Some online casinos might offer an app, but this is pretty rare. The reason being is that running online casinos from mobile browsers is more affordable. It's easier to maintain and upgrade HTML5 technology compared to a whole app.
Furthermore, regulations and rules vary from country to country for app stores. For example, Google Play has only just begun to allow real money casino apps on their US store.
As such, most online casinos prefer to make their games mobile-compatible via a browser since it's simpler and more affordable.
Nevertheless, because of how popular mobile casino gaming is, just about every top online casino has made sure you can play their games from your phone or tablet.
Therefore, whether you're on vacation or simply at home, you can play the Michael Jackson slot as long as you have some type of mobile device and an internet connection.
Overall Rating
Here at MrGamez, we like to compile our overall rating of a slot game based on four areas: user experience, game features, payouts, and sounds & visuals.
We applied these ratings to the Michael Jackson slot. That way, we can come up with a definitive ranking to help you determine whether or not you want to put your money here.
Overall, the user experience is great. For one, everything ran smoothly. We experienced no lag whatsoever when playing and everything was easily accessible. Despite having a different interface from slots, everything from betting to spinning the reels is easy.
Our only grievance with the user experience is that whenever you want to see the paylines, the slot opens a new browser. However, this is a small issue and not something should sway your opinion of the slot's performance.
We rarely give out 5/5s. However, because of the sheer number of gameplay options available, we decided to make Michael Jackson one of the rare 5/5s that we give out. Not only are there plenty of features to experience, but each feature is rich and great entertainment.
The payouts throughout the game are also pretty solid. The lower-tier cards will at least help you break even or make a small profit while the higher-tier cards reward you for your patience. Furthermore, with a jackpot of 2,500x your line bet, if you're one of the lucky few, you'll walk away with a lot of money.
The sounds and visuals are probably the best part of the game. The game is drawn in a cartoon fashion. Rather, all the symbols are refined and built to have a 3D look to them. When you start spinning the reels, music plays and the audio makes you feel like you're at one of his concerts.
To top it all off, you'll get to hear some of his best hits while you spin the reels. There's also an animated background that you can enjoy. All in all, it's evident that the Bally team put a lot of effort into the audio and visuals of Michael Jackson.
It's really rare that we ever give a slot a ranking of 4/5 or better. However, we feel like the Michael Jackson slot deserved its ranking fair and square. We were paid well, enjoyed every second of our time, and were awed by some of the graphics and sounds the game possessed.
So, if you're looking for a new slot to play or are simply a fan of Michael Jackson, we highly recommend you try out this slot by Bally.
Michael Jackson FAQs
Where can I play the Michael Jackson slot machine for free?
You can play the Michael Jackson slot machine for free here at MrGamez. We offer one of the widest selections of free online slots for you to play today!
Can I play the Michael Jackson slot at real money casinos?
Yes, you can play the Michael Jackson slot at a real money casino. Just make sure the site you're playing at is credible and trustworthy.
Who created the Michael Jackson King of Pop online slot?
The slot provider, Bally, created Michael Jackson: King of Pop.
When was the Michael Jackson slot game released?
The Michael Jackson slot was released on May 15th, 2015. 
References
3 things only Michael Jackson could have invented. South China Morning Post. (2021, August 27). Retrieved October 18, 2021, from https://www.scmp.com/magazines/style/celebrity/article/3146646/3-things-michael-jackson-invented-iconic-moonwalk-dance.


Heussner, K. M. (2009, June 26). How MJ Defied Gravity: The Secret to 'Smooth Criminal'. ABC News. Retrieved October 18, 2021, from https://abcnews.go.com/Technology/MichaelJackson/story?id=7941951.
Game statistics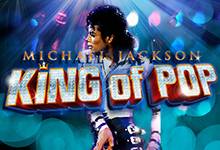 Players who played this game also played: