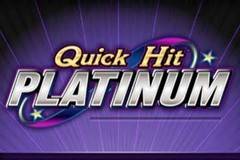 Bally
Quick Hit Platinum
Quick Hit was and continues to be perhaps the most popular land based slot to ever roll off the production line at Bally Technologies.
Play for free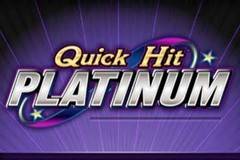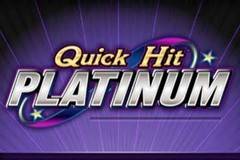 Unfortunately, this game is not available in your location
Why am I getting this message?
Thank you for informing us. Our engineers will work to fix the problem as soon as possible.
Get notified by email when this game is fixed
Thank you. Our engineers will inform you when the problem has been fixed.
Try these similar games instead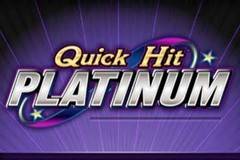 Bally
Quick Hit Platinum
Rate this game:
Quick Hit was and continues to be perhaps the most popular land based slot to ever roll off the production line at Bally Technologies.
Play for free
Report a problem with this game:
Quick Hit Platinum Slot Review
Quick Hit Platinum is a game that is obviously influenced by classic slots of the past. The design of the reels looks just like a one armed bandit and the symbols that appear are all very similar to symbols that can be found on retro slots. What Bally has done with this game is to give it a retro aesthetic but the gameplay is extremely modern. There are some great features in place and one of the best payouts around. This game is a lot of fun and will surely keep you enthralled from the off. Keep reading to learn everything that Quick Hit Platinum has to offer.
Pros and Cons
Five platinum scatters will award the maximum payout to players

Multipliers are included in the free spins round

Up to 50 free spins can be awarded with retriggers
Quick Hit Platinum has quite a low RTP in place
Quick Hit Platinum Overview
The Quick Hit Platinum slot is obvious with its retro theme. The design of the reels makes it known that the visuals for the game are based on classic slots right away. Once the game actually starts the symbols add to this, but with 30 paylines and bonus features it's clear that it has a modern sensibility as well. It's a very easy game to start playing, with all features explained clearly and simple to understand paylines. The bonus features also offer the chance to grab bigger wins which makes it more appealing to players. Although it has a low RTP, it's still a game that has a lot to offer.
RTP and Volatility
The RTP (1) for Quick Hit Platinum is set at 94.06%. This does come in below the market average which may put some players off. However, there are other aspects to Quick Hit Platinum that help it to make up for the low RTP.
The game has a medium to high variance. This makes sense as some of the payouts in the game are quite high, which explains why the game can support a medium variance, high payouts and low RTP. This does mean that players won't be able to get large numbers of wins coming their way on a regular basis, but when wins do come they will be higher than the average. This is a game for experienced slot players to get the most out of as they will know how to approach the game in the correct manner.
The below average RTP is offset by the high payouts and medium to high variance.
As is the case with a lot of slots, the bonus round is where it really comes to life. If you want to have the chance to grab some of the bigger wins that this game has available then the bonus rounds should be what you aim for.
If a slot machine player is going to play a hundred rounds at 1$ on a slot game with a theoretical slot RTP of 93%, with all other things being equal, he/she would expect to get a return of 93$ in wins from his/her staked 100$.
Wager Limits
The wager limit for the Quick Hit Platinum slot machine is set between 0.30 and 150.00 credits. This is due to a single coin being wagered on each payline. The coin values can be set as low as 0.01 and as high as 5.00.
Theme and Graphics
The game has an obvious retro style to it. The chrome look of the reels has been designed to resemble a retro slot machine. This carries on into what appears on the reels as the symbols all come from classic fruit machines. This really is a great look that has been put together very well.
Of course, the fact that the symbols also tie into this theme is a specific design choice. It ensures that the game can be targeted at a certain market (2). This helps the game to create synergy across the whole experience as well. With some modern features added to the game it allows it to keep a retro aesthetic without alienating modern players.
How to Win at Quick Hit Platinum
Game Rules
In terms of the rules of the game, it's not too complicated. Although it uses a retro aesthetic the gameplay is certainly very modern. It uses 30 paylines on the reels, which are easy to follow. Each paylines has a coin value staked on it, so once the stake has been set the reels are ready to spin. The base game offers some nice opportunities for big wins and so do the bonus rounds. This is a game that provides something good in every mode.
There is an autoplay feature included in the game which makes it very simple to work out a bankroll management strategy. This is excellent for players who want to program in a specific number of spins without having to count as they go along.
Betting Options
Quick Hit Platinum has a wager range of between 0.30 and 150.00. This is made up with coin sizes of between 0.01 and 5.00 split across 30 paylines. A single coin can be wagered on each payline which makes for the larger wager range.
Symbols and Values
Because this is a retro themed game it makes sense that the symbols follow the theme. Both the higher paying and lower paying symbols are all something that you would expect to see on a retro slot machine. This helps to set the scene of the game and really brings players in. They look great too and have been drawn to a very high level.
The following symbols make up the high paying symbols:
In a move away from other slot games the lower paying symbols in the game aren't related to playing cards. These are also linked to retro slot symbols. The low paying symbols are as follows:
Wilds, Scatter, Bonus Symbols
The wild symbol is a symbol that says the word wild. It makes it simple to spot. The wild symbol can also create wins on its own which will pay out a relatively high amount.
The scatter symbol in the game will pay out an instant win if at least 3 land on the reels. It will also trigger the free spins round. On top of this there are also two bonus symbols which will trigger jackpot payouts if enough of them land anywhere on the reels.
To discover the full paytable just take a look below:
| Symbol | 3 on a Payline | 4 on a Payline | 5 on a Payline |
| --- | --- | --- | --- |
| | 200x | 1000x | 2500x |
| | 100x | 500x | 1000x |
| | 50x | 200x | 500x |
| | 25x | 100x | 200x |
| | 10x | 50x | 100x |
| | 10x | 50x | 100x |
| | 2x | 25x | 50x |
| | 5x | 10x | 25x |
| | 5x | 10x | 25x |
| | 10x | 10x | 2500x |
All payouts are multiplied by the line bet
Quick Hit Platinum Slot Features
There are technically two bonus games in Quick Hit Platinum. The first bonus game is a picking round that begins after 3 of the free games scatter lands on the reels. This will decide on the number of spins that are awarded to players as well as the multiplier that is applied.
Bonus Games
The picking game provides players with 20 cards laid out in a 4 by 5 grid. Under each of these cards is either 5, 7, 10, 11 or 20 free spins as well as a bonus card that acts as a wild card and adds an additional 5 free spins. Whenever 3 matching cards have been turned over then that number of free spins will be awarded. The 5, 7, 10 and 11 spins all have a 2 times multiplier applied to them, the 20 spins has a 3 times multiplier applied to it. Once 3 cards have been matched the free spins will begin.
Free Spins
During the free spins round the relevant multiplier will be added to any wins. On top of this, the free spins scatter can appear during the bonus round and will award players an extra 5 spins if at least 3 land on the reels.
The standard Quick Hit symbol can appear on the reels during the free spins to award the 2,000 times payout, however the Quick Hit Platinum symbol does not appear during the free spins.
Jackpot
There is a fixed jackpot (3) used in Quick Hit Platinum. This is paid out to players when 5 of the Quick Hit Platinum symbol lands on the reels at the same time. They are scatter symbols so don't have to be on a payline. This will pay out 5,000 times the player stake when it lands.
First Moderator Deterministic jackpots have a guaranteed payout after a fixed number of bets, which is determined in advance at random, but hidden from players.
Play Quick Hit Platinum on any Device
Quick Hit Platinum was originally designed using Flash. This was generally the industry standard for slot games in 2013 so it's nothing to be shocked about. However, this meant that mobile functionality was a problem at first. However, the title was updated in 2017 to use JS and HTML5 frameworks. This means that it is now fully compatible with mobile devices. The game runs extremely smoothly and provides players with fantastic visuals and top class gameplay on any device.
Because HTML5 frameworks have been used with the development of the game, it is compatible with most modern devices.
Quick Hit Platinum Cheats
Video slots use random number generators in order to calculate each spin. Because computers aren't capable of true random numbers they use what are known as pseudo random numbers, which get as close to random as possible using complex mathematics. This means that the game cannot be predicted in any way from spin to spin. As such, there's no way to cheat when playing the game. If you do use a hack on the game you will be breaching terms and conditions and as such will void any winnings and be unable to claim them.
While there aren't any cheats, there are some tactics you can use to give yourself a better chance of grabbing some of the bigger wins. Take a look through our list to help increase your chances of winning.
Spin as much as you can
Carrying out as many spins as possible is highly important if you want to win the bigger prizes in video slots. While some people might get extremely lucky and grab the top wins on their first or second spins, it's very unlikely to happen. If you want to have a chance at winning the top prizes then you will need to carry out a lot of spins. You will also have a better chance of getting to the bonus rounds with more spins, which will offer increased prizes. This is why it's important to set your stake at a level that will give you as many spins as possible. If you can get at least 200 spins then you will have a much better chance of getting the bonus round and bigger wins.
Walk Away at the Right Time
Staying too long is one of the biggest mistakes that players make. Many players will make a profit and then keep playing to try and increase it. Some will even make additional deposits to try and win back what they have lost. In both of these situations the best choice for players is to walk away at the right time. Make sure that you walk away at the right time too.
Practice Before Playing for Real Money
Although the game is randomly generated, you can still get an idea of how the game mechanics work by playing the demo version. This will allow you to build up a sensible staking strategy without having to spend real money to do so. Obviously, there will be differences between each play session so it won't show you exactly what will happen, but it can give you an insight into what to expect.
Other Quick Hit Slots
There are a number of other Quick Hit games on the market at the moment. Here's a quick snapshot of what's available:
Quick Hit Pro Black & Gold. A simple retro styled slot with locking wilds, free spins and multipliers.
Quick Hit Ultra Pays Eagle's Peak. A 6 reel slot with 243 ways to win in place.
Quick Hit Ultra Pays Sun Dragon. A 5 reel slot with 243 ways to win and expanding reels.
Quick Hit Black & White 7s. A 30 payline video slot that includes a free spins round.
Overall Rating
Quick Hit Platinum Slot really hammers home its retro theme to players. However, even with this in place it makes sure that it is thoroughly modern with how it plays. This makes sure that the game is appealing to new and old players alike. We have made sure to provide a final capsule review for players who are still deciding if it is the game for them:
The game is extremely easy to play. There's no confusion about stakes, the autoplay feature adds some additional ease of use to the game and the mobile version is fantastic. While the paylines can't be customised, this isn't much of a problem as very few players will want the paylines removed.
The game features here are excellent. The bonus picker round adds some extra fun to the free spins. The fact that additional spins can be awarded during the free spins round makes it more lucrative. The ability to get a 3 times multiplier also means that some big wins can be won here.
The payouts are excellent in Quick Hit Platinum. The maximum win of 5,000 times the player stake is backed up by a secondary win of 2,000 times the player stake. On top of this there is also the ability to get up to a 3 times multiplier in the free spins round which can award some big wins.
The graphics and sounds are probably the only aspect of the game that aren't fantastic. This isn't to say that they are bad, but it appears that Bally has tried to focus too hard on the retro aspect of the game and hasn't brought the aesthetics up to date with other slot games. They still look and sound good in the game, but it would have been nice to have seen a little more spark put into them to help the game stand out.
This is a fantastic video slot. It has everything that you could ever want from a retro themed but modern video slot. There are some excellent features, the ability to play across a number of devices and some fantastic wins. It is aimed at more experienced players, so if you've been playing slots for years then this could definitely be a game worth checking out.
Quick Hit Platinum Slot FAQs
Where can I play the Quick Hit Platinum slot for free?
Yes, If you want to try out Quick Hit Platinum for free then you can find it right here at MrGamez.com. Just load the game up and you'll be able to work on your winning strategy straight away.
Can you win real money on Quick Hit Platinum slots?
If you play at an online casino then you will have the option of playing for real money. Just select a quality online casino from our recommended sites, sign up, make a deposit and you'll be ready to start playing for real money.
How many slots are there in the Quick Hit slot series?
There are currently 6 titles in the Quick Hit series of games. This is a popular series of games from Bally so it will be no surprise if you stumble across one when looking for a new game to play.
Are Quick Hit slots good?
They range from good to excellent. Depending on the style of video slot that you enjoy, you're almost guaranteed to find one that suits your own style of play.
References
Sifaleras, A (2021 May 5). Retrieved September 30, 2021, from https://www.hindawi.com/journals/mpe/2021/8784065/

Chen, S (2013 February). Retrieved September 30, 2021, from https://www.researchgate.net/publication/263614321_Segmenting_slot_machine_players_A_factor-cluster_analysis


Rockloff, M (2015). Retrieved September 30, 2021, from https://docksci.com/jackpot-structural-features-rollover-effect-and-goal-gradient-effect-in-egm-gamb_5a426160d64ab2946d55febe.html
Game statistics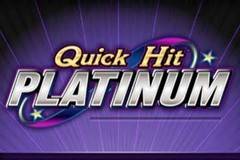 Players who played this game also played: