Quick Hit Super Wheel Wild Red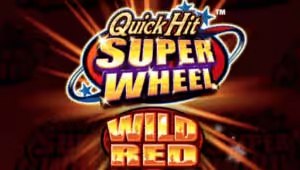 Bally
Quick Hit Super Wheel Wild Red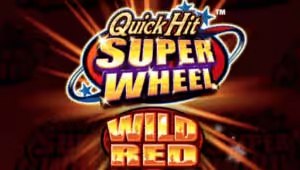 Bally
Quick Hit Super Wheel Wild Red
Unfortunately, this game is not available in your location
Why am I getting this message?
Thank you for informing us. Our engineers will work to fix the problem as soon as possible.
Get notified by email when this game is fixed
Thank you. Our engineers will inform you when the problem has been fixed.
Try these similar games instead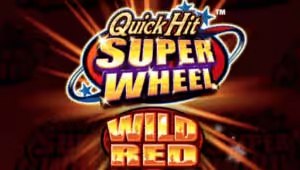 Bally
Quick Hit Super Wheel Wild Red
Rate this game:
Report a problem with this game:
Quick Hit Super Wheel Wild Red Slot
When you load up the Quick Hit Super Wheel Wild Red slot you will instantly be aware of what it is all about. This is a game that looks to take influence from the past and try to bring it up to date with modern sensibilities. The visuals are extremely good and have an excellent retro feel to them. This is combined with lots of bonus features just like you would expect to see in a modern video slot. The title as a whole is enjoyable and exciting which really helps to make this a game worth checking out.
Pros and Cons
The jackpot can be won in the base game and on the bonus wheel

Two different free spins rounds are included

Lots of wild symbols can be added to the reels in the wild free games bonus
The maximum payout could be a little bit higher for this title
Slot History
As soon as the main game for Quick Hit Super Wheel Wild Red starts up you will be instantly aware that this is a game with a retro theme. It looks superb and it's obvious that Bally has worked hard making sure the graphics are on a par with other modern games. It has 30 paylines in place and some fantastic bonus features. This includes a spin the wheel feature and two free spins rounds. The bonus features are especially enjoyable which really adds lots to this game.
RTP
The RTP for Quick Hit Super Wheel Red is pretty much in line with the market average. At 95.97% it's just a tiny bit below the 96% that tends to be the average figure for slots. This makes sure that it gives a better return than a lot of other games.
Volatility
The volatility (1) for Quick Hit Super Wheel Wild Red is set at medium to high. It means that wins don't come along quite as often as games with a lower volatility but when they do they are of a higher value. The maximum win is a little bit low for a higher volatility game, but there are still plenty of good wins that can come along in this title. It's not a game for beginner players as the higher volatility is better suited for players with experience with slots.
The RTP is pretty much at the average rate for the market.
The bonus rounds are where the really big prizes lie in this title, but there are still wins of up to 50 times the player stake available in the base game. It means that there is still plenty on offer to players when enjoying this title.
Volatility is a measure of the variation of potential outcome from the game across many bets.
Theme and Graphics
The title is instantly recognisable as a retro themed game. The reels are designed to look just like a classic fruit machine and the wheel is just like the wheels you can find on classic slots. This does make sure that the game is obviously a retro themed game. It works very well and Bally has made sure to provide excellent visuals to show off the theme.
The game makes sure that the symbols all match up to the theme as well. Everything here has a retro feel to it. It's always good to see a game that provides players with a theme that matches up all of the way through. The symbols have all been drawn very well, so look fantastic on the screen.
How to Win at Quick Hit Super Wheel Wild Red
Game Rules
The game rules are relatively simple to understand. It has a standard set of reels, with a bonus wheel at the top. This only comes into play during the bonus round so isn't used during the base game. There are 30 paylines on offer in the game which have coin values staked for each spin. There are a good number of bonus features in the game which can provide a lot of wins to players.
There's also the opportunity to use the autoplay function in Quick Hit Super Wheel Wild Red too. This is great for players who like to set up a management strategy for their bankroll. It means that it's much easier to set up their spin count right from the start.
Betting Options
Players are able to wager between 0.40 and 50.00 when playing the Quick Hit Super Wheel Wild Red slot machine. This is due to the coin size of 0.01 and 1.25 being wagered on each payline. The reason that the minimum stake is set at 0.40 as opposed to 0.30 is because there is a single additional payment of 10 times the coin size on top of the payline bet for the features.
Symbols and Values
The retro theme of the game means that the symbols in the game are all classic retro symbols. It helps to create additional levels of immersion as everything you see on the reels is something that you would expect to see on an old school lot. It makes the atmosphere much more realistic and they look fantastic.
The following symbols make up the high paying symbols:
The lower paying symbols are also in line with the game's theme. This is a change from the usual choice for low paying symbols as they normally use playing card symbols. Here are the low paying symbols you'll be able to land in the game:
Wilds, Scatter, Bonus Symbols
The wild symbol in Quick Hit Super Wheel Wild Red has wild red written on it. It means that it's not too hard to see when it arrives. It can create wins on its own or help the standard symbols to create wins.
There are two scatter symbols in the game. These are the super wheel bonus and the quick hit bonus. The super wheel bonus activates the bonus wheel round. The quick hit symbol can award a jackpot payout to players if the middle three reels are filled.
To discover the full paytable just take a look below:
| Symbol | 3 on a Payline | 4 on a Payline | 5 on a Payline |
| --- | --- | --- | --- |
| | 1.875x | 10x | 50x |
| | 1.875x | 10x | 50x |
| | 1.25x | 5x | 12.5x |
| | 0.625x | 2.5x | 5x |
| | 0.25x | 1.25x | 2.5x |
| | 0.25x | 1.25x | 2.5x |
| | 0.125x | 0.625x | 1.25x |
| | 0.125x | 0.25x | 0.625x |
| | 0.125x | 0.25x | 0.625x |
| | 0.05x | 0.125x | 0.625x |
All payouts are multiplied by the total stake
Quick Hit Super Wheel Wild Red Slot Features
There are three bonus rounds in Quick Hit Super Wheel Wild Red. The first is the bonus wheel. The second two games are both free spins rounds. Both free spins rounds and the jackpot can all be won from the bonus wheel as well as a substitution bonus that awards an instant payout.
Bonus Wheel
The bonus wheel springs into action when 3 Super Wheel symbols appear on the reels. These symbols only appear on the middle 3 reels. When this takes place the wheel will spin which can award four different bonuses to players. The first is a substitution bonus. This will replace all bonus symbols that are on the reels with wild symbols. A secondary inner wheel will then spin which will multiply all wins that are created by between 3 and 25. This can offer a significant win to players if a big multiplier appears. The second and third bonuses are the free spins rounds which we will cover in more detail further on.
Jackpot
The jackpot can also be awarded from the wheel. If this lands then the quick hit jackpot payout will take place. The payout is awarded at between the 5 symbols and 9 symbols level depending on which number the inner wheel lands on. The jackpot can also be awarded if 9 quick hit symbols land during the base game. This symbol only appears on the middle 3 reels.
Free Spins
The free spins round (2) is another bonus that the super wheel can award. This awards between 8 and 20 spins to players depending on where the inner wheel lands. Before each spin during this round a wheel will spin which will award a multiplier of 2, 3 or 5. The bonus symbols are removed from the reels during this round so the super wheel and jackpot cannot be won during the free spins.
Wild Free Spins
The wild free spins round is the final bonus that the super wheel can award. Just like the free spins round, between 8 and 20 spins can be awarded via the secondary wheel. The difference for this round is that before each spin a wheel will award between 5 and 20 wilds to be added to the reels. If 20 wilds are added then this can create a large number of wins on the spin.
Free spins are a common type of bonus feature present on most slot machines. On such machines, when players see a set number of free spins symbols aligned, they receive a set number of spins on which they can win money without spending any of their available slot machine balance.
Play on Mobile
Quick Hit Super Wheel Wild Red was developed with javascript and HTML5. This means that it is fully compatible with modern browsers. This obviously includes mobile browsers, which means that the game can work on the majority of mobile devices. This allows players to enjoy the game on the go without losing out any of the quality that the desktop version has to offer.
As HTML5 provides players with fantastic compatibility, this game is able to be used on a wide range of mobile devices.
Slot Tips
What many people don't understand about video slots is that they use a random number generator to spin the reels. This is essentially a computer algorithm that creates a random number in order to decide what will appear on the reels. It ensures that the games are completely fair and that they can't be used to cheat players. However, a side effect of this is that they also can't be predicted and therefore players are unable to work out what will land on the reels for each spin.
This means that players can't make sure that each spin guarantees a win, but that doesn't mean there is nothing you can do to enhance your playing experience. We have put together our top tips to make your playing experience a positive one.
Keep on Spinning
Just like with a lot of different slot games, the best prizes are available in the bonus round in Quick Hit Super Wheel Wild Red. It's also unlikely that you will manage to activate the bonus round within the first 10 spins. So, if you want to get into the bonus rounds you will need to make sure that you play as many spins as possible. In order to do this you may need to set your stake at one of the lower levels, but if you want a chance at some of the bigger wins then this will be worth it in the long run.
Don't Play when you should Walk Away
All too often players keep spinning when they should cash out and walk away. This can be in the form of making extra deposits or grabbing a big win and then carrying on to try and get more. Whether you have played through your budget or have made a big win, make sure to walk away at the right time.
Play the Demo First
This is something that a lot of people tend to ignore. Because the game uses random numbers many players go straight into playing for real money. This can often be an error. Because the demo version uses the same software as the real money version of the game, it is a great way to get used to how the game works. It means that it is a great way to work out what an appropriate stake level is without having to spend real money to do so.
Other Quick Hit Slots
Players can enjoy a range of different Quick Hit titles. Here is a small selection of the other games on the market:
Quick Hit Pro Black & Gold. A simple retro styled slot with locking wilds, free spins and multipliers.
Quick Hit Ultra Pays Sun Dragon. A 5 reel slot with 243 ways to win and expanding reels.
Quick Hit Black & White 7s. A 30 payline video slot that includes a free spins round.
Quick Hit Platinum. This 30 payline title has some great bonuses and a superb retro theme.
Overall Rating
The retro style of this game really gives it a great feel for players who enjoy nostalgia. However, it makes sure that it can stand up to other games on the market with some fantastic modern style features. It's a genuinely top class video slot. We've covered the most important aspects of the game so you can work out if this is definitely the game for you to play:
Playing the game is very easy. The controls are easy to use, there's a nice autoplay function and it is fully mobile compatible. This is definitely a game that will grab the attention of players everywhere and doesn't put a barrier to play in place.
There are plenty of features available here. The super wheel is a great feature that offers access to four different bonuses. There's also the ability to win the jackpot during the base game, which means that there are two different ways to win the top prize. The multipliers that can be applied to the bonus payouts are fantastic as well.
The payouts could definitely be a little bit better in the Quick Hit Super Wheel Wild Red slot machine. It's a medium to high volatility game and it has a maximum payout of 1,500 times the stake. This certainly makes it a game that doesn't pay out as well as some of its competitors.
The sounds and visuals are quite good in this slot. They fit perfectly to the retro theme of the game, but it would be nice if they had been brought up to date slightly. Retro doesn't have to mean dated and the symbols would look nicer if they had been drawn to a higher standard. However, they're certainly not bad, there is just some room for improvement.
Overall this is a great title to play. It has a superb selection of features, some good wins and the theme is great. Although there is space for the wins to improve slightly, they're still not set at a bad level. If you've got a lot of experience playing slots and enjoy a retro theme then this is a game to try.
Quick Hit Super Wheel Wild Red FAQs
Where can I play Quick Hit Super Wheel Wild Red for free?
There is a free version of the slot available to play right here at MrGamez.com. It will make it easy for you to get to grips with the game without spending any of your real money budget.
Can I play the Quick Hit Super Wheel Wild Red slot for real money?
Yes you can. Just choose a top class online casino from our selection of top casinos and you will be able to play for real money there. It's a simple case of choosing your site, using our link to sign up and spinning the reels.
Is the Quick Hit Super Wheel Wild Red slot game available at new casinos?
Yes. It was released in 2018 so it's been on the market for a few years at this point. It means that new casinos will be looking to add quality slots to their roster of games, so this is likely to be available to play.
When was the Quick Hit Super Wheel Wild Red online slot released?
It was released in 2018. This means that it has a good number of years under its belt which has allowed players to get used to what the game has to offer.
References
Turner, N (2014 January). Retrieved October 10, 2021, from https://www.researchgate.net/publication/292358780_The_relationship_between_game_volatility_house_edge_and_prize_structure_of_gambling_games_and_what_it_tells_us_about_gambling_game_design


Taylor, L (2017 June). Retrieved October 10, 2021, from https://www.researchgate.net/publication/305461517_Realistic_Free-Spins_Features_Increase_Preference_for_Slot_Machines
Game statistics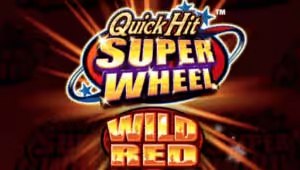 Players who played this game also played: