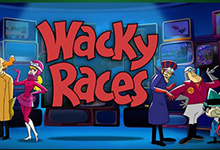 Bally
Wacky Races
Many of us who have grown up watching cartoons will agree that there arenu2019t many that measure up to the iconic series Wacky Races.
Play for free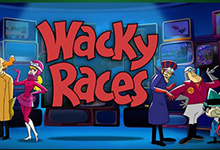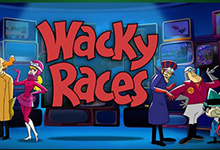 Unfortunately, this game is not available in your location
Why am I getting this message?
Thank you for informing us. Our engineers will work to fix the problem as soon as possible.
Get notified by email when this game is fixed
Thank you. Our engineers will inform you when the problem has been fixed.
Try these similar games instead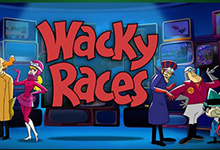 Bally
Wacky Races
Rate this game:
Many of us who have grown up watching cartoons will agree that there arenu2019t many that measure up to the iconic series Wacky Races.
Play for free
Wacky Races Slot Review
Many of us who have grown up watching cartoons will agree that there aren't many that measure up to the iconic series Wacky Races. On the 5-reel, 40-fixed payline free Wacky Races video slot by Bally, you get to join all the famous characters including Dick Dastardly, Muttley, Penelope Pitstop, the Gruesome Twosome, and Rufus Ruffcut and Sawtooth.
This animated cartoon series was hugely popular from 1968 onwards – so popular, in fact, that it was remade in 2017 to ensure that the next generation would not miss out on its wackiness. Each episode featured yet another car race, with the leading characters going wheel to wheel in an attempt to emerge as the winners.
This slot by Bally Technologies will stick out for one reason: the wealth of bonus features it contains. Stacked wilds, stacked symbols, wild reels, and random wilds, plus five different bonus games which include free spins, a pick-and-win game, and a spin-the-wheel game are what you can expect on this highly entertaining slot.
…Here They Are!
Whether you are looking for slots that you can play on your Android device, or the very best iPhone slots out there to enjoy, you will be glad to hear that Wacky Races has been designed with mobile players firmly in mind. It has the compatibility to be played on either platform, as well as on Windows mobile. They have even laid out this slot in portrait rather than landscape orientation, making sure it is the ideal free online slot for mobile players.
As you might imagine from a slot brought to you by the excellent team of developers at Bally Technologies, the graphics are also of good quality. Drawn in a cartoon style (obviously), these graphics will instantly have you remembering the classic Wacky Races cartoons of the past.
The reels are set in the dashboard of one of the cars, where you will see many of the main characters represented by symbols. The Dick Dastardly and Muttley duo make the game's highest paying standard symbol, making you 25x, 125x and 500x the line bet when they land three, four and five times in a winning combination respectively.
Race for the Win
Wacky Races really was wacky, and you would expect the slot depiction of the highly entertaining animated series to be exactly the same. And wacky is certainly the word when it comes to the features on the free Wacky Races online slot, with five different bonus features that you can unlock. Landing three or more of the Wacky Races symbol or the Wacky Races wild symbol on the first, third and fifth reels will see you witness a race among five characters to determine one of five bonus games you can enjoy.
Before that race begins, one of the racers will be randomly chosen and given a special enhancement bonus should they cross the line first. If the winner of the race happens to be Penelope Pitstop, for example, you are given 12 free spins with the potential for as many as four of the spins turning completely wild. If it's the Creepy Coupe's win, you will be given 10 free spins with random wilds or wild reels appearing after each spin. You can also earn additional free spins if you manage to land the Gruesome Twosome wild symbols on the first, third and fifth reels simultaneously.
Dick Dastardly's victory will trigger the Muttley Wacky Scrapyard feature, a multi-tiered pick-and-choose game where you can win bonuses such as random cash payouts and multipliers. Just make sure you avoid the bomb, as this will put an end to the round – unless you have used a better bonuses wager that will provide you with additional lives.
A win for Peter Perfect gives a similar pick-and-choose game, but here you will win multipliers of up to 2000x the line bet. As for Professor Pat Pending winning, his game gives you the chance to win one of the four progressive jackpots, whether it be the mini, minor, major or mega progressive jackpot.
Muttley, Do Something!
You might think all this would amount to more than enough bonus features for any slot, but on Wacky Races you get even more. The base game includes two additional features – the wild reels feature and the random wilds feature – to use while on your hunt for profits.
The wild reels feature is randomly activated, turning one or more reels completely wild to give you the potential of some healthy payouts. The random wild feature is also activated at random, and will turn between three and 11 reel symbols into wild symbols, again giving you a great chance to scoop some wins.
Drat. And Double Drat!
If you love reminiscing about the good times had while growing up, you might like to know that there are even more cartoon- or comic-themed online slots to enjoy. Those of you old enough to remember Wacky Races will also recall Ferris Bueller's classic cult film Day Off from the eighties. You can find a slot adaption of that movie among the many online games developed by WMS, with 5 reels and 25 paylines alongside a bunch of features. Each of the main characters from the movie is also represented on the reels of the Day Off slot.
If you thought Wacky Races was old, then you are going to be surprised to learn that Top Cat, another cartoon many of you would have watched as youngsters, is even older. It was first created in 1961 and more than 50 years later, you can enjoy it again on Top Cat by Blueprint Gaming. Containing 5 reels and 20 paylines, this slot will ensure a blast from the past through the many character-based features consisting of free spins, pick-and-win games, and many more.
And the Winner Is…
There is no doubt in our minds that Wacky Races by Bally will prove to be hugely popular among players at the online casinos. Even if you are not a fan of this iconic cartoon series, the abundance of bonus features alone will have you rushing to spin the reels. Graphically speaking, this slot is top-notch too, and we feel it is undoubtedly one of the best new releases of 2018 so far.
We would have liked a wider betting range, though, as you can only bet between 0.50 and a max bet of 50.00 on the 40 fixed paylines. That is the only negative we can think of, and it won't be an issue for most of you anyway. Check it out and have a great time with Dick Dastardly and the rest of the crew. We know you'll love it.
Game statistics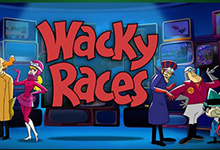 Players who played this game also played: