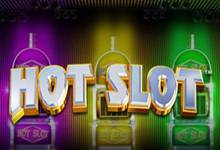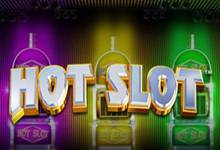 Unfortunately, this game is not available in your location
Why am I getting this message?
Thank you for informing us. Our engineers will work to fix the problem as soon as possible.
Get notified by email when this game is fixed
Thank you. Our engineers will inform you when the problem has been fixed.
Try these similar games instead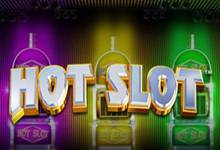 Barcrest
Hot Slot
Rate this game:
Report a problem with this game:
Hot Slot Review
Why stick to the same slot machine when you get the chance to play on 5 at the same time? This might sound crazy, but this is exactly what you can do with Hot Slot, a video slot game developed by Barcrest that lets you choose which machine you prefer and can guarantee you a win on the next spin.
Each of the machines available in Hot Slot is a typical Barcrest slot, with a 5×3 layout and 10 fixed paylines. You will find the Big Bet option here as well, all in an 80s neon ambiance that will make the most experienced players feel a little nostalgic. To find out more about this unique multi slot, check out the full review of Hot Slot right here.
80s Retro Style
Hot Slot is playing the retro card right away and we simply loved it. Each of the 5 slot machines has a specific colour theme, either red, blue, green, yellow or purple. The dark background, bright neon lights and retro graphics turn the entire screen into a virtual, old-school casino.
It does not always take much to create an engaging slot game, and Barcrest has done a great job with Hot Slot in that regard. Do not expect any fancy animations here, but the classic set of command buttons flanking the reels will be a familiar sight for many gamblers out there.
Pick Your Wager and Get Spinning
Getting started in Hot Slot is as simple as choosing a wager. You can do so in a second with the plus and minus buttons to the immediate left of the reels. The betting range is very comfortable, stretching from 0.10 to 500 credits per spin. Hot Slot also features an autoplay mode, which we recommend if you plan on sticking to the same bet settings for a while.
The paytable of the game contains all your classic reel symbols, such as fruit icons and bar signs, but also colourful 7s. The golden ones are the rarest and most valuable on the reels of Hot Slot, with a maximum cash prize of x2500 attached to their longest combinations. But what about all these other slot machines that you can see at the top of the screen? Let's get to them in our final section.
Choose the Right Machine
First of all, Hot Slot features a classic wild symbol that can appear anywhere on the reels, regardless of the slot machine that you are playing on. As you have probably guessed, you can choose freely from the 5 colour-coded slot machine at any time. There is no difference in terms of gameplay, and the general RTP is still set at 95% – except if you find the "hot" machine. One of the 5 machines is selected randomly at each turn by the game, with a guaranteed win in story if you happen to be playing on it at this moment.
The Big Bet mode is a Barcrest classic, but with a little twist in Hot Slot. You can choose to play 5 consecutive spins for 5 credits, with 1 out of 3 chances to find the hot machine, or play 5 spins for 15 credits and have only 2 machines to choose from. After each spin, be it in regular or big bet mode, you can check out the ranking of the machines and try to guess which one of them will come first for the next turn.
More Addictive Than Your Average Retro Slot
Hot Slot might look like a very classic slot game, but with a little gameplay twist Barcrest took it to the next level and turned this game into a much more exciting challenge than it might appear at first. Finding the hot slot machine is quickly going to become your single obsession, and we have to admit they we got caught up into it quite fast.
The Big Bet mode is a Barcrest classic that we usually enjoy, and in Hot Slot it takes another dimension by really helping you narrow down on the most promising slot machine. So don't be afraid to take some risks and see where that takes you in Hot Slot.
Game statistics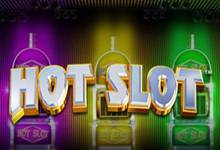 Players who played this game also played: