Rainbow Riches Fortune Favours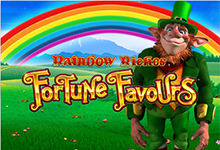 Barcrest
Rainbow Riches Fortune Favours
Itu2019s time to try a few spins and find the shining gold at the end of the rainbow in Barcrestu2019s Rainbow Riches Fortune Favours video slot.
Play for free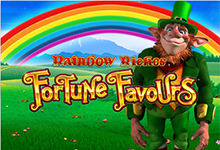 Barcrest
Rainbow Riches Fortune Favours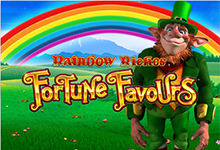 Barcrest
Rainbow Riches Fortune Favours
Unfortunately, this game is not available in your location
Why am I getting this message?
Thank you for informing us. Our engineers will work to fix the problem as soon as possible.
Get notified by email when this game is fixed
Thank you. Our engineers will inform you when the problem has been fixed.
Try these similar games instead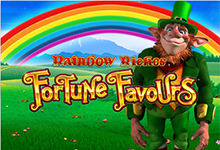 Barcrest
Rainbow Riches Fortune Favours
Rate this game:
Itu2019s time to try a few spins and find the shining gold at the end of the rainbow in Barcrestu2019s Rainbow Riches Fortune Favours video slot.
Play for free
Report a problem with this game:
Rainbow Riches Fortune Favours Slot Review
It's time to try a few spins and find the shining gold at the end of the rainbow in Barcrest's Rainbow Riches Fortune Favours video slot. Featuring software by Barcrest's developers, this online casino game serves up 5 reels with 10 potential win line combinations, as well as a Big Bet Game that guarantees a 'reely' good time.
This game offers punters the chance to play a traditional-style reel-spinning game with modern and somewhat familiar symbols. The game intertwines magical and fairy tale themes with the inclusion of fairies and impatient leprechauns. It's played for free with both low-limit and high-limit stakes ranging from 0.10 to 500 credits in the normal game. If the punter so chooses, they can bet 10, 20, 30, 40, or 50 credits to access the Big Bet Game for a better chance to win bigger prizes. The highest payout is x2,500 of the stake for matching 5 particular symbols. The lowest payout is x3 for matching 3 of the most common symbols.
A True Fairy Tale
The graphics are simple but elegant, and the theme tune of Irish folk music complements the hybrid thematic well. Thankfully, the music doesn't play continuously, coming to a pause when the reels stop spinning so players don't have to listen to a repetitive tune during longer gaming periods. The functioning buttons offer punters the chance to choose their stake and repeat the bet without having to press for each spin. The game also appears to have fair payout rates of 94% for stakes below 2 credits, 96% for stakes above 2 credits, and 97.5% for spins within the Big Bet Game.
Rainbow Riches Fortune Favours is a straightforward and traditional-style reel game with relatively standard card and object symbols: 10, J, Q, K, A, a mushroom, a rainbow, a harp, and a rainbow riches sign. These fit in nicely with the style of the game. The mascot, a cheeky leprechaun, occasionally makes an appearance on the brightly coloured reels. Known as the Irish Trickster Fairy, it's properly best not to get on the wrong side of this cheeky addition to the game!
The gambling game operates with five reels, and all winning lines occur adjacently in up to 10 different combinations. Multiple winning combinations are possible in any one spin. However, there is one magical twist to keep you entertained and on the edge of your seat.
Surprise Wild Fairies!
The bonuses in the free Rainbow Riches Fortune Favours slot take the online gambling game in an interesting direction, giving players a chance to experience a true fairy tale of their own. The first thing to capture your attention when it comes to the bonus side of the online slot is the magical fairy. On a lucky spin, gamblers may be greeted by a fairy symbol to grant their wishes, as she can transform into any symbol of her choosing and potentially give a winning line.
The Big Bet Game is the side game that players can opt into by simply clicking a button, committing to a repeated stake of between 10 and 50 credits. The game consists of four sets of five reels which are all spun consecutively – meaning the original game occurs four times – and the removal of the lower-value symbols 10, J, and Q. By staking 30 credits or more within the Big Bet Game, players get the opportunity to encounter a wild symbol. When the fairy symbol or the wild card appears in the Big Bet Game, they multiply to the symmetrical position on the reels in the other games, increasing your chances of winning more credit.
Similar Fairy Tales
This game seems to have many brothers, sisters, stepbrothers, stepsisters and cousins – both near and distant. This is not unexpected, since the leprechaun/rainbow/pot of gold idea must have been used an array of times in reel games to date. Rainbow Reel Slot Machine and Rainbow Reels are such examples.
Specifically, Rainbow Riches Fortune Favours appears to have particular thematic and functional similarities to other games, such as Magical Fairies Slots – which also has a fairy tale theme and includes a wild card in its reels. Fairy Forest is another similar reel game with generous fairies giving gamblers the opportunity to claim bigger wins. Overall, there are a lot of similar online slots to Rainbow Riches Fortune Favours, and like the journey to the end of a rainbow, we could go on and on…
So, Does Fortune Favour… the Bored?
Rainbow Riches Fortune Favours is not very innovative and looks to be a copy of what we have seen before throughout online casinos. The game's name sounds slightly awkward, almost as though something is missing from the title – which is also symbolic of the game itself. Nevertheless, the game may somewhat appeal to the old-school punter who still seeks retro charm in reel-style games, nostalgic slots, and 'fruities' – albeit without the traditional nudge and hold features, or the apples and bananas.
The game itself is rather basic, and imagination is lacking in any attempt to produce a complex narrative. The Big Bet Game is not really part of the main game. It is something punters can just opt for if they have and are prepared to wager enough credit. It feels like an uncreative attempt to create a side game or bonus feature, as here Barcrest clearly forgot to sprinkle some of that fairy dust to give the slot an innovative twist or a more interesting gaming narrative.
Game statistics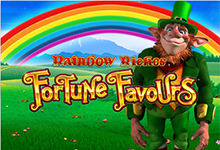 Players who played this game also played: