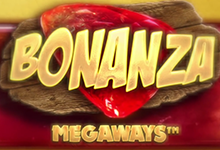 Big Time Gaming
Bonanza
Rate this game:
When Big Time Gaming first launched, there was certainly some buzz surrounding the brand, reason being that the foundations of this developer were something rather special.
Play for free
When Big Time Gaming first launched, there was certainly some buzz surrounding the brand, reason being that the foundations of this developer were something rather special.
Emerging from the mind of industry pioneer Nik Robinson, he joined forces with Huw McIntosh and Ian Schmidt to create a company that is focused upon delivering elaborate and expansive real money slot games. When you look at games like Gold and Dragon Born you can clearly see that the developer knows how to hit the mark.
Flexing its creative muscle once more, it seems that the hype is abound when it comes to Big Time Gaming's latest release. Bonanza promises jewels galore, with it having the potential to be a real gem within the online slots realm.
The potential surrounding Bonanza is nothing short of massive, as everyone knows that Big Time Gaming roll out high quality production values when it comes to every game they make. From what we've seen Bonanza could be the game that finally pushes Big Time Gaming over the top.
The Jewel in the Crown
In terms of design and UI, Bonanza is nothing short of out of this world. This game has been designed in such a way that it looks absolutely amazing on screen, with it taking up every single inch of the page. Every aspect of the game is rendered in glorious HD too, which just goes to show how much money Big Time Gaming has poured into this new title.
The theme of the game is that of jewel mine, with Bonanza taking place in the side of a mountain. In all honesty, we've never seen a theme quite like this before, as it appears "alive", with there being some fairly intricate animations occurring when the reels spin.
Speaking of the reels, the symbols here are unlike anything you've probably seen before. The low value icons carry plenty of colour, with the jewels, rubies, and emeralds looking almost lifelike. In design at least, Bonanza is nothing short of big,
Coming Round the Mountain
The core credentials state that Bonanza is a 6-reel slot release with 96% RTP and high variance, but these facts don't tell the entire story of the experience that this new game delivers. This is because Bonanza features 'Megaways', a game framework that delivers a whole new gambling experience. What this approach does is allow for bursting clone reels, which means that across 6-reels, you'll find that there hundreds of thousands of ways to win.
Gameplay is built around a minimum wager of 0.20 and a maximum wager of 500.00, so bargain hunters and high rollers will find that Bonanza caters to all budgets.
Showered with Riches
Bonus features really are the beating heart of Bonanza, as they arrive in droves. Running along the top of the screen is a selection of carts, with each of these carts adding an additional symbol to the reel it features above, increasing the winning potential of the game as a result.
Scatter and wilds also make an appearance in Bonanza, but they aren't your usual wilds and scatters by any means. For the scatter, you have "G", "O", "L", and "D" symbols, find all of these and you'll get 12 free spins, adding to that you'll get an additional 5 free spins if you find the "+5" symbol. The wilds are the lit sticks of dynamite, which work to make winning combinations that much easier to get a hold of.
Planting Your Dynamite
What makes this game almost perfect is the fact that Bonanza is really simple to play. They've planted the control panel on the right hand side of the screen, with just a few buttons featured. After putting the game through its paces, it's clear that it's just a case of using the arrows to set your wager before hitting the spin button, which is highlighted by the play icon symbol.
Bonanza Simply Blows Other Games Away!
Sometimes a slot game comes along that has the power to change the industry, for this generation that tile may very well be Bonanza.
Graphically, the game is nothing short of a powerhouse, it has an array of bonus features that pull up trees, and its payouts will leave players salivating at the mouth. These three things, along with the fact that Bonanza delivers a high variance challenge to the extreme, make Bonanza a game not to be missed.
Game statistics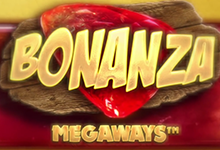 Provider:
Big Time Gaming
Players who played this game also played: