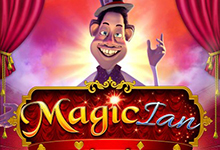 Blueprint Gaming
Magic Ian
Want to see a trick? Magicians and illusionists have entertained crowds for centuries, using their clever misdirections and lightning quick hands to keep audiences amused and guessing as to how these feats are actually done.
Play for free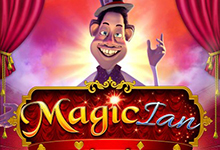 Blueprint Gaming
Magic Ian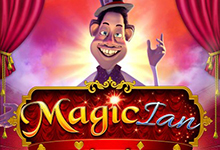 Blueprint Gaming
Magic Ian
Unfortunately, this game is not available in your location
Why am I getting this message?
Thank you for informing us. Our engineers will work to fix the problem as soon as possible.
Get notified by email when this game is fixed
Thank you. Our engineers will inform you when the problem has been fixed.
Try these similar games instead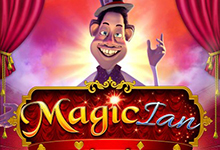 Blueprint Gaming
Magic Ian
Rate this game:
Want to see a trick? Magicians and illusionists have entertained crowds for centuries, using their clever misdirections and lightning quick hands to keep audiences amused and guessing as to how these feats are actually done.
Play for free
Report a problem with this game:
Magic Ian Slot Review
Want to see a trick? Magicians and illusionists have entertained crowds for centuries, using their clever misdirections and lightning quick hands to keep audiences amused and guessing as to how these feats are actually done. Today, few of us actually believe that a woman is being sawed in half or that our host can read our minds, but the show is as entertaining as ever.
Magic Ian by Blueprint Gaming is a brand new online slot machine that's all about putting on a big show, filling with tricks and spells that will wow players with a spectacle that few other games can match. There are a multitude of features that can be triggered: like any good magician, there's plenty of variety to ensure that audiences never get bored. Of course, this might all be a bit overwhelming for some players, but for gamblers who can't get enough of bonus features and added perks, this might be one of the best new games of 2017.
Step Right Up
The Magic Ian video slot is a game that very much throws itself into its stage show theme. The game features a magician (Ian) who looms large on top of the reels and stands ready to perform some animated tricks at any time to help you win money. The background looks like a large theatre or opera house, perfect for such an astounding performance. The reels themselves are a bit simpler, with a patterned red background and gold trimmings hosting a series of nicely-designed and colorful thematic icons.
As you would expect of a modern game, this machine offers complete compatibility with a variety of devices, including tablets and smartphones. Touchscreen controls ensure that you can enjoy fast action on supported mobile devices as well, with no download needed to play. The game also offers a range of both low limit stakes and high limit stakes for gamblers to choose from, and with a top bet of €125, you should be able to find something suitable even if you are a high roller. Of course, a free online slots version is also available if you want to test this out before risking real cash.
For My Next Trick…
There are five reels and 25 paylines of action on the Magic Ian video slot, which uses a typical 3×5 structure in its main gameplay format. The object of the game is the usual one: match identical symbols from left to right across your paylines, with at least three in a row necessary in order to score any prizes. An easily-accessible pay table ensures that you can quickly check the payouts for each possible symbol combination.
The fairly common card suits (spades, diamonds, hearts, and clubs) serve as the lower-value icons, while more thematic symbols award larger prizes. Players will find all sorts of magical staples on the reels, including flowers, cards, trunks, and hats, each of which can earn them prizes. The highest-paying normal symbol is the Magic Ian logo, which can earn you up to 400x your line bet should you manage to hit five in a row on the same line.
Pulling a Rabbit Out of a Hat
There are a lot of special features available in this game, including several that you might just happen to encounter on any given spin. These randomly triggered benefits are known as Magic Ian Modifiers, and essentially take the form of our favorite magician casting a spell on the reels to benefit you. There are many different possibilities here, and not all of them guarantee a win, but at the very least they'll improve your chances. Some of the more interesting possibilities include:
Expanding Reels: The game can enlarge to an 8×5 layout that increases the number of paylines to 50, doubling your chances of winning.
Mirrored Reels: In this feature, two or more reels are guaranteed to have the exact same pattern of symbols appear on them. This can potentially happen on as many as all five, which inevitably leads to some massive wins.
Chest of Wonder: a chest will appear at the bottom of one of the reels, which could turn the entire column wild.
Magical Streak: A lock and chain appear on top of a group of icons, triggering an instant re-spin streak.
Super Bonus Spin: This occurs only when two bonus symbols happen to land on the reels at the end of a spin. When this feature kicks in, the reels could expand in order to improve your chances of finding a third bonus
The Circle of Magic
There are a few other random features that can help you out on any given spin, but there's also the possibility to trigger some help by hitting the right symbols. Should you find three bonus icons on the screen, you'll enter the Circle of Magic Bonus, during which you'll have the chance to play for a variety of prizes. This game starts with the player drawing cards, which can have a few beneficial effects: the multipliers on potential cash rewards can be increased, or the number and/or value of features can be improved.
Once you reveal a card that says SPIN, you'll be taken to the wheel. Once it stops, you'll know what you've earned. This can be a cash prize, or one of several free spins rounds. These bonus rounds have benefits that are similar to some of the things you will see from the modifiers. For instance, Magic Rope Spins can expand the reel each time you find a rope symbol, while Teleport Spins will have to play on two sets of reels in which any wild symbols will duplicate themselves on both play areas. Levitation Spins will add a random number of extra wilds to each spin, while Metamorph Spins come with sticky wilds that also expand the reels.
In addition, this game has a gamble feature – though not one after a winning spin. Instead, you will sometimes be given the option to gamble your cash or feature awarded from the Circle of Magic for the chance to get an even more lucrative feature. Win your gamble, and you'll get a better bonus; lose, and you'll only get a smaller consolation cash prize. This is a bit different than a normal gamble game, as you'll leave with something even if you happen to lose.
The Grand Finale
With a wealth of features that add a lot of depth and replay ability, we think that most gamblers will want to play Magic Ian if they get the chance. It's certainly one of the most interesting online slots that we've had the chance to review this year, and we love the fact that there are so many different twists and turns that every single spin can take. If you like feature-filled games that can throw a lot of bonuses and extras at you at any moment, then you'll definitely want to check this one out.
Game statistics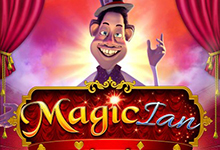 Provider:
Blueprint Gaming
Players who played this game also played: