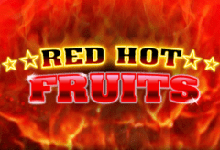 Blueprint Gaming
Red Hot Fruits
Rate this game:
If youu2019re a fan of retro themed games take a look at Red Hot Fruits from Blueprint Gaming, the online video slot which brings the casino into the palm of your hand.
Play for free
If you're a fan of retro themed games take a look at Red Hot Fruits from Blueprint Gaming, the online video slot which brings the casino into the palm of your hand. Harnessing classic play, there are all the familiar symbols which you'll know and love such as bars, lemons, watermelon, oranges, grapes, plums and cherries in an up to date format.
Although the traditional fruit machine has been given a makeover the slot is still very reminiscent of the original game and fans of retro gaming will appreciate the kitsch appeal. But will you find this game to be sizzling hot or will it leave you cold? Here's a review of Red Hot Fruits from Blueprint Gaming with the essential facts you need.
Old School Slot
Contemporary slots offer increasingly sophisticated graphics with 3D play and complex back stories which end up making the experience more like a full blown video game. However Red Hot Fruits provides none of that and marks a departure back to the era when fruit slots were simply based on spinning symbols. This is therefore a game that purists will love and brings an authentic casino experience to every player.
The background is jet black and this marks a stark contrast to the brightness of the reels, and the vividness of the symbols. The game is quite literally red hot as there's flames which lick over the reels from the top down and even appear as a backdrop to some of the symbols. The tiles are all big and bold so it's easy to see at a glance what you've spun. The graphics are fairly primitive but they're clear and stick to the original style of fruit machine games of the past so work perfectly with this theme.
Squeeze the Fruits
There are 5 reels in Red Hot Fruits and to win on game you'll need to match up identical symbols in a left to right pattern, landing on consecutive reels. All of the matches must occur on one of the 10 paylines; these are fixed and can't be reduced. You can still influence how much to bet per spin by setting the wager limit. This is the total bet and not the amount per line as you'll find in many of these games. The total minimum is 0.20 and the total max bet is 500.00 so there's a wide scope which can accommodate both low and high rollers.
If you're not sure how much to bet, take a look over the paytable which is held on a separate screen away from the main game. This shows how much you could win and also how many symbols you'll need to match to get a payout. What you'll notice instantly from the paytable is that there's not the usual array of bonus features, multipliers and free spins that you'll normally see. There is a big money payout but to win this you'll need to line up five of the Lucky 7 symbol along an active payline. Aside from this large win of 250,000 on a max bet, the highest prize for matching five symbols is 25,0000.
Get Your Five a Day!
Fruit slots are a classic way of playing and based on some of the oldest style of casino machines, there's a huge variety to choose from. If you've finished playing Red Hot Fruits there's lots of other fruit slots to try, both from Blueprint Gaming and other developers too. Lots of fruit slots incorporate more complex themes but if you're looking one that stays true to the original style, Fruitopia by Merkur is an excellent choice. It has five reels but other than a random wild symbol which sometimes appears there's not really any other extra features at all, giving it a very authentic feel.
Classic Fun
Red Hot Fruits from Blueprint Gaming is an online video slot which is a classic style of game that revives the traditional fruit symbols of the past but adds a modern twist. This slot will be popular with both newbies looking for a simple game as well as more experienced players looking for a retro game. There's not really any features or extras to be found on the reels but this only adds to the overall authentic style.
Game statistics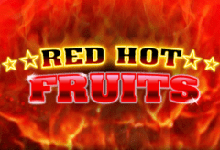 Provider:
Blueprint Gaming
Players who played this game also played: