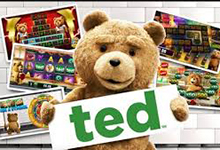 Blueprint Gaming
Ted
Get set for some seriously fun and exciting gameplay in the Ted themed slot game from Blueprint Gaming. Now, if you love adult humour, you will have undoubtedly have heard of the fluffy cuddly bear named Ted, who goes on a voyage of hysterics and X-rated fun.
Play for free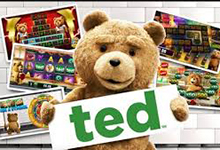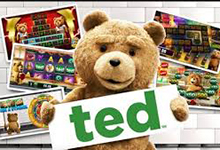 Unfortunately, this game is not available in your location
Why am I getting this message?
Thank you for informing us. Our engineers will work to fix the problem as soon as possible.
Get notified by email when this game is fixed
Thank you. Our engineers will inform you when the problem has been fixed.
Try these similar games instead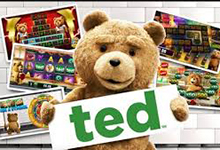 Blueprint Gaming
Ted
Rate this game:
Get set for some seriously fun and exciting gameplay in the Ted themed slot game from Blueprint Gaming. Now, if you love adult humour, you will have undoubtedly have heard of the fluffy cuddly bear named Ted, who goes on a voyage of hysterics and X-rated fun.
Play for free
Report a problem with this game:
Ted Slot Review
The Ted slot machine is based off of the hit film "Ted" starring Mark Wahlberg and Seth MacFarlane. The film follows John and his favorite toy bear, Ted, who turns alive after John wishes for his existence.
Everything in the Ted slot is themed around the movie. However, there's more to the game than the aesthetics. When you play Ted, you'll have access to several features and great payouts.
But, is Ted the right slot for you? After all, no matter what online casino you go to, there will always be plenty of different games for you to choose from.
Today, we're going to answer that question by doing an in-depth dive into everything that Ted offers. We'll take a look at their payouts, bonus games, and even their aesthetics.
Then, by the end of our review, hopefully you'll know whether or not Ted is the right slot for you. Are you ready? Let's get started!
Pros and Cons
11 different in-game features

Great user experience

Engaging sounds and visuals
ltipliers for symbols are subpar
Ted Slot History
Ted was released on March 13th, 2017. Due to its success in the theaters, the Ted slot quickly became a popular choice for players at online casinos. (1)
Ted was released in theaters in the United States on June 29, 2012, and was a box office hit, grossing $549.4 million against a $50-65 million budget. 
The slot takes a lot of the iconic phrases and characters from the film. For instance, one of the symbols you can hit is Tami-Lynn, Ted's girlfriend in the film.
How to Win at the Ted Slot
In order to win when playing the Ted slot, you'll need to match at least three symbols together in a payline. When you do this, you'll be paid out according to the symbol's multiplier.
Ted's setup is also pretty simple. There are 5 reels, 3 rows, and 20 paylines. Since most online slot games have only 10-15 paylines, you'll have a few more winning opportunities you can take advantage of.
Game Rules
The game rules are pretty simple. Before you can spin the reels, you'll need to make a bet amount that is at least the minimum bet and at most the maximum bet.
There's also the option to autoplay. When you do this, you'll be able to spin the reels consistently without having to manually press the spin each spin.
Ted's paylines are fixed, meaning that you have to bet on each payline everytime you spin. This is a good thing, though.
It guarantees that you'll be paid out no matter what payline you hit. With adjustable paylines, there's no guarantee that you'll be paid out unless you're playing every payline.
Betting Options
The Ted slot has a large betting range, with a minimum bet of $0.20 and a maximum bet of $200. This means that Ted can accommodate a wide range of betting styles, whether you're a high-roller or a low-stakes player.
If you like to play conservatively, great! You can bet the minimum each time and get at least 50 spins just by putting in $10.
If you're a highr-oller, then you can bet the maximum amount every time and when you do hit a payline, there's pretty much a guarantee that you'll be paid well.
Either way, no matter how you like to play, Ted's large betting range ensures that you can have fun no matter what budget you have.
Ted Symbols and Values
There are plenty of features in the game that you can see. Some of the lower-paying symbols are the Jack, Queen, King, and Ace. The higher-paying symbols are the bong, crate of beers, and swan.
Ted himself is the wild symbol. This symbol will help substitute for any other general symbol save the bonus symbol.
The bonus symbol is the Thunder Buddies symbol. Landing three or more these will help unlock one of the five bonus games you can find. Yes, you heard us right. The Ted slot has five different bonus games.
Let's take a look at them by examining the Ted slot's features.
| Symbol | 2 on a Payline | 3 on a Payline | 4 on a Payline | 5 on a Payline |
| --- | --- | --- | --- | --- |
| | 2x | 40x | 100x | 500x |
| | 2x | 40x | 100x | 500x |
| | - | 20x | 80x | 300x |
| | - | 20x | 80x | 300x |
| | - | 10x | 60x | 200x |
| | - | 10x | 60x | 200x |
| | - | 8x | 40x | 100x |
| | - | 8x | 40x | 100x |
| | - | 4x | 10x | 50x |
| | - | 4x | 10x | 50x |
Ted Slot Features
One of the strongest parts of Ted is the slot features that come with the game. With 11 different features to check out, there's always something new for you to look forward to whenever you play the Ted slot.
Most online slots only have 1-2 features! 
Ted Modifiers
Ted modifiers can show up at any time. In total, there are 6 different modifiers that you can find whenever you play the Ted slot.
Laser Guns Wild
Ted wakes up from his nap and fires at random reels mid-spin. Any reels hit by the laser will turn them wild.
Psychedelic Super Streak Feature
Ted's bong will cover the reels in smoke. Then, extra Ted symbols are added to the reels. Afterwards, the Teds are morphed into the same symbol and payouts are considered based on the symbols and paylines hit.
Beer Streak Feature
Ted sprays beer all over the paylines. This causes the symbols to rearrange to form winning combinations for your benefit.
Psychedelic Colossal Spin
Bong smoke engulfs the reels here as well. Afterwards, three reels are chosen to form a 3x3 mega symbol. Afterwards, payouts are awarded based on paylines hit.
TV Remote Symbol Streak
After a winning spin, Ted stirs during his sleep and fiddles with the TV remote. This causes a streak respin based on the original winning combination.
Psychedelic Bonus Boost
Extra bonus symbols are added during the spin, causing the probability that you hit one of the bonus games to increase.
Ted Slot Bonus Games
Whenever you land three or more Thunder Buddies symbols, you'll activate one of the five features. This is based on where the pointer lands for the feature ladder.
Wheel of Fortune Bonus Feature
You spin the wheel to win multipliers. If the pointer lands on one of the inner arrows, you'll be taken to the inner wheel where bigger awards await you.
If you manage to make it to the middle wheel, you'll advance to the Big Money bonus feature where you can take your chances with a big win.
Big Money Bonus Feature
Ted appears on a carousel with multipliers and Sale signs around him. After each spin, you'll receive a multiplier prize. Then, you get to pick a Spin sign.
If you pick the right Spin sign, you'll receive a respin as well as a larger multiplier prize. Whenever you play the Big Money bonus feature, you can win up to 500X your total stake.
Super Mart Free Spins Bonus Feature
During this bonus feature, you'll receive five free spins. These free spins are then set against a conveyor belt which can reveal extra wilds for you to use.
Bar Crawl Bonus Feature
In this round, you'll advance along the board to collect prizes. If you collect 5 Big Money counters, you'll then unlock the Big Money bonus feature.
Ted Free Spin Bonus Feature
This feature is played on a 5x4 setup. There is also a meter which can award free spins, wilds, or cash prizes. If you stop the flash on the meter, you'll win the prize.
Ted RTP/Volatility
The Ted slot has an RTP of 95.805% and a medium volatility. An RTP of 95.805% means that, for every $10,000 wagered in the long run, you can expect to win back around $9580.50 in winnings.
Considering that the average online slot has an RTP of 96%, you can expect the Ted slot to pay out what most online slots would.
However, you shouldn't use RTP as a way to determine how much you'll be paid since RTP is a long-term calculation. This is estimated by taking overall winnings and dividing it by overall wagers.
In the short run, anything can happen since the luck of the reels will always play a factor. For example, you might hit several high-paying paylines, putting you over the projected win amount.
On the other hand, you might go on a cold streak, causing you to lose more money than expected. Therefore, RTP should be used as a way to compare payouts between slots rather than to calculate how much you'll win.
Play Ted on Mobile Devices
Because of how popular the Ted slot is, you can expect to find the game at most online casinos. Most sites will even let you play on mobile devices.
All you need to do is find which online casinos offer the Ted slot. Then, boot up your favorite mobile browser, log into the casino, and you can start playing!
Some casinos might offer an app, but this can be a little more complicated. The reason being is that platforms like Google Play have only just begun to allow real money casino apps. (2)
Android users in the US will soon gain access to betting and gambling apps through the Play Store, Google announced Thursday. 
Furthermore, online casinos prefer to stick to mobile browsers since HTML5 technology is easier to update and maintain.
Nevertheless, because of how popular mobile casino gaming has become, almost every top casino site has made sure their games are mobile-compatible.
Therefore, no matter if you're at the beach or relaxing at home, you can play the Ted slot as long as you have a phone and some type of internet connection.
Overall Rating
Here at MrGamez, we like to compile our overall rating of a slot game based on four areas: user experience, game features, payouts, and sounds & visuals.
We applied these ratings to the Ted slot. That way, we can come up with a definitive ranking to help you determine whether or not you want to put your money here.
The user experience of the Ted slot is pretty good. Everything is accessible and there is no lag. The setup is also pretty simple so there won't be any confusion whenever you're playing.
However, we do wish that there was a little more to offer. This would make the Ted slot stand out more. For example, there are only the minimum number of buttons needed in order to make the game work.
Adding a max bet option would help us extradite the betting process and make things even smoother. Other than that, though, Ted did a great job with the user experience.
Ted is one of the few slots where we feel like a 5/5 is satisfactory for the features section. The reason being is that not only do they have 11 different features, but all of these features are high quality.
Some of these give you free spins while others help you win more money when you hit a payine. Either way, it's pretty much impossible to be bored whenever you play Ted since there's always something to do.
The payouts in Ted are pretty good. They aren't as high as some of the other slots we've reviewed. However, with so many of the in-game features helping you win more each round, it's hard to ignore how much prize money you can win solely from Ted's different bonus games.
As such, even if Ted doesn't have a well-paying jackpot or generous multipliers, the money is still pretty accessible.
The sounds and visuals of Ted are also really great. Starting off with graphics, the symbols are drawn creatively and there's even a 3D version of Ted hanging out while you spin the reels.
The background shows a party, which is one that you can find when watching Ted. These details show that the Blueprint Gaming team took a lot of time to actually understand the Ted movie and design the slot around different scenes in the film.
Ted also has great audio. The background music is something you'll hear from the film and Ted will make hilarious remarks as you play.
With most online slots using generic noises and audio, Ted's sounds add a touch of uniqueness you don't hear often.
Thus, the Blueprint Gaming team has made sure the audio and visuals are the best that they can be. When you play, both the sounds and graphics will keep you engaged the entire time.
Ted is a slot that has a lot to offer. Not only is it a slot that takes from a lot of the best parts of the Ted film, but everything across the board is really solid.
The user experience is extremely friendly and there are more in-game features than we count with our fingers. This large variety of games to play ensures that the payouts are always great during your sessions.
Moreover, the Blueprint Gaming incorporates a lot of phrases that Ted might say. Adding on the fact that there's a 3D version of Ted in the slot, the sounds and visuals are great at engaging you.
Therefore, if you're a fan of the Ted film or are just looking for a new slot to play, we highly recommend you check out Ted.
Ted FAQs
Where can I play the Ted slot for free?
You can play the Ted slot for free here at MrGamez. We offer one of the widest selections of online slots for players on the internet.
Is the Ted slot machine available at real money casinos?
Yes, the Ted slot machine is available at real money casinos.
How do I know that Ted online slots are safe to play?
The Ted online slot is safe to play if the online casino you're playing at is licensed and regulated by some credible body.
When was the Ted slot game released?
When was the Ted slot game released?
References
Wikimedia Foundation. (2021, July 30). Ted (film). Wikipedia. https://en.wikipedia.org/wiki/Ted_(film)#:~:text=Ted.


Reichert, C. (2021, January 29). Google will soon allow gambling apps in the us Play Store. CNET. https://www.cnet.com/tech/mobile/google-will-soon-allow-gambling-apps-in-the-us-play-store.
Game statistics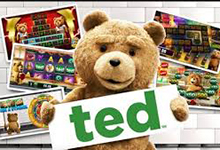 Provider:
Blueprint Gaming
Players who played this game also played: