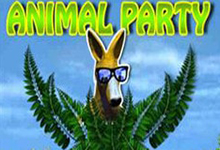 Booming Games
Animal Party
Rate this game:
Living life on the wild side doesnu2019t come naturally to all of us, with a lot of us more cautiously inclined than we are brave. Not that it matters when you start up a game of Animal Party, a 5-reel slot that delivers animal magnetism.
Play for free
Living life on the wild side doesn't come naturally to all of us, with a lot of us more cautiously inclined than we are brave. Not that it matters when you start up a game of Animal Party, a 5-reel slot that delivers animal magnetism. This zoo is unlike ones you'll see in real life, so make sure you have enough coins to keep on savouring its unique sights.
As you'd expect with a slot machine like this one, Animal Party has a distinctly dated aesthetic that makes it stand out from others, arguably for bad reasons. However, we implore you to look past the 1990s imagery because the content is worthy of your attention. This isn't a high variance slot machine, but it'll reward you for your efforts, and so we're sticking around for the final act.
Ready, Steady, Fight?!
We don't condone animals fighting, in fact we think it's a horrible and immoral activity, but it seems Booming Games aren't above making it a feature of their slot machine. Thrilled though we're not, we're trying to see the comical side of an otherwise serious issue. If this goes against everything you believe it, you won't want to ever select the gamble button, or even play this title.
The gamble is a fight between a kangaroo and a bear, both of which are wearing boxing gloves and ready to start sparring. You need to guess which will be the victor, with your likely return for each decision listed above the two options. Thereafter you select your fighter, watch them throw a few punches, and then walk away a loser or the victor. It's not what we'd call a simple double or nothing, especially when compared with other gamble options like cards, but it's not exactly in-depth either.
Bear Cheek
Returning to the bear for the moment, it's actually the scatter symbol of the game, with the kangaroo starring as the wild. For the bear to give up the goods, he needs to appear in at least a three of a kind grouping on one of those 20 paylines. Should you trigger this feature, you'll be prompted to select a symbol prior to playing the rounds.
The reason for this is so that gamers can choose their Expanding Wild icon, the special tile that'll give them greater returns should it land on the grid of the free games. This unique feature won't work unless three of the icons are stacked on top of one another, which in turn will change the entire reel into a wild.
Admission Fee
So far it's been a very hit and miss experience with Animal Party, with some of the extras making us uncomfortable and yet potentially richer at the same time. This is why we're drawing your attention to the betting range, in an attempt to try and show this slot's good side.
Accessibility isn't always offered to gamers on a small budget, with many brands targeting only the highest of high rollers, but that isn't Booming Games style; they favour the average man also. Consequently, the lowest fee you'll be able to put down is 0.60 credits, a rather minute cost for entry into a zoo. In terms of how this can be increased, it only reaches the heights of 60 credits, which again is rather small when compared to other betting ranges.
Returning to Africa
If you're of the mindset that animals shouldn't be kept in cages inside zoos, there's a real cash slot that will ease your guilty conscious called Africa from MGA. This simply titled game from MGA is a beautiful 3D example of modern online gaming. It offers an exclusive aesthetic that you immediately recognise, as well as a cheeky interface with which to play.
There are fewer winlines, 10 less in all, and there's only free games to experience here rather than extra spins and Expanding Wilds, but there's still enough of a kick to encourage you to play. It's one of our favourite animal themed slot machines online, and we're sure it could be yours too, if you'd just give it a try.
Party People
Animal Party has a rocking vibe about its title, and yet when it loads it's hardly the definition of excitement; the reels hold many symbols, but then there's limited features alongside them. When the word 'party' is involved, we expect to see sparks flying from the mania that ensues. As a result, we'd say that this slot machine is more a shindig than a party, a gathering with friends rather than a night on the town. It's decent to play, but it won't make memories that stay with you for years to come.
Game statistics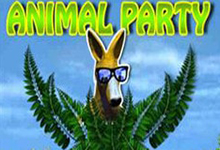 Players who played this game also played: