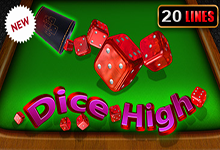 EGT
Dice High
In most cases, online casino software developers are careful to make sure that the names of their games go hand in hand with the themes of each machine.
Play for free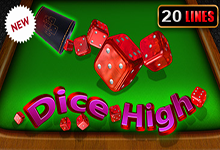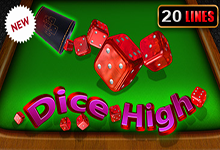 Unfortunately, this game is not available in your location
Why am I getting this message?
Thank you for informing us. Our engineers will work to fix the problem as soon as possible.
Get notified by email when this game is fixed
Thank you. Our engineers will inform you when the problem has been fixed.
Try these similar games instead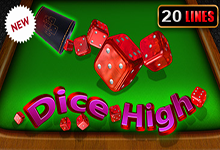 EGT
Dice High
Rate this game:
In most cases, online casino software developers are careful to make sure that the names of their games go hand in hand with the themes of each machine.
Play for free
Report a problem with this game:
Dice High Slot Review
In most cases, online casino software developers are careful to make sure that the names of their games go hand in hand with the themes of each machine. This only makes sense: in reality, slots are meant to be fairly simple offerings, and there are no style points for making complex, abstract connections between different concepts. Pair a top theme with some good gameplay and slap on a title that makes sense, and that's about the best you can hope for.
Sometimes, however, things don't quite work out this way. One great example is Dice High by EGT Interactive, a new slot machine that will soon be released at online casinos. This upcoming game has a title that would make you imagine that it fits into the realm of dice themed machines, but that's not the case: in fact, there is only one die icon in the entire game, though it does hold an important position. Instead, it's a more classic slots theme that takes center stage here, offering up familiar imagery for players to enjoy.
A Fruit Bouquet
The Dice High video slot is a game that, surprisingly, is actually a fruit themed slot machine. That's a basis for machines that we've all seen a million times before, and the interface is designed to reflect this classic feel. There's nothing fancy going on in the background: each reel is simply a flat, red color, giving players a very clean screen from which to begin gameplay. It's a sleek look that may not have a lot of eye candy, but works well for this title.
While we haven't gotten a chance to test the online gambling version of this game just yet, there are some assumptions we can make based on the live version and EGT's other iGaming ports. We expect this machine to offer several denominations and the ability to choose how many lines – as well as how many coins per line – each gambler wants to play, making it possible to enjoy this machine as either a low limit player or a high roller. A play for free version should also be available, and the web-based platform used by this provider means you'll be able to play from any operating system, with no download needed.
Apples and Oranges
The Dice High video slot is a five reel, 20 line slot machine that uses a traditional 3×5 format. Players are hoping to make matches from left to right across their active paylines, with three in a row necessary to score a win and longer matches leading to bigger payouts. On the reels, players will see a variety of fruits they can match: ranging from cherries at the low end through oranges, lemons, watermelons, plums, and finally grapes, which offer up the largest payouts of any of the normal icons.
Rolling Sevens
There are two special icons you'll want to see as much of as possible when you play Dice High. First, there is the seven, that classic symbol of casino success. These serve as wild symbols on this machine, helping to complete paylines by substituting for any other icon. In addition, these sevens can create their own wins; hitting five in a row will award 1,000 times your line bet, the largest prize available on this title.
You'll also want to keep an eye out for the dice (yes, they do appear), which act as scatter symbols. While there isn't a free spins game, there is what the manufacturer refers to as a "Pick Up Bonus," though we're not sure of the details at this time. They also note that there is an additional five credit bet that players can pay to activate more bonus features. It's unclear if this will appear in the online slot, as it might tie into something in land-based casinos, such as the progressive jackpot system (which would likely work differently in the iGaming world). Finally, the preview for this machine also mentions a gamble feature that will allow users the opportunity to try to double their money after a winning spin, at the risk of losing everything they've collected in that round.
Keep on Rolling
We don't have quite as much information on Dice High by EGT Interactive as we have had for some of this company's newest machines, but what we do know is promising. Fans of classic slots will enjoy the straightforward gameplay with familiar symbols, while the moderate volatility should make this accessible to a wide range of gamblers. We're curious to learn more about the special features, especially if the option of betting extra coins really is carried over to the online version of the game. Once the finalized version is released, we'll be sure to post a full review that goes more in depth on these intriguing features.
Game statistics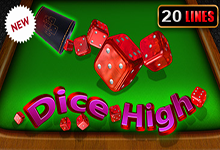 Players who played this game also played: