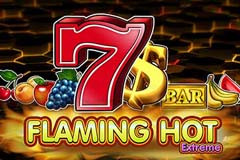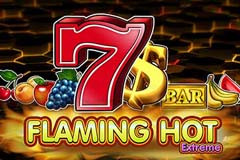 Unfortunately, this game is not available in your location
Why am I getting this message?
Thank you for informing us. Our engineers will work to fix the problem as soon as possible.
Get notified by email when this game is fixed
Thank you. Our engineers will inform you when the problem has been fixed.
Try these similar games instead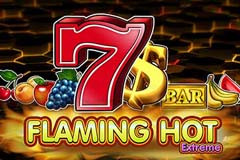 EGT
Flaming Hot Extreme
Rate this game:
Flaming Hot Extreme Slot Review
Are you ready to set your world up in flames? Flaming Hot Extreme slot by EGT is a classic online slot that is played on 5 reels and 4 rows featuring 40 different paylines and ways to win. The slot offers a variety of features including stacked symbols and free spins.
With 30 free games and an incredible re-spin feature, the slot is bound to rock your world and set it to flames. Get ready to win big with Flaming Hot Extreme!
Pros and Cons
Playable both on desktop and on mobile. 

This slot is played on 40 paylines. 

There are a variety of features including 30 free games. 
The maximum jackpot is quite low for high rollers. 
Theme and Graphics
It's quite the challenge to take a classic and traditional slot (1) theme but still keep it fresh and interesting. However, EGT has managed to do just that with Flaming Hot Extreme slot. This 5-reel online slot adopts a simple classic fruit theme without it being the least bit boring to players, whether they are beginners or professional players.
The fruit slot machines were introduced in 1907 by a company based in Chicago. It was a modified version of the Liberty Bell machine and it featured colorful fruits on the slots instead of cards and the bell. Some of the fruits displayed on the reels included: Lemons.
The reels are surrounded by a deep red background that makes the traditional symbols stand out even more. The graphics in this game are far from unique but it does a good job at inviting players with its simple and bright theme, especially beginner players wanting to test the waters.
How to Win at The Flaming Hot Extreme
Winning cannot be simpler when spinning the reels of Flaming Hot Extreme slot. You will need to land on three of a kind when the reels spin and each set of symbols have their own payout. The amount you receive heavily depends on the amount that you have placed at stake.
Games Rules
The rules of the game are simple. Flaming Hot Extreme slot is an extremely user-friendly game which is one of the main reasons it is a popular slot.
On the right-hand side of the reels, you will see what your last win was. This is also the place in which you decide whether you want to gamble your winnings or instead collect them.
The orange button indicates the Autoplay which allows the reels to spin independently. Rather than selected a predetermined amount, you can simply click on or off.
To the side of the reels, you will also see the indicated paylines. The number 1, 10, 20, 30, and 40 are visible. However, since this is a fixed payline game, you cannot choose to lower the number of paylines to play with.
Betting Options
All of your options to start playing are situated at the bottom of the reels, each with a different bright colour to stand out from the rest. The main things you will instantly notice is that there is no 'Spin' button. Instead, you will need to choose your bet to start spinning the reels. You will have the option to choose between 40, 80, 200, 400 and 800. Once you select your betting option, you will trigger the reels.
Symbols and Values
On the reels, you can find a variety of symbols such as cherries, oranges, apples, grapes, bananas, watermelon, the golden bar, and the lucky number 7.
The cherries, oranges, apples, and grapes all pay out 5, 40 and 100 when landing three, four and five on the reels. The remaining fruit, meaning the bananas and watermelon, pay more, with 10, 80 and 200, respectively.
The golden bar and the red lucky number 7 are the highest paying symbols in the game, with a maximum of 1,000x your bet.
If you're interested in getting to know more about different payouts for each symbol, you can check out our paytable below.
| Symbol | 2 on a Payline | 3 on a Payline | 4 on a Payline | 5 on a Payline |
| --- | --- | --- | --- | --- |
| | - | 80x | 400x | 2000x |
| | 5x | 40x | 200x | 1000x |
| | - | 20x | 100x | 300x |
| | - | 10x | 80x | 200x |
| | - | 10x | 80x | 200x |
| | - | 5x | 40x | 100x |
Flaming Hot Extreme Slot Features
One of the most common features in any slot game is its wild. In Flaming Hot Extreme, the wild appears on reels 2, 3 and 4 and can act as a substitute for all symbols except for the special symbols like the scatter symbol.
The scatter symbol in the game is represented by the golden dollar sign and it is the highest paying symbol on the reels. Three, four and five symbols will award you 80, 400 and 2,000 respectively. The maximum total bet possible is that of 40,000.
Free Spins
However, the scatter per sei, is not the most important thing – its ability to trigger re-spins and free spins is. Firstly, when landing on three, four or five scatters, you will trigger a re-spin of the reels not having that scatter.
This will give you the chance of landing more wins and more free spins. 
If you land on another scatter, you can also trigger another re-spin. The maximum re-spins that you can trigger is five. When you land on five scatters or there are no more re-spins, you will be able to play your free spins.
The number of free spins all depend on how many scatters you land on. Three scatters will give you 10 free spins, four scatters will reward you with 20 free spins and five scatters will give you 30 free spins.
The re-spin feature can also be triggered during the free spins which will get you to win more. 
Jackpot
At the top of the screen, you will be able to see four progressive jackpots. These are represented by four playing card suits. This jackpot feature is classic EGT and can be triggered randomly after a winning combination. Players will get to choose from 12 playing cards that are seen face down, until you get to reveal three of a kind. When this happens, you will win the corresponding jackpot.
Bonus Games
The game also features a gamble feature which provides a great level of excitement. You can click on the gamble button after any win and try to guess whether the next playing card is going to be black or red. If you guess correctly, you can continue with the gamble feature and keep on guessing. If you fail at guessing, you will lose your winnings.
Slots that include a gamble feature typically offer players the chance to double their winnings that have just been accrued on the board or in a bonus game. They generally consist of a 50/50 choice where winnings are doubled if you win. If you make the wrong prediction all winnings are lost.
RTP/Volatility
Flaming Hot Extreme slot's RTP is that of 95.96% and currently it is categorised as a medium variance slot game (2). The RTP is quite low when compared with other slot games and it is considered to be below average.
The highest possible win for this slot is 1,000x your bet which is also rather low and will be difficult to attract high roller players. However, the slot has frequent small wins instead.
Flaming Hot Slot Series
Our slot review would not be complete without taking a close look at the original game in the Flaming Hot series.
EGT's original Flaming Hot video slot is a 5-reel slot that is played on 4 rows. There are also 40 fixed paylines in the game and you will find a lot of stacked wilds and scatters that can aid in your winning combinations.
The scatter symbol is also the dollar sign that can increasingly boost your payouts with a maximum payout of 400,000 coins. What is different to the newer version of the game is that the original does not feature re-spins.
Overall Rating
It's time to give our overall rating on EGT's Big Flaming Hot Extreme and we've based our review on a number of things: user experience, game features, payouts and sounds & visuals. By analysing all these areas of the game, we were able to give a final rating that will help you decide whether you would like to play this slot for real money or for free. Here's what we think of this EGT slot game.
The user experience of Flaming Hot Extreme was great. Despite it being a traditional and classic slot game, the bold colours and twists gave it a modern and fresh look. It was anything far from boring and we're sure that both beginner players and professional ones will be able to enjoy spinning the reels on this one.
We were slightly confused when we did not see the 'Spin' button, but we quickly realised that we needed to first choose our bet so that the reels can start spinning.
This was a minor inconvenience that we quickly got round to sorting. Overall, Flaming Hot Extreme was delightful to play, and we found it entertaining.
We were happy to see that there were a few slot features when spinning the reels on Flaming Hot Extreme. For starters, we saw an upgrade to the original game with this version having the re-spins.
Secondly, the number of free spins given is quite decent and we believe that the slot's features can surely upgrade your winning payouts.
The option of having a gamble feature is an exciting one. While it might be a feature for the bold ones, it will surely give you something to look forward to if you're looking for that extra bit of adventure in your gameplay.
We believe that the payouts in this slot are decent. All fruit symbols offer some sort of payout with three, four or five combinations on the reels. The payouts are, not only decent, but also quite frequent, which makes the game more exciting.
The only downside to payouts is that high rollers might be slightly disappointed since the maximum win is not extremely high. However, we still believe that Flaming Hot Extreme provides great fun for everyone. ccc
In our opinion, sound and visual are not out of this world. The slot provides a very common theme and although it is never boring, the graphics are not unique.
However, what sets it off from the crowd is its bright and bold look and feel to the traditional slot game.
In our opinion, sound and visual are not out of this world. The slot provides a very common theme and although it is never boring, the graphics are not unique.
However, what sets it off from the crowd is its bright and bold look and feel to the traditional slot game.
There's a lot to like here! Flaming Hot Extreme is definitely an upgrade to its original slot game. EGT has done a great job at bringing forth a very traditional and classic theme but giving it its own twist to make it more enticing.
Although the sound and visuals are not extraordinary, the slot makes up for it in its slot features with re-spins and free spins.
Flaming Hot Extreme FAQs
Where can I play the Flaming Hot Extreme slot for free?
You can play the Flaming Hot Extreme slot for free, right here, on MrGamez.com. All you need to do is search for the game and press Play to start off the demo game.
Can I play the Flaming Hot Extreme slot machine for real money?
Yes, you can play the Flaming Hot Extreme slot machine for real money. You can find a list of our recommended casinos, right here on MrGamez.com.
Is the Flaming Hot Extreme slot game available in my country?
iGaming regulations are different in every country. We suggest that you take a look at this list of casinos by country, and you should find somewhere to play the Flaming Hot Extreme slot.
Is the Flaming Hot Extreme online slot available on mobile?
Yes, you can play Flaming Hot Extreme online slot on your desktop, tablet, or mobile device.
References
Classic Online Slots - Features, Advantages and Popular Games (2020, August 27). Retrieved July 22, 2021, from https://www.casinoguardian.co.uk/slots/classic-online-slots/


Get Gambling Facts. Retrieved July 22, 2021, http://getgamblingfacts.ca/how-gambling-really-works/return-to-player-rtp-and-hit-frequency-what-do-these-mean/
Game statistics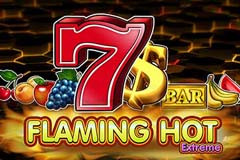 Players who played this game also played: