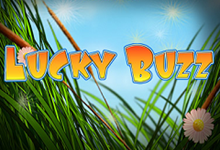 EGT
Lucky Buzz
Rate this game:
Fancy something cute and cuddly, but from an unusual source? Well why not try out Lucky Buzz, an online slot machine that puts its emphasis on insects rather than kittens and puppies.
Play for free
Fancy something cute and cuddly, but from an unusual source? Well why not try out Lucky Buzz, an online slot machine that puts its emphasis on insects rather than kittens and puppies. It might be a more novelty theme than most, but it manages to create a heartwarming, sweet atmosphere that will soothe even the most grumpy among you.
This might just have you changing your mind the next time you go to stamp on a spider or squeal at a moth.
Under the Microscope
The world beneath our feet, hidden behind all that dirt and greenery isn't one the majority of us think about, for we'd much rather think about the world we can see as opposed to what we can't. Lucky Buzz turns that on its head, and presents you with an imaginary world of what it's like when we put a bug's life under the microscope.
In regards to how the theme is presented, there's an overriding childlike tone to the piece that feels like you've just walked into a child's drawing rather than a game created by computers. There's an innocence about it, which is ideal for the theme at work here. The one thing that can be damning to a game is a badly initiated design, but EGT navigate this precarious issue with ease.
Part of Their World
Having been shrunk down to size and placed among the general population, it's time for you to think like a bug and go about your life as one. It doesn't seem like they're that different from us: there's a fly drinking wine, an angry bug driving a car, a cricket waiting on tables, and a bee making its weekly purchase of honey.
Each of these symbols can be seen as the higher paying ones, simply because of the effort that has been put into their appearance; card values are a good indicator of a lower payout. That is why the A, K, J and Q have such a small prize fund when compared with the others; €100 is the highest you can get (on a minimal betting range), whereas the highest from the floral ant is €1,000. That's quite the leap.
Magic in Unusual Places
A mystical butterfly type queen will have probably appeared on your 5-reels by now, and with her she brings the chance of money and stacked wilds; whenever the scatter round launches, players are promised to get stacked wilds. However, for that to happen you need to get at least three scatter icons in the first place, which is mightily tricky when they can only land on 3 of the 5-reels.
Stacked wilds mean more cash, which means bigger rewards, and thus a higher payout when the game ends.
A Cut Above the Rest
To be in with a chance to unlock Lucky Buzz's potential, you'll need to place a wager of between €1 and €20. This takes into account both players that play with the full set of winlines and those that don't. Paylines can be changed on either side of the grid, with 1 winline being the lowest anyone can have.
As for the maximum betting amount, that is €400, a sum of money that a lot of you will avoid risking, and yet it can dramatically change how the paytable pans out. If you put more cash down, the benefits increase tenfold, but so does the risk, meaning you need to be one brave soul to take on the big leagues.
Feeling Lucky, Punk?
Lucky Buzz is a happy go lucky title that has bundles of charm, whilst offering customers a more relaxed and friendly environment in which to play. The usual 3D photorealistic graphics have been removed and replaced by illustrated images, and we for one prefer seeing EGT try out something different.
It's a shame the game is so small though, as boredom sets in all too quickly, even if you should play your cards right and get all the top payouts, and have the odd gamble; two standards features, and one jackpot feature, isn't enough.
Game statistics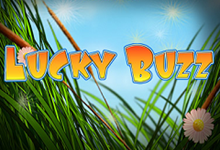 Players who played this game also played: