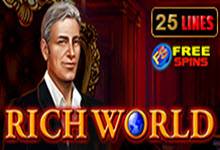 EGT
Rich World
Rate this game:
If EGT knows anything, it is how to create an online slots title that at minimum looks the part. Many of the games that come off this developeru2019s production line hook players through pure visuals alone.
Play for free
If EGT knows anything, it is how to create an online slots title that at minimum looks the part. Many of the games that come off this developer's production line hook players through pure visuals alone.
While the level of gameplay and replay value has been debated, the sheer look of EGT's game is more or less set in stone as far as outright quality is concerned. Proving that they are continuing to hone their skills, it appears that the brand's latest game is yet another sight to behold. Rich World is arguably one of the most lavish online slot releases in recent memory.
Luxury and all things high class lies at the heart of Rich World, with the game promising to take players one step closer to the high life. That being said, does Rich World lavish players with a high quality online slots experience? Find out by going through our review below!
Experiencing a Taste of the High Life
Appearance wise, with EGT you are right to expect high production values, with Rich World meeting this expectation and then some. Absolutely nothing about the look of this game is delivered in half measures. For starters, the backdrop of the game seems to be a deep brown colour, which is very reminiscent of smooth textured leather. It would be very apt to describe the design of Rich World as tone setting.
If the design of Rich World grabs you, then the symbols used are likely to blow you away. Every symbol in this real cash slot has clearly been crafted with realism in mind. From the glowing gold credit card, to the individual faces of the female and male "characters", everything in Rich World is as true to life as it can be for a real money slots release.
Money, Money, Money
With a name like Rich World, you would probably expect this game to throw out all kinds of bumper jackpots, in what would also be an all risk affair. That isn't exactly the case here, as Rich World is a medium variance release. This game doesn't subscribe to the normal jackpot setup either, as it unloads not one, but four bumper progressive jackpots. The need for more progressive jackpot games within the world of online slots has been evident for years, so it's great to see EGT meet that need with Rich World.
Betting wise, you sadly aren't granted a whole lot of choice, as the options at hand are 25, 50, 150, 250, and 500, but it doesn't really prove to be too strong a mark against the overall quality of Rich World.
Large and in Charge
Rich World is a large and in charge real money slots release for the most part, but it does appear to drag its heels somewhat when it comes to bonus features. The lack of a dedicated bonus game was disappointing, while we found that we only had scatters and wilds to work with.
The wild appears on reels 2, 3, and 4 of Rich World and substitutes for all other symbols bar the scatter. The scatter works as per the norm and can issue you with 15, 20, or 25 free spins, depending on how many you are able to land on screen.
Finger on the Button
Bonuses are pretty average within Rich World, but the flipside is that the game carries an incredibly easy to understand control setup up as a result. There are just five basic buttons, showing total wagering amounts, at the bottom of the screen. All any player has to do is hit one of these buttons and the reels of Rich World will start spinning.
Simple and to the point, there is nothing standing between you and luxury inspired slots action with this game.
Step into the Realm of Luxury with Rich World!
Our hats are off to EGT this time around, as they have created a game that hits the mark as far as luxury online slots action is concerned. The design of the game is nothing short of lavish, with its four dedicated progressive jackpots ensuring that the game has plenty of power as far as payouts are concerned.
If you are on the hunt for a high end, high-class real money slots experience, look no further than Rich World by EGT.
Game statistics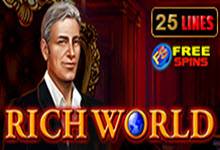 Players who played this game also played: