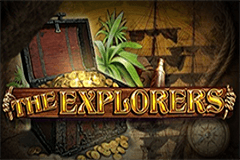 EGT
The Explorers
Rate this game:
Jackpots ahoy! Embrace your sense of wanderlust and explore the seven seas with this 5-reel video slot machine from Euro Games Technology. Who knows, there might just be some buried treasure for you to discover.
Play for free
Jackpots ahoy! Embrace your sense of wanderlust and explore the seven seas with this 5-reel video slot machine from Euro Games Technology. Who knows, there might just be some buried treasure for you to discover.
The Explorers follows the same template as many other themed slots that have been designed by this reputable Bulgarian based software company. With plenty of other decent titles such as Venezia d'Oro, Zodiac Wheel and Witches' Charm, you can be sure that this slot machine will follow suit to provide a more than adequate amount of entertainment.
Aesthetically, this slot machine is sits more towards the impressive end of the scale when it come to Euro Games Technology – whose slots are sometimes a little bit hit and miss graphics wise. As such, players will be treated to a pleasing contrast of light and dark-coloured reel symbols, which sit over a lovely background depicting a glowing sunset.
Know the Ropes
There's plenty of stuff going on to excite the senses, but is there anything going on to excite your winning desires? Well, with 15 paylines, a chance to win free spins with multipliers, a gamble game and a bonus jackpot round, this slot machine is certainly full to the gunwales with winning action.
Are you now ready to get your sea legs? Well shiver your timbers and batten down the hatches because you are about to learn the ropes of this nautical-themed slot machine.
First thing you need to know is that there are 5 betting values for you to choose from. These are – 15, 30, 75, 150 and 300. For you to begin a spin, you just need to click one of these values, or simply press the "start" button and thar she blows, the reels will spin away until they stop of their own accord or you press "Stop". You can also start and stop spins by pressing the space bar on your keyboard.
So, playing the game is easy enough and after you've had a few goes you'll be feeling like a life-long sailor of the seven seas. But what exactly are you playing for? Well, there are 11 symbols in total, some of which are low value letter symbols and others which depict different objects and characters that you might find on any good maritime expedition.
There is a sextant (one of those nautical measuring device thingies) and a telescope, both of which have quite low values. There are also some human characters, including a keen looking explorer chap and a well-to-do looking lady, who looks like she's hating every minute of being stuck on a boat. Then there is the captain himself – who is the most valuable of the lot.
There is also a wild card as depicted by a boat and a scatter symbol as depicted by a paradise desert island.
Fire up the Free Spins
Players of The Explorers will be given the opportunity to have some free spins if they line up 3 or more scatter cards. When this happens the player must choose from a selection diaries to determine the amount of free spins – ranging between 10 and 25 – and a multiplier (ranging between 1 and 5).
Go Overboard
There is also a gamble game involved on this slot machine, which can be activated whenever the player wins less than 525 credits. This side game is as simple as choosing from red or black to guess the colour of a face down card. If the player guess right then their previous winning amount is doubled, if they guess wrong then the winning amount is thrown overboard.
Be There Treasure on This Slot Machine?
As with most EGT designed slot machines, The Explorers gives players the opportunity to participate in a randomly triggered bonus round. In this side game, there are 12 face down cards and 4 mystery jackpot amounts which are depicted by a different card suit; clubs being the lowest, followed by diamonds then hearts and finally with spades as the highest amount.
All the player has to do is choose 3 cards to turn over. If the suits all match then the jackpot bounty is released.
Shipshape and Bristol Fashion
This slot machine certainly provides players with an entertaining game that is shipshape and Bristol fashion. The graphics are of good enough quality to ensure that every spin is filled with excitement and the gameplay is easy to follow and smooth to behold. But perhaps the best about this slot machine from EGT is that is gives players plenty of thrills with the opportunity to win free spins and jackpot bonuses.
Game statistics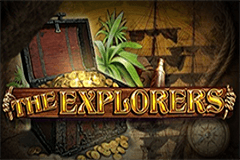 Players who played this game also played: