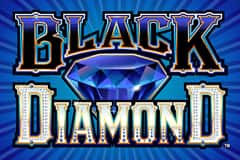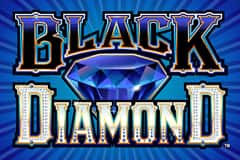 Unfortunately, this game is not available in your location
Why am I getting this message?
Thank you for informing us. Our engineers will work to fix the problem as soon as possible.
Get notified by email when this game is fixed
Thank you. Our engineers will inform you when the problem has been fixed.
Try these similar games instead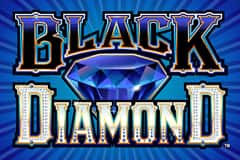 Everi
Black Diamond
Rate this game:
Report a problem with this game:
Black Diamond Slot Review
There are two types of slots on the market, those that come fully equipped with flashy graphics, audio, and endless bonus features, and those that are stripped down to the basics, offering nothing by good payouts and a classic and rewarding gameplay.
Thankfully, Black Diamond slot, from the Texas-based provider Everi, falls under the second category. This 3-reel and 9 payline slot game offers nothing but the essentials, with just the right amount of bonus games and features. Nothing too complicated. Simply satisfying.
Pros and Cons
Features a big progressive jackpot. 

Includes multipliers. 

Playable both on desktop and on mobile. 
There is no standalone bonus game. 
Theme and Graphics
Black Diamond slot game by Everi is meant to replicate the feeling of playing on a classic slot with mechanical reels. As we said previously, Everi are not particularly interested in aesthetics but rather the functionality and the slot's gameplay.
The end result is a very plain and simple looking slot game which makes sense since it was originally built for land-based casinos (1) and not for the online slot market.
How to Win at The Black Diamond Slot Machine
Some online slots are complicated which means that it takes a while to get used to them and figure out the best ways to win. However, Black Diamond slot machine is simple since it is very similar to land-based casinos. All you will need to do is fill one or more active paylines with the same symbol or combinations to win.
Game Rules
The slot game consists of nine variable paylines across the reels. This means that your first decision needs to be how many paylines to include in each spin. The fewer paylines you include in each spin, the greater the risk that the winning symbols will fall on the other paylines which you didn't choose. By choosing fewer paylines, you are limiting your chances of winning and having a good game.
Betting Options
Your lowest coin value is 0.25 while your maximum coin value lies at 5.00. At a maximum bet, which means three coins across all nine paylines, the cost per spin is 135.00. This will please high rollers as there are big prizes to be one at maximum wager.
Symbols and Values
The highest paying symbol on the reels is the Black Diamond logo, which pays out a whopping 5,000 coins when matching three symbols on reel nine at less than a maximum bet. On reels 1 to 8, the symbol pays 300 coins.
The sevens symbol also pays quite a lot when catching it on the reels. The blue colour pays more than the yellow and the red while a combination of any three sevens pays 10 coins. A match of three double bar symbols pays 20 coins.
The game's wild symbol is the black diamond, and this can replace all symbols except multipliers. 
If you're interested in getting to know more about different payouts for each symbol, you can check out our paytable below.
| Symbol | 3 on a Payline |
| --- | --- |
| | 5000x |
| | 100x |
| | 50x |
| | 30x |
| | 10x |
| | 10x |
| | 20x |
| | 3x |
Black Diamond Slot Features
Black Diamond slot's features are stripped down to the very basic. Features include the game's wild symbol, multipliers and tiered jackpots. Although the slot features are limited, we're sure that players will be satisfied with the bonus games.
Jackpot
The big jackpot is awarded when matching three Black Diamond wilds on the 9th payline. This means that to be in the possibility of winning the jackpot, you will need to include all paylines and play three coins per spin. If you trigger the jackpot, you will be awarded the progressive jackpot sum that will be showing on the top left corner of the screen.
If you match three Black Diamond wild symbols on paylines 1 to 8, you will be awarded the Minor Jackpot which will be displayed at the top right corner of your screen.
All jackpot prizes are only available when playing at maximum bet. 
Free Spins
Unfortunately, there are no free spins with Black Diamond slot. However, this is not all-together surprising since it is a retro-themed game. On the contrary, there are multipliers that occur randomly on the symbols. There can be added together to add up to some incredible payouts.
Bonus Games
The slot does not have a standalone bonus game. However, it has a number of features that can prove to be very profitable. As we mentioned above, each symbol has a multiplier which can increase your win by up to 30x.
The 2x multiplier has the ability to be added to any symbol while the 3x multiplier is only available for the single 7 symbol and the single bar symbol. The 5x multiplier is set for the more unique symbols such as the triple sevens, the double sevens, and the double bars.
RTP & Variance
The RTP lies at 95.95% which is slightly below average. However, don't let this put you off the game completely. Black Diamond slot is a medium volatility game which means that gamblers are able to find a comfortable wagering level.
Low-risk players should always aim for low-volatility games that don't require huge stakes and pay out loads of small cash prizes, whereas high rollers know they need to hunt out high-risk, high-volatility games that offer occasional chances to scoop some huge cash prizes.
Beginner players should first try out the demo game before spending their real money on Black Diamond. Practice makes perfect.
Black Diamond's main target audience is definitely high rollers since its jackpot bonuses are only rewarded at higher betting levels. To reap the maximum benefits from this game, you should look closely at betting techniques used by successful players (2).
Our top tip is to engage with Black Diamond as a demo for free, as much as possible, so that you can get familiar with the game before spending your real money.
One of the major benefits of demo slot games is playing them for free. Yes, demos require zero money to be deposited for spinning reels. Sometimes, you do not even have to be registered at an online casino to play slots.

Dummies.com
Play Black Diamond on Mobile
Mobile gamblers are forever on the rise. Black Diamond slot machine is available on mobile including iOS and Android devices. All you need to do is download the Black Diamond app for free and set your bet.
Depending on which online casino you're playing at, you may also be able to access the slot game via a web browser.
Slots Similar to Black Diamond
Black Diamond slot is simply one game in a bigger collection by Everi. Everi is responsible for producing a number of classic Vegas-inspired slot machines including Double Leopard. This slot game is a 3-reel and 9 payline game with a special double leopard symbol that acts as a wild in the game. The wild can also trigger the jackpot prize. 
The only difference to Black Diamond is that it features an exotic cats theme and that the prize is not progressive.
Overall Rating
It's time to give our overall rating on Everi's Black Diamond and we've based our review on a number of things: user experience, game features, payouts and sounds & visuals. By analysing all these areas of the game, we were able to give a final rating that will help you decide whether you would like to play this slot for real money or for free. Here's what we think of this Everi slot game.
We loved the look and feel of Black Diamond. It's nothing fancy and the special features are limited but we are ecstatic that it got the basic just right. Since it was mainly designed for traditional casinos, there are no elaborate features. It is simple and effective.
Black Diamond slot is full of features that work such as multipliers, jackpots, and wilds. Although jackpot wins are aimed at high rollers, the multipliers are set on each symbol which means that you can still get great payouts during the game.
If you're looking at winning big, you will have to be willing to bet higher.
The payouts are quite impressive for Black Diamond, especially if you're willing to bet on the high side. All symbols have a multiplier attached to them, some bigger than others. The only downside to payouts is its RTP as it is slightly lower than average.
EGT Interactive offer great vibrant and clear visuals in the 20 Burning Hot video slot. The symbols are illuminated The graphics and audio are nothing extraordinary. Black Diamond is a simple 3-reel and 9 payline game that is simple and effective. No tricks, no extra complications. Extremely user-friendly that ticks all the correct boxes.
Black Diamond hits all the right spots. With its incredible multipliers, major and minor jackpots and simple gameplay, this slot is appeal for both casual players and high rollers.
The only disadvantage to the game is that there is no standalone bonus game, but we think that the heavy multipliers make up for this. Try Black Diamond for free or for real money today!
Black Diamond FAQs
Where can I play the Black Diamond slot machine for free?
You can play the Black Diamond slot machine for free, right here, on MrGamez.com. All you need to do is search for the game and press Play to start off the demo game.
Can I play the Black Diamond slot game for real money?
Yes, you can play the Black Diamond slot game for real money. You can find a list of our recommended casinos, right here on MrGamez.com.
Who makes Black Diamond slots?
Black Diamond slots are made by the software developed called Everi, based in Texas.
What's the maximum payout on the Black Diamond casino slot?
The maximum payout on the Black Diamon casino slot is 60,000 coins.
References
Casino (2021, July 23). Retrieved July 29, 2021, from https://en.wikipedia.org/wiki/Casino


Using Probability when hitting the slot machines (2021, July 20). Retrieved July 29, 2021, https://www.dummies.com/education/math/using-probability-when-hitting-the-slot-machines/
Game statistics