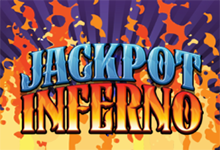 Everi
Jackpot Inferno
Jackpot Inferno will have players so excited to engage in on the awesome fun in this great slot machine game. The free Jackpot Inferno slot game offers a 5 reel, 50 line payout grid. There are some awesome added features including the scatter symbols, as well as many opportunities to hit 2 bonus games.
Play for free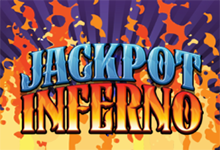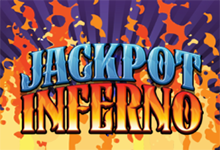 Unfortunately, this game is not available in your location
Why am I getting this message?
Thank you for informing us. Our engineers will work to fix the problem as soon as possible.
Get notified by email when this game is fixed
Thank you. Our engineers will inform you when the problem has been fixed.
Try these similar games instead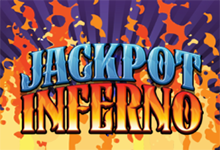 Everi
Jackpot Inferno
Rate this game:
Jackpot Inferno will have players so excited to engage in on the awesome fun in this great slot machine game. The free Jackpot Inferno slot game offers a 5 reel, 50 line payout grid. There are some awesome added features including the scatter symbols, as well as many opportunities to hit 2 bonus games.
Play for free
Report a problem with this game:
Jackpot Inferno Slot Review
If you're looking for fast-paced, heart-pounding gameplay, look no further than Jackpot Inferno. This slot made by Everi is heaps of fun and has plenty of big wins waiting for you.
In the game itself, you'll see plenty of classic slot symbols such as the Lucky 7 and the Cherry. Furthermore, with a bonus game and free spins, the game tries to bring as much as it can to the player.
But, is Jackpot Inferno the right slot for you? In our review today, we want to answer that question by taking a look at the slot's symbols, in-game features, and payouts.
Then, hopefully, you'll know whether or not you should play Jackpot Inferno. Are you ready? Let's get started!
Pros and Cons
Great bonus games

Easy-to-use user experience

Progressive jackpot
Decent payouts

Boring sounds and visuals
Jackpot Inferno Overview and Betting Range
Jackpot Inferno was released in 2016 by Everi, a Nevada-based slot provider for online casinos. Soon after the game was released, it gained popularity due to its classic theme and generous payouts.
The slot has a pretty simple setup, with 5 reels, 3 rows, and 50 paylines. This means that there are 50 different line combinations that pay you out. However, you can hit multiple paylines in a spin.
Jackpot Inferno's paylines are fixed. This means that you have to bet on all 50 paylines per spin. While this may seem extreme, we've found that betting on all the paylines yields more reward than selecting your paylines.
Furthermore, Jackpot Inferno has a pretty large betting range, with the minimum bet being $0.50 and the maximum bet being $125. Therefore, you can play whatever playstyle you like.
If you're a low-stakes player and like to conserve your money, you can bet the $0.50 minimum everytime. Even with only $20, you're guaranteed at least 40 spins.
Meanwhile, if you're a high-stakes player and like to bet big to win big, then you can bet the maximum amount of $125. With Jackpot Inferno having some pretty high payout multipliers, you're bound to receive some sweet wins while playing Jackpot Inferno.
Therefore, no matter how you like to play slots, Jackpot Inferno's wide betting range ensures that you'll always have fun.
Jackpot Inferno Symbols and Values
There are 11 symbols in the Jackpot Inferno slot. Of these eleven symbols, nine will pay you some sort of reward while two aid you with some feature.
Of the nine paying symbols, the cherry, heart, lemon, and crown pay the least, with three matching symbols only awarding 5X your line bet. It's worth noting, though, that the cherry pays the least for 3, 4, and 5 symbols matched.
On the other hand, the highest-paying symbol is the red Lucky 7 which pays 200X your line bet. The game also has quite a few Lucky 7 symbols. However, we aren't too surprised since the Lucky 7 is a common sign in gambling. (1)
Seven is considered lucky by many people, certainly worked out for Mickey Mantle.
There is another symbol which can pay more than the red Lucky 7. However, we'll get more into this later.
For more information on Jackpot Inferno's symbols and their respective payouts, be sure to check out our paytable below:
| Symbol | 3 on a Payline | 4 on a Payline | 5 on a Payline |
| --- | --- | --- | --- |
| | 20x | 75x | 200x |
| | 15x | 50x | 150x |
| | 10x | 40x | 125x |
| | 10x | 30x | 100x |
| | 5x | 20x | 80x |
| | 5x | 15x | 60x |
| | 5x | 10x | 50x |
| | 5x | 10x | 40x |
Jackpot Inferno also has a wild and scatter symbol. The wild symbol is just the word and it can substitute for any symbol except the scatter.
The scatter symbol is the word "Bonus" with green filling the words and background. This symbol helps unlock free spins and a multiplier.
Jackpot Inferno Slot Game Features
Jackpot Inferno has two main in-game features, both of which complement each other well. The first bonus game is the free spins bonus game. This can be unlocked by hitting the scatter symbols.
By hitting three, four, or five scatter symbols, you can unlock six, ten, or twenty free spins respectively. Each of these come with their own multiplier:
3 Scatter Symbols: 2X
4 Scatter Symbols: 5X
5 Scatter Symbols: 10X
Even moreso, the free spins bonus game only features high-paying 7s and wild symbols, meaning that you're guaranteed big payouts.
The other bonus game that you can find is the progressive jackpot game. Because of its wide range of betting amounts, you can have 40 different jackpots to win.
Furthermore, rather than being the traditional progressive jackpot, this slot uses an ascending system. This means when you win one jackpot, you move up to a larger jackpot.
However, winning this jackpot can be a little tough. For one, you need to land 5-10 of the logo symbols in order to unlock a field. Here, you're given 3 picks for a field with 20 icons. These icons will contain multipliers, cash prizes, and etc.
But, if you manage to land another logo symbol, you activate the Jackpot Jump feature. Here, you're given the current jackpot and the meter moves up to the next largest jackpot.
Afterwards, you'll need to repeat the process of collecting logo symbols so that you can activate the bonus game again.
These bonus games are the two main features for Jackpot Inferno. They complement each other quite well and provide you with plenty of opportunities to win money.
RTP/Volatility
Jackpot Inferno has an RTP of 95.77% and a medium volatility. Considering that the average slot has an RTP of 96%, this puts Jackpot Inferno around what most slots would pay.
An RTP of 95.77% means that, for every $1,000 wagered in the long run, you can expect to receive $957.70 back in winnings.
However, you shouldn't base your decision solely on RTP. For one, since slots are RNG-based, luck always plays a factor in how much you can win.
You might win the jackpot early-on, putting your over the projected amount. Similarly, you might have a number of bad spins, pushing your budget below what you expect to lose.
Furthermore, RTP is merely an average estimate since RTP is calculated by dividing total winnings by total wagers.
As a result, RTP is better used to compare payouts between slots. Using RTP to estimate how much you'll win does you no good.
Jackpot Inferno also has medium volatility. For reference, low volatility slots have little-to-no risk. This means that you'll consistently hit paylines during your session. However, this also means are pretty mild.
On the other hand, high volatility slots have a lot of risk. It's entirely possible that you won't hit a significant spin for the first 30 tries. However, the payouts are much larger to compensate.
Therefore, Jackpot Inferno has some risk and the payouts will reward you better for your time than low volatility slots.
Play Jackpot Inferno on Mobile
Because of how popular Jackpot Inferno is, you can expect to find this game on most mobile casinos. Currently, the slot is compatible with iOS, Android, Windows, and Blackberry devices.
All you have to do is open a mobile browser, log into your favorite online casino, and you're good to go! You can also download an app if offered. However, this is a bit more complicated.
For iOS devices, not every casino will offer an app. However, if they do, all you need to do is download it from the store.
With Android devices, Google only just announced that they would be allowing real money casino apps in their store. However, in order to put your app on the store, you must go through a lengthy application. (2)
Eligible apps must meet the following requirements: developer must successfully complete the application process in order to distribute the app on Play;
Therefore, like iOS, not every casino will have an app.
However, a lot of casinos might have an option to download their app from their website. In this case, you would just go to their mobile browser site and download the app there.
Personally, we find mobile browsers to be the most efficient form of mobile casino gaming. Most online casinos gear their games to be mobile-friendly thanks to HTML5 technology.
Nevertheless, due to how popular mobile casino gaming has become, just about every top site has become mobile-friendly.
Therefore, no matter where you are, you can always play your favorite slot games, including Jackpot Inferno!
Overall Rating
Here at MrGamez, we like to compile our overall rating of a slot game based on four areas: user experience, game features, payouts, and sounds & visuals.
We applied these ratings to the Jackpot Inferno slot. That way, we can come up with a definitive ranking to help you determine whether or not you want to put your money here.
Overall, the user experience was pretty great. The setup was appealing to the eye. Meanwhile, we could see just how much was at stake for the progressive jackpot.
Everything was also easy to access. No matter what part of the game we wanted to examine, it was usually only just a click away. Furthermore, we could find all the different paylines available to us on the help page.
Jackpot Inferno made all the information we needed easily available to us. Furthermore, with little to no lag during the gameplay, we were very pleased with how the user experience stacked up to other online casinos.
The game features are also a stellar part of Jackpot Inferno. While there are only two real features to look out for, both of these features complement each other well.
The progressive jackpot gives you bigger wins while the free spins bonus feature lets you hit more paylines. Together, these two features help you score large payouts for a fraction of your time.
Our only wish is that Everi would have added one regular game feature aside from the scatter and wild. The reason being is that the free spins and progressive jackpot could be hard to hit at times.
Other than that, we have no complaints about the features that Jackpot Inferno has!
The payouts in Jackpot Inferno aren't terrible, but they're also not great. If you are hitting mid-to-upper tier symbols, you'll be paid a decent amount.
However, other than that, you're probably losing money. Furthermore, because the progressive jackpot increases with the logo symbols, it can take quite a while for the jackpot to be worth a decent amount.
Luckily, there are parts of the game that help boost the slot's payouts. For instance, the free spins bonus game also offers a multiplier that increases your winnings.
The payouts for this game were pretty basic. We still made money. However, we've seen better at times.
depends on the symbols appearing on the reels. For example, the bell symbol will award you the amount of 10, 15 or 20 coins. The lion symbols pay the largest prizes, worth 30, 35 or 40 coins.
The sounds and visuals department was also average. While they did great in some areas, they were also lacking in other places.
For example, the graphics of the game were great. Different shades were used for each color of a symbol and there were even animated flames above the highest-paying Lucky 7 symbol.
However, the background was just a dark shade of purple with nothing else to it. While the symbols might've been, the background definitely could have been improved.
The same went for the sounds. We really enjoyed the noises made whenever we spun a reel. However, with no background music to go with the slot, it was hard to really immerse ourselves in the gameplay.
We were impressed with certain sounds and visuals for Jackpot Inferno. Similarly, however, we also thought several areas could've been improved.
There's plenty to love with Jackpot Inferno. For one, their take on a jackpot is one of the most unique we've seen. Not only do you have the opportunity to consistently win jackpots, but you also have 40+ different jackpot amounts.
Furthermore, the free spins and multiplier bonus game really does a lot for your balance. It helped us when we were low on funds and it'll help you whenever you need a cash boost.
Sure, some areas were alright like their graphics and audio or their payouts. However, at the end of the day, we still had an enjoyable time and we still got paid.
If you're looking for a fast-paced slot with plenty of entertainment, we highly recommend Jackpot Inferno. It's blazing hot when it comes to the rewards and just as fiery with their gameplay.
Jackpot Inferno FAQs
Where can I try the Jackpot Inferno online slot for free?
You can try the Jackpot Inferno online slot for free here at MrGamez. We offer one of the widest selections of free online slots across the internet.
Which real money casinos offer the Jackpot Inferno slot machine?
You can find Jackpot Inferno at online casinos like Caesar's casino. To get a full list of casinos that offer Jackpot Inferno, be sure to check out our list here.
What is the max win on the Jackpot Inferno slot?
Since Jackpot Inferno is a progressive slot, the maximum win differs game to game.
What slots are similar to the Jackpot Inferno slot game?
Games like EGT Burning Hot and EGT 40 Burning Hot have a similar theme to Jackpot Inferno. Furthermore, both Burning Hot and 40 Burning Hot have progressive jackpots.
References
NPR. (2007, July 7). The Magical Qualities of the Number 7. NPR. https://www.npr.org/templates/story/story.php?storyId=11803762.


Google. (n.d.). Real-Money Gambling, Games, and Contests - Play Console Help. Google. https://support.google.com/googleplay/android-developer/answer/9877032?hl=en.
Game statistics