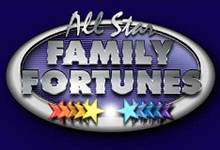 Fremantle Media
All Star Family Fortunes
Rate this game:
All Star Family Fortunes is an online slot machine with a difference, and that difference is that itu2019s brought to you by Fremantle. If youu2019re a lover of television and binge watch shows all the time, youu2019ll probably already know this, but the brand isnu2019t specifically a gaming one.
Play for free
All Star Family Fortunes is an online slot machine with a difference, and that difference is that it's brought to you by Fremantle. If you're a lover of television and binge watch shows all the time, you'll probably already know this, but the brand isn't specifically a gaming one. It is, in fact, a label that owns quite a few big brands within the TV circuit.
This doesn't sound like it would be much of a problem, as surely a brand from inside the media industry would be able to appreciate the intricacies of gaming? Well your experience with All Star Family Fortunes may change how you think once you're done punting. The reason being is that the game lacks clarity that a lot of other providers include with ease.
Amateur Hour
Whenever we write up a review, we always try to be as delicate as possible without completely condemning a brand, for there could be various reasons why that one title failed to do well. But when it comes to Fremantle, we feel like the gloves should be off given their level of experience. True, it isn't within the online gaming sector, but surely they would have done their homework before developing these games…?
Upon first glance, this looks like a slot machine that students may have created. In fact, we reckon that if students had been the ones behind the interface, the results would be way more positive. The whole screen looks a dysfunctional mess. There's some imagery inside the grid that pays homage to the beloved gameshow, but they hardly capture the essence of what it was all about. Considering the TV counterpart ran from 1980 to the early 2000s, you'd think Fremantle would have wanted to get the aesthetic of the game right.
Gameshow Battle Off
As if by divine will, we happened upon many different examples of what a gameshow inspired slot machine should look like, like that seen within the 3×5 matrix of Take Me Out Date Night. Hold up, that's a Fremantle slot machine, so why is the Family Fortunes one so appalling when this more modern slot looks the business?!
Even though we can't explain how or why this is, at least we can demonstrate that the brand is capable of creating decent online slots when they put their minds to it. Perhaps they felt that the hype around Family Fortunes had died out long ago, whereas Take Me Out is still a popular programme with viewers, especially younger ones.
Broken Down Betting
When it comes to actually putting some coins down to play, the setup here is obvious and yet annoying, which sounds like one massive contradiction, so allow us to explain. You see, usually you have one toggle that changes the betting range and then a spin button to set the reels in motion. Here however, you have seven different widgets with bet values on that not only set your value but spin the grid also. This is then followed by the Repeat Bet option, a widget that functions as your play button.
This just feels like unnecessary messing about with an interface format that's known to work – it's like Fremantle went out of their way to shake things up so much that the controls aren't recognisable. And even if the controls worked like they should, they're so unsightly that it puts you off wanting to play anyway, and so the cycle begins anew. If we ever needed example of a needlessly complicated interface, this would be the one we choose.
The Good Times Are Gone
Having watched Family Fortunes as children, we'd be excited to play this slot machine, for we thought it would reconnect us with old memories. What it did instead was make our love of the show die a slow and painful death. This real cash slot is one of the worst we've come across, both in looks and gameplay; we'd steer clear of this game at all costs. In terms of ratings, we'd give this a two out five stars, one of the lowest ever reviews we've given to an online casino game.
Game statistics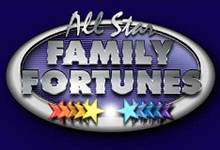 Provider:
Fremantle Media
Players who played this game also played: