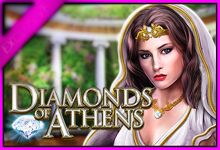 High 5 Games
Diamonds of Athens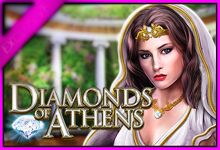 High 5 Games
Diamonds of Athens
Unfortunately, this game is not available in your location
Why am I getting this message?
Thank you for informing us. Our engineers will work to fix the problem as soon as possible.
Get notified by email when this game is fixed
Thank you. Our engineers will inform you when the problem has been fixed.
Try these similar games instead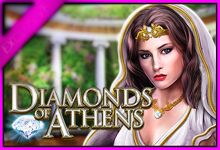 High 5 Games
Diamonds of Athens
Rate this game:
Report a problem with this game:
Diamonds of Athens Slot Review
If a rich investor had invested a time machine and could offer you untold riches for travelling back to Ancient Athens and bringing back some of the characters of Greek Mythology – would you be up for the challenge?
If you would, then it's time to play Diamonds of Athens – a fun 6-reel online slot from master slot game creators H5G.
Travel back to Ancient Athens and hunt for the heroes and heroines of Greek mythology and also some of the bad guys like the Cyclops and the Minatour – all of which are rich investor desires.
The investor has also created some bonus games for you to enjoy if you do a good job, and the Diamonds of Athens Wild Bonus and the Free Games Bonus – can reward you well!
But don't worry about your mobile devices not working in this ancient land as your time machine has managed to boost mobile connectivity between the two worlds – allowing you to use iOS and Android technology to help you hunt.
Greek Graphics
The very realistic characters and Coliseum setting set the mood straight away – and you'll soon be tempted to strap on your toga in an attempt to blend in with the locals. Try it with a casino welcome bonus for some extra playing cash.
Diamonds Are Forever
Your investor has left you a few clues to the whereabouts of those you seek – so pick up the letters that are strewn across the reels. Find any 3-6 matching symbols and you'll also receive 1-20 times your stake.
Your investor is also keen for you to pick-up a few ancient artefacts including helmets, swords and axes and will pay you between 4 and 30 times your stake for doing so.
Then it's time to pick-up a few Minotaurs and Cyclops. Find any 3 to 6 of either and your reward will be 8 to 60 times your stake, as it will be for finding the same amount of Greek Heroes. However, find 3 to 6 Greek Heroines and you'll be rewarded with up to 100 times your stake.
The Greeks also love to go Wild and the Wild symbol will substitute for all symbols except the Diamond symbol when the Wild Bonus is awarded. 3 wild symbols awards 5 times your stake – but 6 wild symbols award a truly mythical 500 times your stake.
When your luck is in you'll also see plenty of diamonds appearing on this video slot, and when 12-16 diamonds appear on reels 2-5 at once you'll get a matching number of Free Games.
What's At Stake?
Whilst you'd better beware of the dangers of this mythical world – it won't cost you much to play there if you don't want it to. Small stakes players can play just 1 line at 0.01 coins per spin – though high-rollers can play 50 lines at 10 coins a spin. There are 5 lines options and 8 staking options to choose from.
If after reading this you aren't enchanted enough to play, or you prefer themed games from blockbuster movies, have a look at the free Marvel themed slots you can play.
A Greek Tragedy?
Definitely not! With so many lines and staking options, fun characters, great bonuses and payouts – there should always be a happy ending!
Game statistics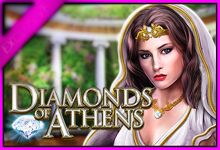 Players who played this game also played: