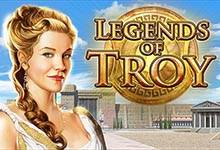 High 5 Games
Legends of Troy
Rate this game:
The city of Troy was situated in what is now known as northwest Anatolia, Turkey. It was the setting for the Trojan War, which was described in the Greek Epic Cycle and especially in the Iliad.
Play for free
The city of Troy was situated in what is now known as northwest Anatolia, Turkey. It was the setting for the Trojan War, which was described in the Greek Epic Cycle and especially in the Iliad. This particular war was waged against the city by the Achaeans, or as we know them now, the Greeks, when Paris of Troy stole Helen from her husband Menelaus, king of Sparta. It's one of the most important events in Greek mythology, and this game tells the story of the siege before it takes place. Of course, holed up inside the fortress are various Trojans who are set to defend the city with all their might, but you must undertake the role of a fearsome Greek warrior and storm the citadel before its too late. If you're ready to take back Helen of Sparta, then fight on! You'll be presented with a game which will drop you right into the planning stages of the war, so you'll have to put your strategies across in order to try and secure victory. Secure the city of Troy and become a legend in your own right!
Planning is Everything in Battle!
So, while playing this game won't necessarily take you into the heat of the war, you'll still get to experience all the drama and intensity of the upcoming fight. The reels of Legends of Troy are presented against a backdrop of a stone temple, and there's a total of six reels and four rows, which is a slightly bigger layout than usually found in video slots. However, it's here that you'll also find the various different symbols, which exist in several different Greek alphabet icons. Four other higher paying symbols have also been added to the game, the first three of which are soldiers of the Greek army – one of whom could very much pass for Chris Hemsworth in his role as Thor. Finally, there's an icon of the beautiful woman you're going to rescue, Helen of Sparta.
Not only does this game have a nicely designed, and larger layout than normal, but it has also had a total of 50 separate pay lines incorporated into it as well. These can be adjusted to suit your own personal preferences, with 50 pay lines being the maximum amount, only topped off by 50 lines plus an extra feature. You're also able to switch around the amount of the bet you place per round, and this is done by changing the coins wagered per line between $0.01 and $10. This allows a maximum overall wager of $1,000 per spin to be placed.
Raid the City with Some Special Assistance
So, if you were a part of the Achaean army, what kind of strategy would you utilise? Perhaps the inclusion of some wild assistance? Well, this game has its own wild icon, represented by the bronze shield, and as a wild, it will substitute for all other symbols on the reels in order to form a winning combination. Should you spin six of them on to a winning bet line, you'll receive a maximum pay out of 2,500 coins.
The additional special feature that was mentioned earlier is known as the 'Scatter Bucks' feature. For every wild that appears on the reels, a credit value will also appear across it. The credit showing will contribute towards scatter bucks pays, while the wild substitutes for all icons, except the Trojan Horse scatter. These will pay out anywhere between 25 and 10,000 credits instantly, without needing to be included in a win!
Finally, now that you've decided on the Trojan Horse as being your plan of action, you'll find that this icon acts as the game's scatter symbol. Three or more of them appearing anywhere on reels two, three, four or five will trigger the freespins round, with three providing seven freespins and four offering up 15 freespins. Additional freespins can be won during this round as well.
Attack from Inside the Horse for Victory!
Most of us are aware of the siege of Troy story, and this game does a beautiful job of putting it into action in a video slot. It has some intriguing graphics incorporated, interesting special features, and altogether, it provides a compelling game for the High 5 Games catalogue.
Game statistics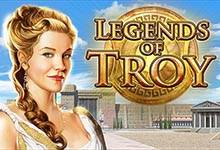 Players who played this game also played: