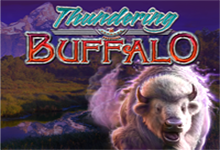 High 5 Games
Thundering Buffalo
Thereu2019s been a problem at the nature reserve, and itu2019s up to you to assist in turning things around.
Play for free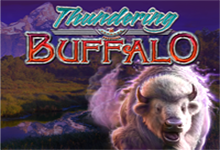 High 5 Games
Thundering Buffalo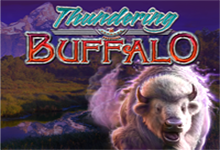 High 5 Games
Thundering Buffalo
Unfortunately, this game is not available in your location
Why am I getting this message?
Thank you for informing us. Our engineers will work to fix the problem as soon as possible.
Get notified by email when this game is fixed
Thank you. Our engineers will inform you when the problem has been fixed.
Try these similar games instead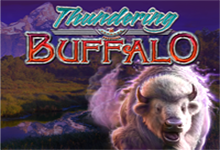 High 5 Games
Thundering Buffalo
Rate this game:
Thereu2019s been a problem at the nature reserve, and itu2019s up to you to assist in turning things around.
Play for free
Report a problem with this game:
Thundering Buffalo Slot Review
There's been a problem at the nature reserve, and it's up to you to assist in turning things around. You see, the buffalo have all gone a little bit crazy from being so confined, and just as the Red Indians were about to move them from the small space into an open area of land, they all bolted and started charging across the place on a rampage. Now, you'll have to not only assist in re-capturing the buffalo to ensure their safety, but you'll also have to warn all of the other Indians that there are a few enraged animals charging through the territory. If you're able to be of enough use to the group, they'll very handsomely reward you, but just beware of the oncoming herd. Buffalo stampeding towards you at full speed is not something you want to experience. Fortunately, you've got a little bit of help from the special features that High 5 Games have incorporated into this one, meaning that you should have no issues with fulfilling the task at hand, however dangerous it may be.
Scan the Perimeter
It's difficult to tell how far these animals may have gotten, but if you scan the perimeter of the territory, you should be able to find them. Of course, on a layout like this, it might be a little trickier, as High 5 Games have created it with five reels and a stunted set of rows which are displayed in a 3x4x5x4x3 interface. However, don't worry, because upon these reels you'll find the variety of icons which will assist you in your mission. The first of these exist in the form of the regularly seen A, J, K, Q and 10 symbols, while the rest of them fit in more closely with the overall theme. The first of these is a teepee with a light on inside. This is joined by a second icon of a totem pole, while the last one is that of one of the escaped buffalo.
Don't worry about making combinations of wins either, because the developer has also included a total of 720 ways to win. This is not something that you're able to customise as it's a fixed amount of win ways, but you do have the chance to alter around the bet amount that you place per spin. This begins from its minimum of $0.50 per spin, but will increase as the multiplier is increased with the arrow buttons. This can be moved up to a maximum of times 1,000, and therefore, it will give you a maximum overall wager amount of $500 per spin.
How to Catch a Charging Animal
As noted, being in the path of a charging animal is not the best method of catching one, but that's where the specialities of this game come into play. Of course, the fact that there are 720 ways to win included in the game is a boon in itself, but there's also the addition of its wild icon. This is represented by the symbol which states, 'WILD' on it, and as such, it will stand in for any other symbol on the reels in order to form a winning combination. The only exceptions to this rule are the game's scatter and 'Free Spins' icons, and wilds can only show up on reels two, three and four.
And speaking of the scatter symbol, this is represented by the burning fire. As a scatter, it will pay out wherever it shows up on the reels, with five of them coming into view multiplying your wager placed by a total of 50 times.
Finally, the previously noted 'Free Spins' symbol is what will trigger the freespins round of this game, if it wasn't already obvious. You'll need to spin them into any position on five consecutive reels to initiate the round, but upon doing so, you'll be provided with a total of eight freespins altogether. If more than one combination per spin awards these, the sum of the spin for all winning combinations is awarded at once!
One further thing to note is that because of the MultiWay Wins feature, this game will offer pay outs on wins that are formed from left to right or right to left.
Beware of the Buffalo!
We definitely think that this game has what it takes to be considered one of the best from High 5 Games. It certainly fits very well into the portfolio of products already offered, and brings entertainment and fun to your screen.
Game statistics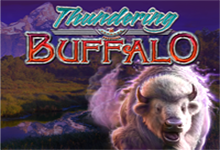 Players who played this game also played: