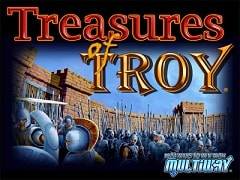 IGT
Treasures of Troy
Treasures of Troy is one of IGTu2019s original slot creations that found fame throughout land based casinos around the world, owing to its excellent graphics and gameplay.
Play for free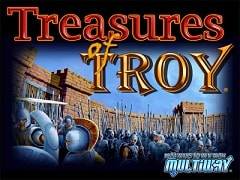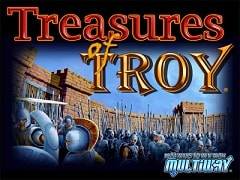 Unfortunately, this game is not available in your location
Why am I getting this message?
Thank you for informing us. Our engineers will work to fix the problem as soon as possible.
Get notified by email when this game is fixed
Thank you. Our engineers will inform you when the problem has been fixed.
Try these similar games instead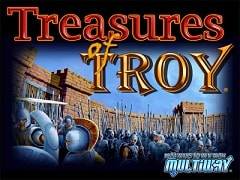 IGT
Treasures of Troy
Rate this game:
Treasures of Troy is one of IGTu2019s original slot creations that found fame throughout land based casinos around the world, owing to its excellent graphics and gameplay.
Play for free
Report a problem with this game:
Treasures of Troy Slot Review
Treasures of Troy provides players with some classic video slot action. With its theme based around the Trojan war it's something that will be familiar to many players. What helps it to stand out on the market is that it offers the opportunity to play with between 1 and 1,024 paylines. This really makes it interesting, especially when compared to some other games on the market.
As it's set during the Trojan war you can expect a lot of Trojan imagery. You can even hear the sound of Helen of Troy shouting in victory whenever you create a win. It's definitely one of the more interesting titles on the market, especially when you consider that it's more than 10 years old at this point.
Pros and Cons
Free spins can be retriggered

Huge maximum payout is on offer

Up to 1,024 ways to win are available
has a below average RTP value
Treasures of Troy Symbols & Values
All of the symbols in the Treasures of Troy slot are based around the theme of the game. It means that you can see important characters from the war landing on the reels. Each symbol is very well drawn and has a realistic feel to it. Although there are no animations when the symbols land, it still looks impressive.
There's also a wild symbol included in the game. It's just a simple picture of the game logo. It ensures that it stands out from the other symbols and so is easy to spot when it lands. There's also a scatter symbol that is used to start the bonus feature. This is a Trojan horse, which is one of the most famous aspects of the story. Take a look at what you can expect to see with the high value symbols appear:
Helen
Alexander
Soldier
Helmet
Sword
There are also low paying symbols included in the game. These stick to the classic card values that video slots use:
The slots on the reels are all independent of each other. It means that it's possible for the reels to be completely filled with a single symbol on any spin. Obviously, this isn't likely to happen often, but as it uses the independent reels game mechanic, it is more likely to take place than if there were stacked symbols in place.
To get a more detailed look at the Treasures of Troy slot machine paytable just look through here:
| Symbol | 3 on a Payline | 4 on a Payline | 5 on a Payline |
| --- | --- | --- | --- |
| | 125x | 800x | 5000x |
| | 100x | 500x | 2000x |
| | 75x | 400x | 1000x |
| | 50x | 100x | 500x |
| | 50x | 100x | 500x |
| | 15x | 75x | 300x |
| | 15x | 75x | 300x |
| | 10x | 50x | 150x |
| | 10x | 50x | 150x |
Treasures of Troy Betting Options
The stake can be set at between 1.00 and 2,400.00. This is a huge range of betting options and allows players a lot of customisation. The lowest bet level will have just a single payline included. The minimum bet for 40 paylines active is 40.00 and the minimum bet for 1,024 paylines active is 80.00.
Treasures of Troy also allows people to set an autoplay. This allows for a set number of spins to be carried out automatically. It's useful for players who want to use a bankroll management strategy which relies on specific numbers of spins. When the bonus feature begins this does require the players to manually start the round.
Treasures of Troy Slot Game Bonus Features
There is just a single bonus feature included in Treasures of Troy. However, it's quite a lucrative and enjoyable one. The feature is a bonus spins round that begins whenever at least 2 of the Trojan horse scatter symbols land on the reels. Depending on the number of scatters that you land will impact how many spins you are awarded. The potential spins that are on offer are as follows:
2 scatters = 10 spins
3 scatters = 15 spins
4 scatters = 20 spins
Once the bonus spins round begins, the reels change slightly. Although there are no multipliers applied to any wins during this round, the high paying symbols do appear more regularly, making the free spins reels a more lucrative version of the standard reels.
What's also very good about the bonus feature is that it can be retriggered. So if you land the scatters during the free spins you will be awarded more spins. The spins can be awarded to a maximum of 130 spins, so there is plenty of opportunity to grab some great wins here.
Treasures of Troy Device Compatibility
Treasures of Troy is fully compatible with mobile devices. While it was originally created in Flash, it has had an update with HTML5. This means that it can be used on most modern devices. It's a good move by IGT to ensure that its older titles can still be played by modern audiences.
If you like to play on the go then Treasures of Troy is the game for you. It can be played on most modern devices.
The update in 2020 ensured that it can continue to be used by players across a number of devices. It's likely that if further updates are required then IGT will carry this out.
Treasures of Troy Fixed Jackpot
There is a fixed jackpot included in Treasures of Troy. Even though progressive jackpots (1) tend to offer much higher payouts in general, the payout in Treasures of Troy has the potential to rise to very high levels. It does mean that players can walk away with some very impressive wins when playing this title.
Fixed jackpots are always set at the same maximum amount for video slots. It means that you will always be aware of how much you can win from the outset.
The fixed jackpot in Treasures of Troy is won by playing the game in the 1,024 ways to win mode and managing to completely fill the reels with the highest paying symbol.
Treasures of Troy Visuals and Sound
Visually Treasures of Troy is a little bit dated at this point in time. However, this doesn't mean that it looks bad. The symbols have all been created to have a realistic feel to them and the only thing that's really missing are animations. The theme of the game is perfectly represented by the visuals which does help to increase the immersion somewhat.
What really improves the overall aesthetics is the sounds. While the music on each spin is a pleasing harp tune that is matched up to the time period the game is set in, the real treat is when a win is created. When this happens you can hear Helen of Troy celebrating your win with vigour.
The game might be over 10 years old, but IGT has shown that it has always placed a lot of importance on creating a game that looks and sounds good. The Treasures of Troy slot machine is definitely an example of this.
Treasures of Troy Slot Strategy
Treasures of Troy doesn't have a specific strategy that will guarantee wins. This is because the maths model behind the game mechanics uses an RNG (2) to work out how each spin will land. It means that there is no way to predict how the reels will land and therefore a guaranteed strategy can't be created.
The reels are set out using either 40 paylines or 1,024 ways to win. It means there is a lot of choice on offer in terms of how wins are created. It does mean that it can be hard to see where they come up if you're not sure which win method is in place. Players should play with as many paylines in place as possible, as this will increase the chances of creating wins.
Of course, triggering the bonus feature is where the real wins are in this game. It can award a large number of wins without a big outlay required.
Treasures of Troy RTP/Volatility
The RTP for Treasures of Troy is set at 93.56%. This is set lower than the market average, which is obviously a little bit of a negative. The RTP basically means that players who wager 10,000 credits on the game will win back 9,356 credits on average. This isn't a definite number for every game though, so players should be aware that it won't be exactly like this on every game.
There's a medium volatility for this game, so wins come around quite often. It does mean that they don't come along as often as with a low volatility game, but they are of a higher level when they do happen.
The RTP is lower when compared to other games, but this doesn't completely remove the chances of winning. RTP values are calculated over millions of spins, so the opportunity to grab high wins is still there even with a game that has a lower RTP.
The medium volatility means that wins come along a little more often than if the game was high volatility, which does make up for the lower RTP somewhat.
Even though the RTP is quite low, there are still some impressive wins available to players with Treasures of Troy. The maximum win is more in line with a higher volatility title but part of this is made up with the higher maximum stake that's offered.
The maximum payout for Treasures of Troy is set at over 10,000 times the player stake. This is an excellent payout for a medium volatility game and is definitely a reason to give this title a try.
Treasures of Troy Slot Game Tips
Treasures of Troy can't be perfectly predicted due to it using random numbers to decide each spin. However, players do have some tips that they can follow in order to increase their chances of winning. Take a look through our list of tips in order to increase your chances of walking away with a profit.
Set a Budget and Stick to it
Having a budget in place is vital when playing a video slot. Many players don't set themselves a budget and this can lead to not playing in a sensible manner. Once you have set your budget you will be able to set the best stake level for your needs. Your aim should be to have at least 200 spins in the game. This will increase your chances of activating the bonus spins round and get some of the larger prizes.
Make Sure to Play Sensibly
If you have played through your budget then it is important to know when to walk away. Making additional deposits when you have lost your budget is how you end up getting yourself into trouble. Play to your budget and walk away when that has gone.
Play for Free First
Many players don't bother with the demo version first. This is a mistake. By making a move into playing for real money before you understand the game, you won't be able to set out a sensible strategy. Get a feel for the game first, then make the change to playing for real money.
Overall Rating
Treasures of Troy is one of the older video slots on the market. Despite being over a decade older, it still provides a lot for players to enjoy. We have taken a look at everything that it offers in order to give you a balanced look at whether this game is the one for you.
In terms of what Treasures of Troy offers to players, it is easy to get started with. Stake levels are easy to set, which also helps to set the number of paylines. The autoplay is simple to get started with the number of spins and it ensures that strategies can be worked on very easily. Overall, Treasures of Troy is very easy for players to get started with and simple to use.
There is only one feature in Treasures of Troy, but it is a very good one. The bonus spins round allows players to grab a lot of free spins. It can be activated a number of times and with more than 100 free spins potentially on offer it can be extremely lucrative once activated.
With a maximum payout of over 5,000 times the stake there is no doubting that the payouts are food in Reactoonz 2. The one area that it falls down slightly is that wins don't come along too often. However, it is a high volatility game so this is to be expected.
The visuals in Treasures of Troy are quite good. They do look a little bit old now compared to some other games around, but they're certainly not bad by any measure. The lack of animations does take some quality away from them. The sounds are the very best part as they are absolutely fantastic. They really improve the immersion of the game and add a lot to the game.
Overall, Treasures of Troy is an excellent game. Despite being one of the older games on the market it manages to compete with most titles out there. It has an excellent maximum win on offer, an enjoyable bonus feature and a really interesting way the paylines are set out. The only real problem is the low RTP, but this is a small problem compared to everything else that this title has to offer.
Treasures of Troy FAQs
Where can I play the Treasures of Troy slot for free?
There is a full version of Treasures of Troy available to players right here at MrGamez.com. You can load up the title and begin playing in no time at all. Once you've done this then it's easy to get started with what the game has to offer.
Can I play Treasures of Troy for real money?
Yes you can. All you need to do is choose a high quality online casino to play at. Once you've done this then you can create an account and begin playing for real money right away.
Is it safe to play the Treasures of Troy online slot?
It certainly is. The title is created by a trustworthy software developer which means that it conforms to a number of different regulations. In order to make sure that you're completely secure when playing it is important to play at a trustworthy online casino as well.
What slots are similar slots to Treasures of Troy?
There are a number of different slots that have similarities to Treasures of Troy. Any game that has a historical theme will have similarities to the title. So, if you want to enjoy a game that has similarities to this one it's best to look for games that have a historical theme.
References
Progressive Jackpot (2021 February 01). Retrieved June 3, 2021, from https://en.wikipedia.org/wiki/Progressive_jackpot


Random Number Generator (2021 March 30). Retrieved June 3, 2021, from https://en.wikipedia.org/wiki/Random_number_generation
Game statistics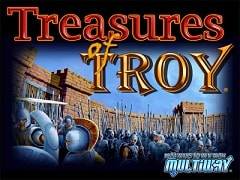 Players who played this game also played: