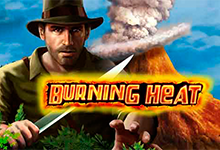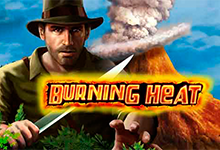 Unfortunately, this game is not available in your location
Why am I getting this message?
Thank you for informing us. Our engineers will work to fix the problem as soon as possible.
Get notified by email when this game is fixed
Thank you. Our engineers will inform you when the problem has been fixed.
Try these similar games instead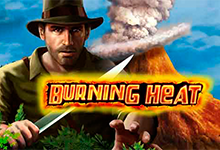 Merkur
Burning Heat
Rate this game:
Report a problem with this game:
Burning Heat Slot Review
Which of us hasn't, at some point, imagined ourselves as an Indiana Jones type figure, being involved on some outrageous, exotic adventure before saving the day? We may not get to find the Ark of the Covenant or other delights, but we can certainly enjoy an exploratory-themed Burning Heat 5 reel slot game by Merkur, complete with free spins, fun extras and nice prizes.
The Heat Is On
The first thing you'll probably notice is just how, even on full screen, the game doesn't fill up the page. But though that may seem like a bit of a waste, there is more to the screen than the reels. There is a temple with rocks and leaves in front. This is a tomb in the heart of the jungle for sure. Above it, Burning Heat appears like it's on fire, with a glowing yellow and orange tint. It's even announced as you begin the game, accompanied by an urgent sounding tune that soon stops. Better move fast!
The reels are pretty thin, which are made to look even narrower by the fact that the pictures or symbols are rather large. They could do with being smaller, and a bigger gap between the reels. The 10 paylines are seen either side in bright colours. There aren't any diagrams showing you what they are but with a low number that's not a problem.
Explore for More
While some themed slot games decide to make the buttons part of the experience by having large or bright ones, here it is all very discrete and subtle. The only two obvious buttons are green, one for Start, and one for Max Bet. And when you decide to go for that maximum, that button disappears and you're only left with Start. There are 8 different coin settings of from 0.10 up to 20 euros, although you can't edit the number of paylines that you are going for.
You can alter the volume to any level, as well as the background music, general sound effects and a faster space. It does have a sense of drama so you might want to keep them on for a while. You also have a small box showing which Auto Start options you have, with 9 separate numbers, going from 5 up to 100. The buttons are small so do look about to get the most out of your options.
The 9 regular symbols are made up of four pictures, as well as an Ace, King, Queen, Jack and 10. Unsurprisingly our intrepid explorer is top, with the temple, amulet and precious statue next up in value. While they aren't the most exciting-looking images you will see, they do light up nicely when victorious. This includes the card symbols fill up with orange and red heat as though a burning volcano or thermal thermometer.
Wild About Volcanic Heat Bonuses
What's hotter than a volcano? So much so that the volcano symbol is both a Wildcard and a Scatter. As a Wildcard, it replaces everything and as a Scatter it adds to whatever winning lines you may already have. If you get 3 of them, you'll get 20 credits as well as a special Heat Games. It gets very dramatic visually as the game stops. If you've been playing automatically it also stops before you take over.
A volcano symbol is randomly sent to one of the 15 positions. If this symbol helps get a win, then it becomes an exploding icon, which disappears before the next game. Each non-complementary glowing volcano symbol goes to 2 of the 15 spaces. Rather than end with a specific number of spins, the extra game stops when no glowing volcano symbol can be seen. What you've won is shown up and then you're back to the main game.
The bonuses don't end there, with 140 credits available on either Gamble Card or Gamble Ladder. If you press Gamble Card you have to guess whether the next card will be black or white. You can decide to go for maximum reward or play for half value. In Gamble Ladder, a light flickers between 2 amounts and whichever light you click on when lit is what you'll get. This keep going until you hit zero, you receive 140 credits or you decide to Collect. It's worth highlighting that for both Gamble Card and Gamble Ladder, you have to be playing on individual spins for the bonuses to work. That really should be made clearer.
Burning Love
There's good stuff in this game. It's interesting to see the same symbol used for both a Scatter and a Wildcard, you can win plenty without betting much and the bonuses are exciting. Hot stuff indeed!
Game statistics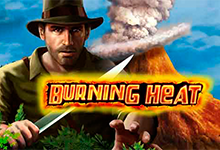 Players who played this game also played: