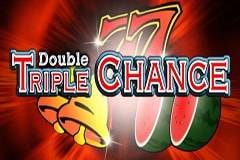 Merkur
Double Triple Chance
Having a double chance at winning something is great. Having triple chances is even better.
Play for free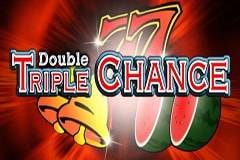 Merkur
Double Triple Chance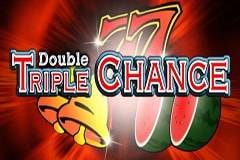 Merkur
Double Triple Chance
Unfortunately, this game is not available in your location
Why am I getting this message?
Thank you for informing us. Our engineers will work to fix the problem as soon as possible.
Get notified by email when this game is fixed
Thank you. Our engineers will inform you when the problem has been fixed.
Try these similar games instead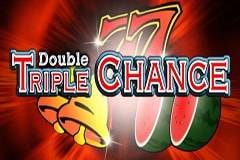 Merkur
Double Triple Chance
Rate this game:
Having a double chance at winning something is great. Having triple chances is even better.
Play for free
Report a problem with this game:
Double Triple Chance Slot Review
Having a double chance at winning something is great. Having triple chances is even better. But how about grabbing yourself a Double Triple Chance? That's exactly the name of this game, which doesn't have any kind of theme to it and instead takes on the role of a traditional fruit machine which has been slightly brought into the modern age. It isn't really set in any specific location, with the background emulating what would appear to be either something taking off at light speed, or the specific moment when a supernova reaches full force. There's no real soundtrack incorporated either, just a little ditty that plays every time you spin the reels. As far as games go in general, this one isn't specifically mediocre, but isn't able to hold much of a candle to many others on the market today, and there's several reasons as to why.
Mixing the Traditional with the Modern
Merkur Gaming enjoys utilizing classic icons, such as those of fruit machines, in its products, so it comes as no surprise that this game features much of the same. Therefore, you'll find halved watermelons, plums, lemons, cherries and oranges all making appearances on the reels, as well as even more traditional icons, like the 7s and bells. These are all designed in a nice enough way, although aren't specifically stellar graphics. The symbols all appear on the game's three reel and three row layout, offering a change from the standard five reel products pumped out today.
The developer has included a total of five separate pay lines into the game, which aren't able to be customized. Instead, you can alter the wager amount that is played per round by using the plus and minus buttons in the bottom right hand corner of the screen. This changes the amount up from its minimum of $0.05 to its maximum of $10 per spin. This is therefore the maximum amount that you can bet per round.
Where's My Double Triple Chances?
The saving grace of many video slots out there are the special features which are included within. That being said, products that take on the role of a traditional slot machine don't tend to have so many of these incorporated into them. However, this is one of the games that manages to include one or two of them, however minor they may appear on first glance.
The first extra addition to Double Triple Chance is its 'Re-Win Feature'. This is triggered only when the same symbol appears nine times on the screen, completely covering the reels. A running light will begin crossing the reels and if this should stop on a red field, the feature ends. Alternatively, if it comes to a halt on a green fields, then the full screen of symbols is won once more. This feature is able to take place a maximum of six times, offering you the opportunity of claiming several full screen wins in one go.
In addition to this, the game also features a gamble option. This particular extra is triggered after a winning combination is formed in the main game. Players have the chance to gamble their winnings with the hopes of increasing them by one of two games, or collecting them as they stand. Should you choose to gamble it, you have the choice of the 'Ladder Gamble' game, or the 'Card Gamble' game.
The former of these games provides you with a ladder of values on the right hand side, and a light flashes between two of these values. Hitting the gamble button will stop it on one of them before it begins flashing between two more. If you stop the light on a lower value, your winnings drop, while stopping it on zero sees you lose everything. The latter requires you to guess the color of the next playing card to be turned over, with correct guesses doubling up your funds.
A Nice Enough Twist on the Traditional
This product provides slots players with a modern day twist on the traditional slot games. In doing so, you can garner a taste for the old with some flair for the new. It's not a greatly spectacular game by any means, but it does provide a decent level of entertainment, and with the addition of the 'Re-Win' feature, you're offered up a bit more entertainment along the way.
Game statistics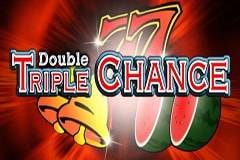 Players who played this game also played: