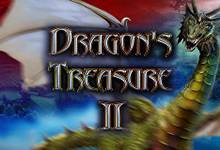 Merkur
Dragon's Treasure 2
Mystical beasts seem to be becoming a popular theme for real cash slots, that is if the design of Dragons Treasure 2 is to be believed.
Play for free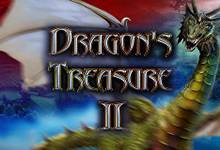 Merkur
Dragon's Treasure 2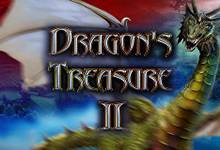 Merkur
Dragon's Treasure 2
Unfortunately, this game is not available in your location
Why am I getting this message?
Thank you for informing us. Our engineers will work to fix the problem as soon as possible.
Get notified by email when this game is fixed
Thank you. Our engineers will inform you when the problem has been fixed.
Try these similar games instead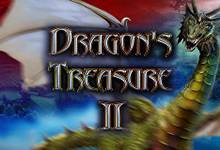 Merkur
Dragon's Treasure 2
Rate this game:
Mystical beasts seem to be becoming a popular theme for real cash slots, that is if the design of Dragons Treasure 2 is to be believed.
Play for free
Report a problem with this game:
Dragons Treasure 2 Slot Review
Mystical beasts seem to be becoming a popular theme for real cash slots, that is if the design of Dragons Treasure 2 is to be believed. The 5 reels of this Merkur game deliver ferocious roars and bursting flames with every spin, all inside a moody and atmospheric grid that channels the darker side of fantasy aesthetics.
As those used to gaming with the brand will undoubtedly come to expect, the features here are on the low side, meaning that the variance is small in nature. To make the game even more challenging, as if a title based around dragons needs to be more testing, the volatility is rather high. Wins aren't going to be dropping into place any time soon, so you'd better be in it for the long haul if you're to make back what you bet.
Oh What a Beast!
The symbols you'll discover here are a mix of images and card suits, which helps identify the higher value icons of the paytable, like the dragon, easily the most rewarding of them all. The green dragon acts as the wild and scatter symbol here, which means it will move about other symbols and grant you free games.
There are 10 extra rounds to be unlocked, no matter whether your match is of three, four or five, however the reward doesn't stop there, as there's some special symbols included that interact differently when the feature game is in progress. We don't wish to ruin the surprise, but we will say that it's well worth aiming for the bonus spins if you've got the time, mainly because you can pick which symbols are extraordinary.
Risk It All for Victory
Some of you will pass on by a gamble option like your life depended on it, and that's okay because not everyone wishes to risk money they've had to fight for to win. However, for those of you that feel like you're ready to weather any storm, Merkur have two options for you that you might want to take a closer look at.
The brand always has a gamble feature of some kind, and it's usually of the two you see here. In having a choice, you get to pick a round most comfortable for you; we prefer the card based game as it feels less volatile than the ladder, though others will feel the opposite to this.
Gamers can bet every bit of their win or they can collect half now and guarantee that they walk away with some coins still left in their wallets, however small that collection of gold might be. The maximum amount you can get in either of these rounds is 140 credits, though whether you'll reach that total is anyone's guess, for the dragon isn't about to give up his treasure so readily.
Treasure Is Treasure
Money is all the same to a lot of players, but for some you'll want to make sure you're getting out what you put in, which is why Dragons Treasure 2 is the ideal slot for you – the bet rate alters the payouts. Users are welcome to gamble with as little as 0.05, an acceptable fee we can all agree, but for that sum of money you'll never exceed 50 credits, which seems a tad low to us. That's where the maximum bet comes in, tap that option and you'll be looking at wins as plentiful as 10,000 credits.
To make obtaining the treasure more bearable, especially when the going gets tough, there's the autospins option upon the controls that can take you from manual to hands free in an instant. These are most handy when the spacebar or mouse has started to become your enemy rather than ally.
Show Your Teeth
A dragon has a lot of fangs lining its mouth, making it scary even without lethal sets of claws attached to their limbs, but in Dragons Treasure 2 you want this beast to show you its teeth, for that's the only way to get the prizes. You fight to get the money or you die trying. As far as the theme is concerned, it matches the brutality of the gameplay perfectly, and so if battling is your thing, this slot is bound to please.
Game statistics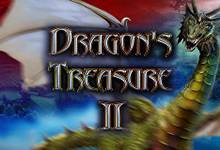 Players who played this game also played: