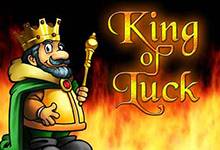 Merkur
King of Luck
The footballer Alan Ball once memorably said: u201cI donu2019t believe in luck but I do believe you need itu201d. And so to a game where Luck is the main theme.
Play for free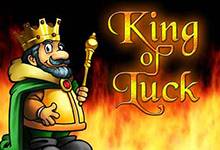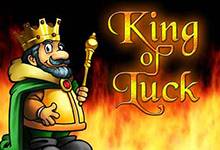 Unfortunately, this game is not available in your location
Why am I getting this message?
Thank you for informing us. Our engineers will work to fix the problem as soon as possible.
Get notified by email when this game is fixed
Thank you. Our engineers will inform you when the problem has been fixed.
Try these similar games instead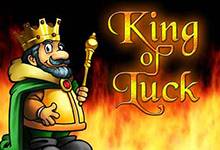 Merkur
King of Luck
Rate this game:
The footballer Alan Ball once memorably said: u201cI donu2019t believe in luck but I do believe you need itu201d. And so to a game where Luck is the main theme.
Play for free
Report a problem with this game:
King of Luck Slot Review
The footballer Alan Ball once memorably said: "I don't believe in luck but I do believe you need it". And so to a game where Luck is the main theme. Are you feeling lucky? Because if you are, there's a King of Luck game by Merkur with your name on it, featuring one of the most unique gameplays you'll have ever seen and a possible jackpot of 2,500 euros.
King of the (Three Money) Hill
There's no denying it. King of Luck is one of the most original, dynamic slot games out there. And that's before you've even started playing it. Because rather than reels, you'll see 3 different piles represented by different piles of money.
On the left-hand side there are ladybirds, on the second are gold coins and on the third are four-leaved clovers. All 3 have the same size and design, with the maximum jackpot prominently at the top of the screen. That amount is even more noticeable than the game's title which is shifted to the right-hand side.
What else stands out are the flames as the background. There are yellow, orange and red colours to show just how hot it is. That may seem at odds with the overall theme until you notice the devil symbol, along with a king one. No need for a paytable here.
While King of Luck is certainly distinctive, it still has some of the traditional Merkur touches. The game's name is announced, it still has a short entrance music before it goes quiet and the subtlety within the buttons are there too.
The Devil You (Don't Want To) Know
And as unusual and distinctive it is to look at, it is to play. You won't have played anything like it. Instead of the traditional 5 reels there are 3 different pyramids. And underneath all these 3 is the Start button with a big box above it.
Pressing this button means one of the 3 symbols can come up, a ladybird, gold coin or four-leaved clover. The luck that's referenced at in the title. And if you get one of those 3 symbols, it matches to the pyramid with that image. It moves up one level at a time when the symbol comes up. The ladybird pyramid is worth the most, with the four-leaved clover least.
It's made more difficult as not every spin actually leads to one of the symbols. There are times it goes to a black space. And there is one image you'll be overjoyed to find, another far less so. The King really is a trump card. Getting that enables you to move one number up on the pyramid on each of the 3. But there is a downside. The devil undoes all your good work. No matter where you are on any pyramid, you'll be back down to the bottom of all 3 if you get one.
It's certainly a unique idea and it does encourage you to play more as well as decide if you want to bank, continue or risk any or all of it on the Gamble Feature. The betting is from 0.05 to 5 euros, with 10 further options in between. To encourage you to play for higher stakes, the game could maybe benefit by having less chances of a devil as well as keeping the higher reward.
Feeling Lucky
For a game themed on luck, it's appropriate that the Gamble feature is on. When you win anything, you have the choice of a Gamble Card, Gamble Ladder or Collect. If you press Gamble Card, you have to guess whether the next card will be black or white. They show you what the last 4 cards have been to help you out. You can decide to go for maximum reward or play for half value until you lose or you make 140 credits.
In Gamble Ladder, a light flickers between two numbers. The amount it starts off at depends how much money you are initially betting with. You can work your way up to the top of the ladder (140 credits) by continuously getting clicking on the higher ranked number in time. The Gamble feature can be made available when playing automatically by choosing one of the many numerical options. These are included in a separate box for when you want to be notified.
King Brilliant?
This certainly is a highly innovative game. Its snakes and ladders vibe could put some people off, who want a more reliable sense of winning. But this is a very exciting game, which involves strategy as well as luck. Play King of Luck right and you'll feel King of the World.
Game statistics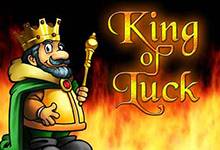 Players who played this game also played: