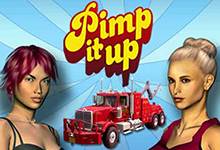 Merkur
Pimp It Up
This is one for the car lovers out there, who enjoy seeing old bangers can pimped into something sleek and sexy.
Play for free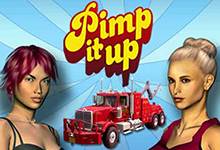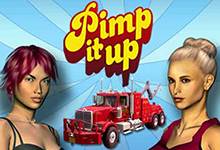 Unfortunately, this game is not available in your location
Why am I getting this message?
Thank you for informing us. Our engineers will work to fix the problem as soon as possible.
Get notified by email when this game is fixed
Thank you. Our engineers will inform you when the problem has been fixed.
Try these similar games instead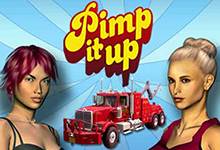 Merkur
Pimp It Up
Rate this game:
This is one for the car lovers out there, who enjoy seeing old bangers can pimped into something sleek and sexy.
Play for free
Report a problem with this game:
Pimp It Up Slot Review
This is one for the car lovers out there, who enjoy seeing old bangers can pimped into something sleek and sexy. Oh wait, that sounds awfully familiar…! Yes, Pimp It Up is based on the TV series Pimp My Ride, and Merkur have done little to hide this fact, we'd even say they're flaunting the likeness.
Even though their brash approach makes this feel like a shoddy second hand product rather than a bought like new game, this real cash slot has some fast and furious potential. From trucks to sports cars, you'll find no end of vehicles to satisfy your creativity and need for speed. And if that doesn't work, you always have the Scatter Feature to pursue on the track.
Rev Your Engines
We'd like to be able to say that we're revving our cars because we're going to burn rubber, but it's more about us wanting to make sure that this slot can get us around without falling apart. As you'll have likely concluded from the game already, this is a lowly attempt from the brand, and as such it shows in the aesthetic.
Given how eccentric the television counterpart of this game was, it would make more sense to have a flashy, over the top visual at work here; really capture the spirit of pimping a ride. But Merkur have instead gone for pastel shades and simplistic illustrations, with the majority of the symbols on the grid being card suits. We'll try and not weep over what could have been…
Feeling the Heat
Things are about to hot up though, as you have the wild and Scatter Feature to cruise through, the latter of which can be considerably rewarding.
The male and two females are all wild symbols, but the two women also act as scatter icons as well, and when they're paired up they trigger the bonus round. They can't just be thrown together though, they need to show up at the right time and in the right place; one of them on the first reel and the other on the fifth. It's all about the timing.
Now that the ladies have worked some magic, an icon from the paytable will be cherry picked to become a special symbol, which is then placed across the first and fifth reel, filling all spaces. Thereafter you get an extra spin, and any more of these symbols that appear will bring in the money. In some respects, this is similar to Phoenix and Dragon's feature, though a few minor differences have been made.
Cheap Labour
Doing up a car costs big bucks, but with Pimp It Up you can get a new set of wheels with a small fee of 0.05 coins. That sum of money gets you access to every inch of the slot, though it does restrict the top paying symbol and its maximum payout; only by betting big will you get high roller status. Therefore, we suggest splurging, if you can, and opting for the 10 credits wager – you'll get a higher return of 10,000 when you do this.
Gamers also have the added benefit of being able to flip the autoplay switch and experience hands free driving, which is ideal for when you need a time out from all the hands on work. Play 100 rounds at once, or opt for smaller automatic waves whenever the mood takes you.
Slamming on the Brakes!
Emergency stops are going to be a regular occurrence with Pimp It Up, for it's a slot machine that wasn't designed to be a long term experience – it's a quick in and out. No questions asked. That wouldn't be so bad if we felt a charge of excitement when playing, but the brand have failed to hone the spirit of racing, or even cars in general. Anyone who is intending to play this due to their love of grease and petrol, or because they enjoyed a similar named show, you might not want to bother. A lot of disappointment lies ahead with this one, with various roadblocks thrown in along the way.
Game statistics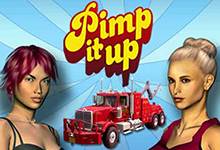 Players who played this game also played: