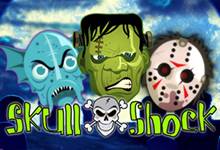 Merkur
Skull Shock
A shock to the skull is what you get when you play this 5-reels spooktacular from the minds over at Merkur.
Play for free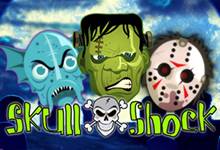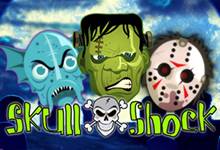 Unfortunately, this game is not available in your location
Why am I getting this message?
Thank you for informing us. Our engineers will work to fix the problem as soon as possible.
Get notified by email when this game is fixed
Thank you. Our engineers will inform you when the problem has been fixed.
Try these similar games instead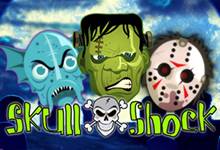 Merkur
Skull Shock
Rate this game:
A shock to the skull is what you get when you play this 5-reels spooktacular from the minds over at Merkur.
Play for free
Report a problem with this game:
Skull Shock Slot Review
A shock to the skull is what you get when you play this 5-reels spooktacular from the minds over at Merkur. Is it just us, or does it seem the guys over there have a (not so) secret love for strange goings on? We've seen a couple of halloween inspired games from them in the past… Not that we mind, for the love of horror is strong with us as well.
Skull Shock is your quintessential scarefest, but minus actually being terrified, unless you count the unique gamble mode you're offered after each win; we found the process rather intriguing. Should that not appeal to the Dr. Frankenstein part of you, then you're best turning back and leaving this castle, for that's about the extent of what the game has to offer.
Will this turn into your very own personal horror film, or can Skull Shock throw out some surprises just yet? We know we're more than ready to find out.
Monster Bash
There are some familiar faces out there on the grid, and we're not talking about the dreaded red 7s that seem to hound all slot machines, but of horror icons. Take Jason for example – this kid has been plaguing teens for many years, while Frankenstein's monster has been knocking about for several centuries. Needless to say, these guys have done the rounds.
Despite that sense of familiarity, the aesthetic of Skull Shock feels flat. Not a lot of thought appears to have gone into the design, and so it festers away rather than morphing into something gruesome. When it comes to horror, there's never too much detail.
Graveyard Smash
Set inside a cemetery, there'll be some of you that choose to walk with the light rather than enter the darkness, and we don't blame you. Graveyards give us the heebie-jeebies too. But nobody got rich from not doing a spot of ghost hunting, at least in the case of this real cash slot, so you're best fighting that fear.
The graphics employed here are friendlier than your average horror, making them more friendly looking to those of a nervous disposition. If you saw any of these ghouls at night, you'd be shaken, but you wouldn't be quaking in your boots… especially thanks to the card suits of the title. They definitely lower the immersive quality of the game, which consequently impacts the mood set.
Out of Luck
When cornered like a frightened animal, you tend to find that luck fails you, but hopefully it won't when playing the gamble feature of Skull Shock. This is arguably the only feature of the title, so you'll want to it turned on if some form of variance is what you require.
Merkur usually have a ladder or card game to play, but here the ladder is the only option, and it's on either side of the grid. You can either collect half, gamble, try your hand at random luck or leave entirely. The feature feels more in-depth than previous attempts from the brand, but the level of risk is still the same as ever. What is more, the process appears more long-winded than normal, meaning that gameplay is slowed right down.
Dead End
Nobody likes to admit it, but in horror scenarios, few of the outcomes are positive ones – anyone well versed in films or books (from the genre) will know this. And so coming to a dead end and being consumed by that which you fear won't be a surprise with Skull Shock.
The slot presents some potential, but in truth it never really explores the genre enough to generate that fear factor us horror freaks love to experience. Basically, it has no oomph, no teeth, and no offers worth risking our necks for. Take it from us, save yourself the trouble and find a spooky slot worthy of your attention, like Vampires, also created by Merkur.
Game statistics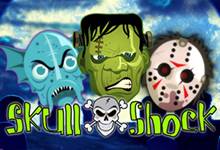 Players who played this game also played: