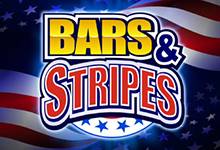 Microgaming
Bars and Stripes
In celebration of the good olu2019 US of A, Microgaming has crafted together a most patriotic online video slot, which pays homage to one of the worldu2019s superpowers.
Play for free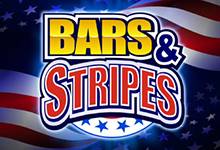 Microgaming
Bars and Stripes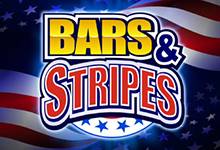 Microgaming
Bars and Stripes
Unfortunately, this game is not available in your location
Why am I getting this message?
Thank you for informing us. Our engineers will work to fix the problem as soon as possible.
Get notified by email when this game is fixed
Thank you. Our engineers will inform you when the problem has been fixed.
Try these similar games instead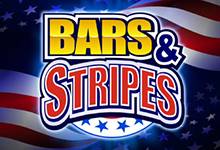 Microgaming
Bars and Stripes
Rate this game:
In celebration of the good olu2019 US of A, Microgaming has crafted together a most patriotic online video slot, which pays homage to one of the worldu2019s superpowers.
Play for free
Report a problem with this game:
Bars and Stripes Slot Review
In celebration of the good ol' US of A, Microgaming has crafted together a most patriotic online video slot, which pays homage to one of the world's superpowers. America is considered by many – mostly citizens of the United States – to be the greatest country on earth, so it's fairly clear as to why someone would want to design such a game dedicated to it. We guess that we're just about fortunate enough to hear that it hasn't had 'The Star Spangled Banner' integrated into its background sounds, although instead of this, you'll find that it has had the almost trance-inducing noises of a casino incorporated. However, every winning combination formed is proudly and triumphantly sounded out by a barrage of trumpets and drums celebrating the moment. Typical over the top American stuff – but it fits quite rightly in to the game's theme. On the whole, both aurally and graphically, Bars & Stripes is a pretty decent product to spin a few rounds of. Although, if you're like us, you may want to use that mute button sooner rather than later.
The Nation of Independence
While the United States may celebrate independence day, there's nothing so free or liberating about playing this game, as it provides a generic layout of five reels and three rows to all players. However, while this can be considered the norm for online video slots, its icons are very thematic, providing you with various glimpses in to the American way of life…or rather, the stereotypical glimpses into it. So, you'll spin your way through symbols of the bald eagle, hot dogs covered in mustard and ketchup, the stars and stripes flag and an apple pie. There's also a burger and fries take away, the Statue of Liberty, an Oreo cookie, a Thanksgiving turkey, and a stars and stripes covered football. The remaining icons are quite odd to have included, with a big pint of foamy beer being added, a 7 symbol and three bars of gold.
As well as offering up a general slot game interface, Bars and Stripes includes a total of 25 different pay lines. These are not fixed in position, so you do have the option of customising them to suit your own preferences by using the 'Select Lines' button. Further customisation comes in the form of the 'Select Coins' button and the plus and minus buttons at either side of the coin value. The former of these has a range between one and 10, while the latter has its own range of between $0.01 and $1 per line. Therefore, if you're pushing all of these up to their limits, you'll be able to place a maximum overall wager of $250 per spin.
Patriot Games
This game includes a nice selection of special features, which starts off with the wild icon. This is represented by its logo, and this will substitute for all icons on the reels in order to form a winning combination, with the exception of the scatters. Not only that, but if it is included in a win, it will double your pay out.
There's also the first scatter symbol, which is the football mentioned earlier. These offer up a pay out from any location on the reels, meaning that they don't have to be on a pay line to reward you. Scatter wins are multiplied by the total wager placed, with five multiplying such by a maximum total of 200 times.
Finally, the second and last scatter symbol is represented by the American flag covered hat. These are considered the bonus game icon, and three, four or five of these scattered across the reels will activate the bonus round. In this round, you will be presented with various different hats, and it's up to you to choose between them to win random bonus amounts. You can select up to three, depending upon the number of scatters which triggered the round. The amounts won in the bonus game are already multiplied by your total bet amount.
An American Wonderland
Even if you're not a fan of the American lifestyle – or, the stereotypical one displayed in this game – , we're sure you'll enjoy playing this game. It's full of treats all the way through, and we don't just mean the food items on the reels either. It's not the best game where graphics are concerned, but it fits nicely into the offerings provided by Microgaming.
Game statistics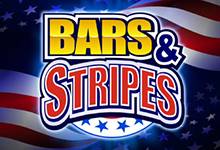 Players who played this game also played: