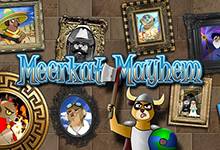 Microgaming
Meerkat Mayhem
Rate this game:
Those meerkats get everywhere donu2019t they? These lovable, cute little creatures have had successful television shows made about them and of course are the stars of some adverts too. You canu2019t either watch u2018Coronation Streetu2019 without seeing them, hopefully theyu2019ll never get in the actual show itself.
Play for free
Those meerkats get everywhere don't they? These lovable, cute little creatures have had successful television shows made about them and of course are the stars of some adverts too. You can't either watch 'Coronation Street' without seeing them, hopefully they'll never get in the actual show itself. Now you can see meerkats in this great slot game from Microgaming. You'll probably end up loving them even more if they win you some great cash prizes.
A Talented Bunch
Those meerkats really are talented aren't they and after looking at this game you'll be shocked to see just what they can do. The symbols for this game really are hilarious and certainly put a big smile on my face when I saw them.
We get to see meerkat Vikings, there's some doing ballet, cowboy meerkats, pilots (would you fancy being in a plane driven by a Meerkat?), snorkelers, explorer, a married couple, mariachi, one on a motorcycle (who licenses Meerkat drivers?), wizards, one on a beach and even pirate meerkats. Is there nothing they can't do? It all makes for a game that's not just full of cute animals which many of you love but also is a bit weird to be honest.
The game has five reels and three rows of symbols. In all there are 30 pay-lines available to play in this game. Just how many of them you play on each spin of the reels is entirely your decision. Just activate a few if that's how far your budget will stretch. The minimum cost of playing all of the 30 pay-lines on one spin of the reels is just €0.30 and the most you can spend on one spin is a whopping €300 so high-rollers will be keen to get in on the action in this game.
That Wild's a Little Devil
Who wants to play a game that is boring and predictable? Not me and most likely not you either, well you've come to the right place if wanting something downright silly. This game continues to get more and more weird because the wild symbol is a devil meerkat. He's a little bit different in this game though. In the vast majority of games that you play the wild simply substitutes for other symbols to help get you winning combinations.
Here though it's completely different as the devil meerkat can turn other symbols in the game wild and that's how more winning combinations are created. It only appears on the third reel and can turn the diver, meerkat on the beach, motorcycle rider, pilot and mariachi symbols wild.
There's also a Queen Meerkat symbol here which is the scatter for this game. If you get three of them anywhere on the reels that gives you a 2x win. It goes up to 5x if five of the scatters end up on the reels at the end of a spin. Not massive wins but another way of keeping the wins coming along and there's no need to be activating loads of pay-lines either.
The top win on this game is from the cowboy who pays 300x your line bet if five appear on an activated pay-line.
You'll find that this is a low variance slot game. That means you will never find yourself short of some wins but they won't be making you rich. There will be a string of low-paying wins but at least there'll be something making its way into your account. The big wins pay less frequent visits though.
It's not an entirely straightforward game with that devil wild. To ensure you know just what you're doing, read about the game in the paytable and have some free games.
Final Opinions
A strange little game for sure. Who could have guessed that Meerkats had such amazing lives? The look of the game is a good one and the soundtrack didn't drive me too crazy. The theme of the game is a fun one and brilliantly adhered to. It's lots of fun to play but the lack of a real bonus game is a bit disappointing. The ability of the devil Meerkat to be able to turn other symbols wild is good though and it does bring in some wins even if most are of the low-paying variety. Definitely worth a play, at least you'll get a giggle out of it.
Game statistics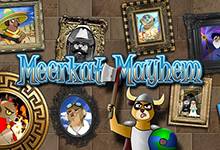 Players who played this game also played: