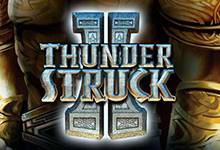 Microgaming
Thunderstruck 2
Producing a sequel is never the easiest of jobs, just ask the director of u2018Grease 2.u2019u00a0 The first Thunderstruck game released by Microgaming was a massive success hence the decision to go ahead with u2018Thunderstruck II.
Play for free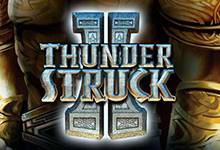 Microgaming
Thunderstruck 2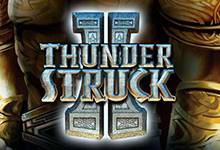 Microgaming
Thunderstruck 2
Unfortunately, this game is not available in your location
Why am I getting this message?
Thank you for informing us. Our engineers will work to fix the problem as soon as possible.
Get notified by email when this game is fixed
Thank you. Our engineers will inform you when the problem has been fixed.
Try these similar games instead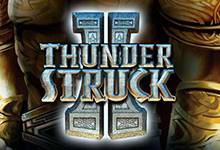 Microgaming
Thunderstruck 2
Rate this game:
Producing a sequel is never the easiest of jobs, just ask the director of u2018Grease 2.u2019u00a0 The first Thunderstruck game released by Microgaming was a massive success hence the decision to go ahead with u2018Thunderstruck II.
Play for free
Report a problem with this game:
Thunderstruck 2 Slot Review
If you've ever played the original Thunderstruck, then it's time to try out Thunderstruck 2. The slot expands off the original title with the same theme, but extra in-game features and better payouts. Overall, Thunderstruck 2 has plenty of in-game features and engaging gameplay.
But, is Thunderstruck 2 the right slot for you? After all, no matter where you play slots, there will be other options for you to choose from. Today, we'll answer this question by taking an in-depth look at Thunderstruck 2.
We'll look at their slot details, in-game features, and even payouts. Then, hopefully by the end of this review, you'll know whether or not Thunderstruck 2 is for you. Are you ready? Let's get started!
Pros and Cons
Large Payouts

High RTP

Multiple Features
Common Theme

Small Betting Range
Thunderstruck 2 Theme
Thunderstruck 2 is largely Nordic-themed, which is the same as the original slot. In this game, you'll find many of the characters from Norse mythology. For instance, you can find two of the gods, Thor and Loki, as symbols in the game. (1)
Loki was represented as the companion of the great gods Odin and Thor, helping them with his clever plans but sometimes causing embarrassment and difficulty for them and himself.
Graphics
The graphics are composed using a sharp design. Aside from the symbols that reference characters in Nordic mythology, you can also find the deck-based symbols being designed with crisp cuts and steel-like colors.
Audio
Thunderstruck 2's audio also fits what you normally might see from a Viking-themed film or TV show. There is a solemn soundtrack accompanying you while you spin and you receive a variety of noises within the game, from the sound of thunder to the clapping of an anvil.
Thunderstruck 2 Slot Details
The setup of Thunderstruck 2 is pretty simple, with five reels and three rows. There are 243 different ways to win and you must land a minimum of three symbols starting from the very left of the reel.
Wager Limits
Thunderstruck 2 has a pretty sizable betting range, with a minimum bet of $0.30 and a maximum bet of $15. This means that the game is better suited for players who like to keep their money close to them.
A maximum bet of $15 will yield nice winnings if you hit the right symbols. However, considering that there are other online slots with maximum bets of upwards of $100, we'd recommend checking your other options if you're a high roller.
Volatility
Thunderstruck 2 has a high volatility. This means that there's a lot of risk associated with your slot. However, to offset this, winnings can be much higher and you'll be paid out more compared to other slot titles.
For reference, low volatility slots have little-to-no risk and in return, only pay out moderate amounts. This means that Thunderstruck 2 has more risk than most slots, but will also pay you more to compensate.
Return to Player
The RTP of Thunderstruck 2 is 96.65%. This means that, for every $10,000 wagered in the long run, you can expect to win around $9,665 in winnings. Considering that the average online slot has an RTP of 96%, this puts Thunderstruck 2 barely above what the average slot might pay you.
However, you shouldn't use RTP as your main way of determining how well you'll be paid at a certain online slot. The reason being is that RTP is a long-term measurement, meaning that in the short run, anything can happen.
For example, you might go on a winning streak, causing you to win more than what's projected. Similarly, you might go cold, losing more money than you would like. It's better to use a combination of factors alongside RTP such as in-game features, volatility, and betting limits.
Max Win
The most you can win in Thunderstruck 2 is 8,000X your total stake. Considering that the maximum bet is $15, this means that you can win a total of $120,000 playing this game.
Thunderstruck 2 - How to Win
In order to win at Thunderstruck 2, you'll need to match at least three symbols in a payline starting from the very left reel. Luckily, there are 243 different ways to win in Thunderstruck, so it won't be too hard to hit a payline.
When spinning the reels, you can also unlock different features and bonus games that will allow you to hit additional paylines. 
How to Play Thunderstruck 2
To play Thunderstruck 2, you need to do the following:
Boot up the game at your favorite online casino and acclimate yourself with the controls/features.

Select your bet amount. Ensure it's an amount you feel comfortable playing at for a long period of time.

To use the Autoplay option, click the button and choose how many spins you want to automate

Allocate your budget accordingly and follow it as strictly as possible

Start spinning the reels and enjoy responsibly!
Symbols and Values
Thunderstruck 2 has a total of 16 different symbols that you can find when spinning the reels. Of these 16 symbols, 14 will pay you some amount during the regular game and 2 can be used to help enhance the gameplay experience.
The lowest-paying symbols are the 9 and 10 symbols, both of which only pay out 5X your line bet. On the other hand, the highest-paying symbol is the Thunderstruck symbol which pays out a total of 1,000X your line bet.
For more information on the different symbols and their respective payouts, be sure to take a look at our paytable below!
| Symbol | 3 on a Payline | 4 on a Payline | 5 on a Payline |
| --- | --- | --- | --- |
| | 75x | 200x | 1000x |
| | 40x | 100x | 300x |
| | 30x | 100x | 450x |
| | 20x | 80x | 400x |
| | 2x | 20x | 200x |
| | 20x | 80x | 350x |
| | 15x | 60x | 300x |
| | 15x | 60x | 250x |
| | 10x | 20x | 150x |
| | 10x | 20x | 150x |
| | 7x | 15x | 125x |
| | 7x | 15x | 125x |
| | 5x | 10x | 100x |
| | 5x | 10x | 100x |
Special Symbols
The slot also has a variety of special symbols that you can take advantage of for extra features. Some can create winning paylines while others can give you super multipliers.
Wilds
The Thunderstruck 2 logo is the wild symbol. Not only will this pay you based on the number of symbols in a payline, but it will also help create winning paylines with other symbols. This doesn't apply towards scatter symbols.
Scatters
The scatter symbol in Thunderstruck 2 is Thor's hammer. Whenever three or more of these items show up on the screen at once, you'll be taken to the Great Hall of Spins where you can eventually choose from four different bonus features.
Bonus Symbols
Thunderstruck 2 doesn't have any additional bonus symbols aside from the scatter. As such, Thor's hammer can also count as a bonus symbol.
Thunderstruck 2 Slot Features
In total, Thunderstruck 2 has five different features. This is way more than what most online slot games have. Four of these can be unlocked through the scatter symbol and the other remaining feature can be randomly triggered during spins.
Wildstorm Feature
The Wildstorm feature can be randomly activated during a spin. When activated, Thor shoots lightning bolts that can turn anywhere between one and five reels into wild reels. If all five reels are turned wild, then you can receive up to 8,000X your total stake.
Valkyrie Free Spins Feature
This is the first bonus feature that you can trigger when first landing three or more scatter symbols. In this game, you're given 10 free spins and a 5X multiplier to start with. While you play, you can retrigger the free spins feature for a total of 20 free spins and 1,383X your total stake.
Loki Free Spins Feature
This feature becomes available after triggering the bonus five times. In this feature, you're given 15 free spins. Furthermore, Wild Magic symbols can randomly appear on reel 3, transforming symbols into extra wilds. Landing scatters can also give you extra free spins. The maximum win per free spin is 8,000X your total stake.
Odin Free Spins Feature
The Odin Free Spins feature becomes available after triggering the bonus ten times. In this feature, you're given 20 free spins and the Raven symbol comes into play. Raven symbols can appear on the reels and randomly turn symbols into 2X/3X multipliers. If more than one raven symbol lands, you'll receive a 6X multiplier. In total, you can receive a multiplier equal to 3,320X your total stake.
Thor Free Spins Feature
Once you've triggered the bonus fifteen times, you'll receive the Thor Free Spins feature. You'll receive 25 free spins and unlock the rolling reels feature. With the rolling reels feature, if you hit a winning combination, your multiplier will increase to 2X. Successive wins will increase the multiplier by an extra unit up to 5X your total stake. The max win from this feature is 1,383X your total bet.
Thunderstruck 2 Slot Machine Tips
Since Thunderstruck 2 is largely an RNG-based game, there aren't many tips that can guarantee you make a profit. Slots aren't like poker where certain strategies are used to maximize your probability of winning. All of this is largely based on how the RNG is doing.
Luckily, you can still maximize your chances of making a profit indirectly if you follow the proper guidelines for staying calm and playing with the proper budget.
Don't Over-Bet
With high volatility slots, you might think that it'd be a good idea to bet large amounts since hitting a payline would yield more winnings. However, this isn't the case since you'll usually lose money first before winning anything. Therefore, it's important to play with an amount per spin that you feel comfortable losing. We recommend setting a goal for a number of spins that you want to play. Then, figure out how much you'll need to bet per spin in order to achieve that number.
Play For Fun
Playing for fun is the most important thing to remember when playing online slots. Despite the idea of having money to be won, it's still important to play without mainly focusing on making a profit. The reason being is that, if you do, you'll be more likely to make rash decisions.
Quit If You Start Tilting
Knowing when to stop playing is probably the most vital part of playing online slots. You're bound to tilt at some point when playing casino games. This can become dangerous since tilt will cause you to carelessly put more and more money into the game until you have nothing else to lose. Tilt has caused many players to go bankrupt and lose thousands of dollars. Don't let this be you. Know when to stop playing and take a break. 
Thunderstruck 2 Slots for iOS, Android, and Windows
Because of how popular Thunderstruck 2 is, you can expect to find this game at most online casinos. And now that mobile casino gaming is on the rise, you can expect to find Thunderstruck 2 on your phone and tablet.
All you need to do is see if your online casino is compatible with mobile devices. If it is, then simply boot up your favorite mobile browser, log onto the casino site, and you can start playing Thunderstruck 2 in minutes.
Mobile Controls
The mobile controls of the game are pretty simple. They act exactly as the desktop version since most online casinos just configure their games to a smaller screen size.No matter which device you choose to play with, you'll always have your standard buttons such as the spin button, betting button, and settings button.
Device Compatibility
Most times, you won't have to worry about device compatibility since online casinos tend to cater to every operating system. However, there might be instances where older versions of phones won't be able to power up the online casino.
This is pretty rare, though. As long as your phone is up to date and doesn't have any major problems, you should be able to power up most online casinos on your phone or tablet.
Play Thunderstruck 2 for Real Money
Aside from playing Thunderstruck 2 for free here, you can also play for real money at an online casino. However, choosing what online casino you play at is very important. The right casino is fair and provides plenty of opportunities to win money whereas shady casinos can steal your money and provide unfair playing conditions.
But, how do you know which online casinos are safe to play at? For reference, we recommend looking at the following criteria to determine if you should play at the site or not:
Licensed and regulated by a third party
Protected by SSL encryption
Fast and thorough customer service
Diverse number of deposit and withdrawal options
The two most important factors we look at are the license and regulation and the SSL encryption. The reason being is that license and regulation help ensure a casino's legitimacy while the SSL helps ensure that your data is secure from third-person parties. (2)
Having an SSL ensures that the sensitive data of your website's visitors will be transferred over a secure network.
Overall Rating
Here's our team's rating of the game based on different aspects:
Overall, the user experience was alright. The game's controls were pretty easy to figure out and everything ran smoothly. However, since the game is still being introduced to the online casino world, there are still some tweaks that Microgaming needs to fix before it's at its best.
Game features are where Microgaming really shines. With five different games to unlock, there's always something new to do. Whenever we played, we were always engaged, no matter how long we played Thunderstruck 2.
Payouts is another area where Thunderstruck 2 is really solid. Even though they don't have a large maximum bet, payouts can still be pretty large thanks to most multipliers reaching up to the thousands. Therefore, there's a lot of money to be made when playing this online slot.
The sounds and visuals in Thunderstruck 2 are also great. The symbols and background design fit the Nordic theme and the music makes you feel like you're alongside the Vikings in their boats. As such, we commend the design team for not only the graphics, but also the audio.
All in all, Microgaming has carried on the Thunderstruck name well with its sequel. This game has plenty to look forward to, from its payouts to its in-game features. We found even the smallest parts of the game to be engaging and this allowed us to play the game for hours on end without being bored.
If you're looking for a new online slot to play, we highly recommend trying out Thunderstruck 2. You won't get bored easily and if you hit the right paylines and play the right features long enough, you'll be rewarded for your time.
Thunderstruck 2 FAQs
Where can I play the Thunderstruck 2 slot for free?
You can play the Thunderstruck 2 slot for free here at MrGamez. We offer more than 1,000 different free online slots for players to play.
Can I play the Thunderstruck 2 slot machine for real money?
You can play the Thunderstruck 2 slot machine for real money at any trustworthy online casino.
How do you beat Thunderstruck 2?
There's no set way to beat Thunderstruck 2 since the goal is to win money through hitting reels. However, the best you can do in Thunderstruck 2 is to receive the maximum payout, which is 8,000X your total stake. 
Is there a jackpot round available on the Thunderstruck 2 slot game?
No, there is not a jackpot round available on the Thunderstruck 2 slot game. 
References
Encyclopædia Britannica, inc. (n.d.). Loki. Encyclopædia Britannica. Retrieved November 30, 2021, from https://www.britannica.com/topic/Loki.


Nikolov, I. (2018, May 18). Council Post: Why an SSL certificate is important for your company website. Forbes. Retrieved November 30, 2021, from https://www.forbes.com/sites/forbestechcouncil/2018/05/18/why-an-ssl-certificate-is-important-for-your-company-website/?sh=5997579b1dc3.
Game statistics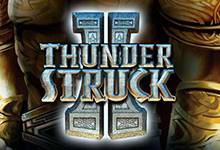 Players who played this game also played: