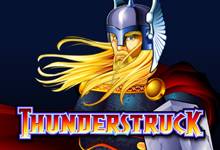 Microgaming
Thunderstruck
Based on the ancient stories of the famous Norse God of Thunder u2013 Thor, this thrilling video slot is a sci-fi online game of a different kind. For even more excitement the slot has a scatter, a wild multiplier symbol and two bonus games on offer.
Play for free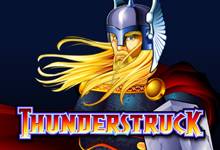 Microgaming
Thunderstruck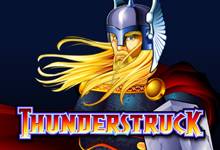 Microgaming
Thunderstruck
Unfortunately, this game is not available in your location
Why am I getting this message?
Thank you for informing us. Our engineers will work to fix the problem as soon as possible.
Get notified by email when this game is fixed
Thank you. Our engineers will inform you when the problem has been fixed.
Try these similar games instead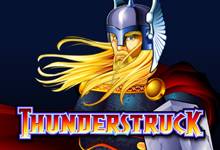 Microgaming
Thunderstruck
Rate this game:
Based on the ancient stories of the famous Norse God of Thunder u2013 Thor, this thrilling video slot is a sci-fi online game of a different kind. For even more excitement the slot has a scatter, a wild multiplier symbol and two bonus games on offer.
Play for free
Report a problem with this game:
Thunderstruck Slot Review
Thunderstruck is one of the oldest games on the market, in fact it's one of the games that helped Microgaming to build up its reputation. While it might look a little bit behind the times when compared to some more modern titles, there's still a lot going on in this game. In fact, behind the dated looks is a game that really grabs the attention. It's easy to see what it is about Thunderstruck that helped to grab the attention of players when it was first released back in 2004.
Pros and Cons
Wins are tripled during the free spins feature

It has quite a significant maximum payout for an older game

Wins featuring the wild symccbol are automatically doubled
Only has 9 paylines in play
Slot Details
The Thunderstruck slot game had its initial release in 2004. It means that it has well and truly been on the market longer than most other slots. In terms of looks, it does look a little bit dated in comparison to other games but this is nothing to worry about in general. Despite the slightly dated graphics, it would be unfair to say it looks bad, just that other games have surpassed it in the years since it was released. The game itself however is still excellent, with the gameplay mechanics offering a lot to players.
RTP and Volatility
There's an RTP (1) of 96.1% in place for the Thunderstruck online slot. This is generally in line with the average for the industry, which is instantly a great sign for the game. The RTP being set at this level means that every 1,000 that players wager an average of 961 are returned. It should be noted that this isn't a guarantee for every game, it is calculated over thousands of games.
In terms of volatility Thunderstruck is set at a medium level. By setting the game at this level it means that wins come along at a decent rate. However, added to this it also means that the wins are set pretty much in the middle as well. This makes the Thunderstruck slot a great game for players who have had some experience with video slots in the past, but are perhaps not quite comfortable moving to high volatility games.
The RTP value being below the market average isn't a huge problem due to the low to medium volatility.
The free spins round is where the top prizes are available in Thunderstruck. This is due to the wins all being automatically tripled during this round. It does ensure that some fantastic wins are available during the bonus.
The value of RTP (return to player) is calculated by division of money wonover money lost multiplied by one hundred. The RTP value has mathematical meaning as expected value.
Max Win
The maximum win for Thunderstruck is set at 3,333.33 times the player stake. This is managed by getting 5 of the Thor wild symbols on a single payline during the free spins round. This is just the payout for the Thor win. There is also the possibility for other wins to be created which can increase the size of the payout slightly.
Theme, Graphics and Audio
The graphics in Thunderstruck are very much a product of their time. They provide a colourful style which isn't realistic but isn't cartoony either. Everything looks pretty good, all of the symbols are easy to spot, it's just a case that newer games do have more impressive visuals on display than Thunderstruck does.
The theme is very much matched by the visuals though. Even the lower paying symbols have elements of the thunder god theme applied to them. This does add a little bit more to the game on the whole and makes sure that players are drawn in by it. The sounds are also of a good quality, which drags up the aesthetics for the game slightly.
How to Win at Thunderstruck
Game Rules
The game itself has a very simple setup in place. There's a set of 5 reels with 3 rows each. The game has just 9 paylines in place, which might not be on the level of some games today, but is still set at a decent enough level. The bonus features are what really makes this game impressive, with the wilds also offering a little bit more to players during the base game.
There is the ability to use an autoplay function. This certainly provides a level of control for players who want to try and manage their bankroll. The ability to set out a certain number of spins right from the start without having to count them manually. It definitely helps players who are looking to put strategies into place.
Betting Options
The coin values that are in place for Thunderstruck are between 0.01 and 10.00. Just a single coin can be wagered on each payline. This means that the overall betting range for Thunderstruck is between 0.09 and 90.00.
Symbols and Values
The symbols for Thunderstruck are generally linked to the thunder god theme the game has in place. So, there's a lot of lightning strikes and other aspects included on the symbols. This is the case for the lower paying playing card symbols as well. It makes sure that everything has a link to the overall theme and provides a lot of interest visually.
The higher paying symbols for Thunderstruck are as follows:
Thor's Hammer
Thor's Hand
Castle
Lightning Strike
Horn Flagon
As is often the case with video slot games, playing card symbols are used for the lower paying symbols in the game. Each one has a little bit of lightning added to it to make sure that it matches up to the game's theme. The low paying symbols in Thunderstruck are as follows:
Wilds, Scatter, Bonus Symbols
Thor is the wild symbol for the Thunderstruck slot machine, which isn't too much of a shock, he is the main focus of the Nordic legends after all. It can create a win on its own with at least 2 on a payline. It also doubles any other win that it helps to create.
Two goats are the scatter symbol for Thunderstruck. It awards an instant win as well as activating the bonus spins round.
You can see all of the different payouts in the paytable below:
| Symbol | 2 on a Payline | 3 on a Payline | 4 on a Payline | 5 on a Payline |
| --- | --- | --- | --- | --- |
| | 3x | 25x | 100x | 750x |
| | 2x | 25x | 100x | 750x |
| | - | 15x | 100x | 400x |
| | - | 10x | 75x | 250x |
| | - | 10x | 50x | 250x |
| | - | 10x | 50x | 125x |
| | - | 5x | 50x | 125x |
| | - | 5x | 25x | 100x |
| | - | 5x | 25x | 100x |
| | - | 5x | 25x | 100x |
| | 2x | 55x | 25x | 100x |
| | 18x | 45x | 180x | 4500x |
| | 10x | 200x | 2000x | 10000x |
All payouts are multiplied by the line bet
Thunderstruck Slot Features
There's a single bonus round in Thunderstruck which does provide a lot of interest to players. It's a free spins round, however, the wild symbol in the game does add a little bit of extra enjoyment to players during the base game.
Thor Wild Symbol
The Thor wild symbol gives players a little extra bonus whenever it combines with other symbols to create a winning combination. It will double the value of the win when it's included. This means that the wild symbol appearing on the reels doesn't just make wins more likely, but it makes them more valuable as well.
Free Spins
The free spins round begins when at least 3 of the goats scatter symbols land on the reels at the same time. When the round begins players are given 15 free spins. During this round all wins are tripled in value, which means that it is much more lucrative than the base game. What makes the round impressive is that the Thor wild symbol also doubles any wins that it is a part of during this round. So it means that the prizes will be increased by a multiple of 6 if a win is created with a Thor wild during the free spins round.
The free spins can also be retriggered during the round, meaning an extra 15 spins will be awarded if 3 or more of the goats land on the reels during the round.
What's great about the free spins round is that a payout of at least 5 times the player stake is awarded whenever it is triggered. It means that even if you don't manage to grab some big wins during the round, it isn't wasted as you will have won the initial payout when the round starts.
Thunderstruck on Mobile
Thunderstruck is a little bit of a disappointment in terms of mobile play. What makes it so disappointing is that even though it had an update in 2021, which apparently offered HTML5 (2) functionality, it's still not mobile compatible. This definitely takes away some of the positives for the game as a lot of modern players like to play on the go. The fact it is still getting updates to this day does mean that there's still a chance it could be mobile compatible at some point in the future.
The new power of HTML5 supplies the user everything from animation to graphics,
music to movies, and can also be used to build complicated web applications and also supports cross-platform. HTML5 standard initiates the development of real-time collaborations in web browsers, which leads to less work for web developers.
Thunderstruck Tips
What makes video slots so exciting is the unpredictable nature of them. However, this obviously means that it's not possible to create a guaranteed winning strategy. This is due to the random number generator that underpins how all video slots work. This makes the game random on every spin with no way of predicting how the reels will land. Despite the random nature of the game, players are still able to increase the potential for grabbing big wins with some tactics that can be applied. We have put together some of the best ones we know to help you when playing.
Budget for as many Spins as you can
The bonus round is where the big wins come along in Thunderstruck. This is due to all wins being tripled in size during the free spins round. This is why it's best to aim to have enough spins in play to make it more likely to access this round. As such, setting your stake at a level that allows at least 200 spins will give you a better chance of triggering the free spins. From here you will have the chance to get some of the most lucrative wins in the game.
Don't Spend more than your Budget
Your budget should always be your limit when playing. So, once your budget has been set make sure that you don't make additional deposits. This is the first step on the way to spending money that you don't have on the slot. By the same token, if you have made a profit that you are happy with then you should walk away. This will stop you from continuing to play and eating into the profit you have made if you go on a losing run.
Try out the Free to Play Mode
Even though video slots can't be predicted, there is still value to be had by trying out the demo mode. The first benefit is that it will allow you to get used to the mechanics of the game. This way you won't be surprised by anything when playing the game for real. The second benefit is you will be able to get an idea of how long it takes for the bonus round to trigger. While this is obviously not a guarantee that it will trigger within a certain number of spins, it can give you an insight into how long the algorithm takes to start activating it.
Thunderstruck Sequel
There is a Thunderstruck sequel on the market. It has the obvious title Thunderstruck II. The game is quite similar in terms of visuals to the original but it does have some gameplay changes in place. The first main area where it has a change is the paylines. The original has 9 paylines and the sequel boosts this up with 243 ways to win in place. It definitely adds a bit more excitement to proceedings.
There are also a lot more bonus features included in the sequel, with a number of different free spin variations on offer to players. This makes the bonus rounds a bit more different and engaging due to the added variety.
Overall Rating
Thunderstruck is one of the older games on the market and as such it's not quite as innovative as some of the newer games around. However, it's extremely popular and is very much one of the games that helped to build the popularity of video slots at online casinos. We have taken a final look at the most important areas of the Thunderstruck slot in order to give you a snapshot of what it's all about.
The user experience for the Thunderstruck slot is generally okay. It is easy to control and the autoplay is simple to use. The real issues start with the lack of mobile version, which obviously brings down the overall user experience.
The only feature in the Thunderstruck slot is the free spins round. While it's a very good feature, with tripled wins on offer during the round, it would be nice to see a few more features on show. The small number of paylines is also a little bit of a downside in regards to the features.
This is an area where Thunderstruck really shines. With more than 3,000 times the player stake available to players, there are some excellent wins available here. With doubled wins for wild symbol combinations and tripled wins in the free spins round, this is definitely a good paying game for a medium volatility slot.
This is another area where the Thunderstruck slot falls slightly short. It doesn't look bad, the visuals are all drawn well enough to avoid any confusion on the screen, it's just that it doesn't quite have the polish that other slots have. This is more down to the age of the game rather than Microgaming not putting in enough effort. So it's not something to really be worried about.
Thunderstruck is a very enjoyable game and the bonus rounds make some great wins possible. However, it has been overtaken by other games on the market, most notably its own sequel. It's definitely worth playing, even just to say you have played one of the classics, but if you want something with a little more kick, then Thunderstruck II is probably the better choice.
Thunderstruck FAQs
Where can I play the Thunderstruck slot for free?
You can try out the demo version of the Thunderstruck slot right here at MrGamez.com. All you need to do is load up the game and you can start playing right away. This will let you put together your strategy without spending any of your budget.
Can I play the Thunderstruck slot game for real money?
Yes you can. All you need to do is find the right online casino for you. Just take a look at the different online casinos in our detailed reviews and from there you can find the best site to play Thunderstruck for real money.
Can I play the Thunderstruck slot machine using cryptocurrency?
It depends on the casino you are playing at. If you have chosen an online casino that doesn't allow cryptocurrency then you won't be able to play the title with crypto. However, if you've chosen a crypto friendly casino then you will be able to play the Thunderstruck slot with crypto very easily.
Is the Thunderstruck online slot available in my country?
There's a good chance that it will be available in your country. This is because Microgaming is one of the most well known and trusted software developers in the world. There are very few countries that don't allow games from Microgaming, but it is still worth double checking before you try to play.
References
Balabanov, T (2015 February). Retrieved October 31, 2021, from https://www.researchgate.net/publication/295173180_Slot_Machines_RTP_Optimization_with_Genetic_Algorithms


Rajesh, Ch (2014). Retrieved October 31, 2021, from http://ijcsit.com/docs/Volume%205/vol5issue02/ijcsit20140502328.pdf
Game statistics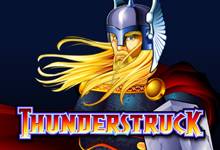 Players who played this game also played: