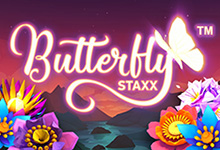 NetEnt
Butterfly Staxx
No matter how you spell the word, weu2019re a big fan of stacks when it comes to online slots. Stacking wild symbols is always fun, and even stacks of standard icons tend to be helpful for players.
Play for free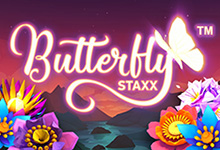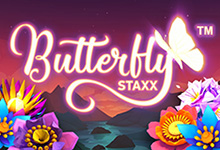 Unfortunately, this game is not available in your location
Why am I getting this message?
Thank you for informing us. Our engineers will work to fix the problem as soon as possible.
Get notified by email when this game is fixed
Thank you. Our engineers will inform you when the problem has been fixed.
Try these similar games instead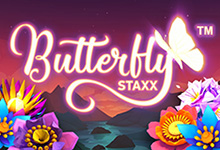 NetEnt
Butterfly Staxx
Rate this game:
No matter how you spell the word, weu2019re a big fan of stacks when it comes to online slots. Stacking wild symbols is always fun, and even stacks of standard icons tend to be helpful for players.
Play for free
Report a problem with this game:
Butterfly Staxx Slot Review
No matter how you spell the word, we're a big fan of stacks when it comes to online slots. Stacking wild symbols is always fun, and even stacks of standard icons tend to be helpful for players. And if you like high volatility play, stacking symbols is an easy way to give it to you, as it's almost always boom or bust on these machines.
That's part of why we were immediately attracted to Butterfly Staxx by NetEnt. The stacking idea is right in the name, after all, and who isn't a fan of butterflies? Of course, names don't make great machines – excellent gameplay and presentation do, and this title delivers on both of those counts. With some very cool mechanics and some unique ideas on how to structure their free spins round, this is a game that we think many players will want to check out, if for no other reason than that it is a bit different from what we ordinarily see.
Butterfly Kisses
The first thing that will jump out at you when you load up the Butterfly Staxx video slot is the very bold color selection that the machine uses. Everything is bright, but simultaneously just a bit muted, with a sunset backdrop creating a striking image. The whole thing looks just a bit unreal, and almost alien in appearance, but it is also quite beautiful, and there's just enough movement on the screen to prevent things from getting too static.
This is definitely a nature-themed slot, and it shows in both the artwork around the game – a large flowering plant bursts to life on the left side each time you trigger one of the game's special features, and the backdrop is a natural scene with some mountains in the distance – and with the icons themselves, many of which are colorful flowers.
This game was produced by NetEnt, one of the best software developers in the business. The company is known for making great real money online slots, and working with a large number of safe and secure online casinos, ensuring that you'll have plenty of good choices when it comes to deciding where you want to play this game.
Catching Bugs
As in most online slots, the object of Butterfly Staxx is to match symbols from left to right across the reels. There are generally two classes of icons that you can find on the screen, with most of them requiring at least three in a row to earn a small prize. This starts with the lower-value symbols, which (as in many games) are based on high card ranks: everything from jacks up through aces.
For high-paying wins, players will need to match three different colorful flowers. The biggest payouts of all come from the butterfly, which is the symbol that lies at the heart of this entire game. Unlike other options, this one can win if you only hit two in a row. And because it appears stacked on the reels, you'll often make wins on a number of different paylines when they appear.
Flying Across the Screen
The main Butterfly Staxx special features all revolve around this symbol as well. If a stack of these icons covers an entire reel, all butterflies on screen will fly to the left, taking up the leftmost positions on the reels possible. You'll then get a free re-spin of all other symbol positions. If any more butterflies appear, another reel re-spin will take place. These will continue to happen until you do not get any more new butterflies, at which point the feature will end and you'll get paid for any win lines you've made.
If you can hit three or more scatter symbols, you'll trigger a Butterfly Spins game, which is really a unique way of handling a free spins feature. This bonus game sees players enjoy up to seven spins in which there's only one thing appearing on the reels: cocoons. Some of these will be "active," and will hatch butterflies. These will fly to the left just as in the stacked feature we described above, and then any wins you've made will be paid out. The butterflies will be locked in, and a new spin will begin, allowing more to hatch. Since all of these high-paying symbols are sticky, this can add up to some massive payouts in the last few free spins!
Finally, we'd be remiss if we failed to mention that this machine also features some wild symbols. These (which include the word wild, making them easy to identify) can substitute for any regular icon on the reels, helping to make longer winning combinations for you.
Not Just a Social Butterfly
Given the relative lack of features and the simple, welcoming theme, we would understand if players read this review and assumed that the Butterfly Staxx video slot was mostly meant for casual, low limit players. But serious gamblers and high rollers can get plenty out of this machine as well. The free spins mode offers some truly huge prizes, and the betting limits are wide enough to satisfy players of many different budgets.
We also liked that this – as with all of NetEnt's latest releases – was designed entirely in HTML5, which means it has full compatibility with a wide range of mobile devices. This is certainly a game that's a bit out of the ordinary, but we're excited for this new NetEnt title, and think that many players will have a great time with it as well.
Game statistics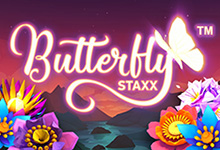 Players who played this game also played: