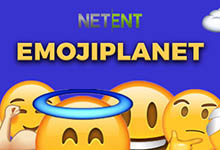 NetEnt
Emojiplanet
Whether you want to smile, cry, wink, or just look cool, todayu2019s Internet doesnu2019t force you to express your feelings in words alone.
Play for free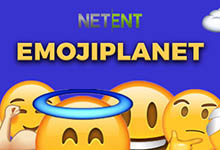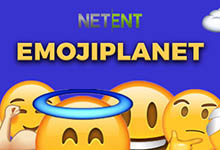 Unfortunately, this game is not available in your location
Why am I getting this message?
Thank you for informing us. Our engineers will work to fix the problem as soon as possible.
Get notified by email when this game is fixed
Thank you. Our engineers will inform you when the problem has been fixed.
Try these similar games instead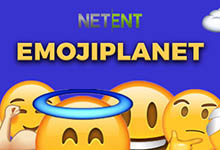 NetEnt
Emojiplanet
Rate this game:
Whether you want to smile, cry, wink, or just look cool, todayu2019s Internet doesnu2019t force you to express your feelings in words alone.
Play for free
Report a problem with this game:
Emojiplanet Slot Review
Whether you want to smile, cry, wink, or just look cool, today's Internet doesn't force you to express your feelings in words alone. Emojis have become an important part of online communication, whether it's throwing a little confetti into a message about a party, letting your friends know you're up for a beer, or telling your buddies that you're heady out to the gym. If a picture is worth a thousand words, an emoji is at least worth 100 characters on Twitter.
Yes, these emotes are everywhere today, and the world of online slot machines is their next stop. Emojiplanet by NetEnt is one of the most recent online slots from the developer, and takes a shot at translating the tiny little pictures we insert into our virtual conversations everyday into a way to place bets and gamble. The result is a unique slot machine, one that combines an unusual theme with an uncommon (but increasingly popular) play style in order to stand out from the crowd of recent releases.
Second That Emotion
The Emojiplanet video slot is one of the newest games included at online gambling sites using software by NetEnt. The theme, as you likely already know, is emojis, and you'll see just about all of the most popular virtual icons somewhere in this machine. A bunch of them appear on the reels themselves, but many more are around the play area in order to really push the aesthetic. Combine that with a peppy, modern soundtrack, and you are definitely looking at a game that is pushing a goofy look at web culture.
Given that theme, it would be easy to think that this game was meant only for casual players. And while it is true that plenty of low limit options are available, you can set your coins to some pretty high denominations: the max bet of €200 per spin is definitely enough to satisfy nearly any high roller. Of course, you can play for free as well, either to enjoy the game on its own merits or test it out before risking real cash. The software used here offers compatibility with almost any device, meaning that you can connect with your iPhone, Android, or just about any mobile phone you can think of it you'd like to play on the go.
Come Together
The Emojiplanet video slot play look like a large six-reel slot machine at first, but the game actually uses what is known as a cluster pays format. This means that the 5×6 grid doesn't contain traditional paylines, but instead asks you to try and collect groups of symbols anywhere on screen. Icons are said to belong to the same cluster if they are consecutive and connected horizontally or vertically to at least one other identical icon. You'll need a group of at least five in order to score prizes, and the bigger, the better: the largest payouts come by filling the entire screen, resulting in a 30-symbol cluster.
The symbols you'll be matching are all based on rather famous emojis. For smaller rewards, you can try to clump together rockets, kisses, pizza, bombs, or the "two hearts" image. Piles of poop, aliens, and the tears of joy are the three high-paying options, with the latter being the most lucrative. In fact, if you can somehow make a group of 30 of these smiling and laughing faces, you'll win a prize equal to 500 times your spin bet – or 10,000 coins at the lowest betting level.
Fill the Meter
Special symbols play a major role in this game, and that starts with the wild symbols that can appear anywhere on the reels. These, as you would expect, will fill in as substitutes to complete any winning combinations they can. A single wild can take part in more than one winning group as well, so these can add a lot of wins when they appear in the right places.
One important aspect to this machine is the fact that it uses a cascading reels format. That means that every time you make at least one paying combination, the winning symbols will leave the reels, allowing new ones to fall in their place. This process continues again and again until you hit a screen with no wins at all. However, there are ways to continue the action. Each time you win with the lower-value symbols, you'll start to fill meters on the right side of your screen. Collect 12 of the same icon through this process, and you'll fill the meter once (it is possible to build up multiple meter fills). Once you hit what would be a losing board, these meters can trigger features to help you press on with more wins.
Each emoji is attached to a different feature that has an impact on gameplay. Here's a quick rundown of what each one can do for you:
Bomb: This feature destroys eight random symbols, earning you an immediate prize and allowing some new characters to fall into place.
Pizza: This bonus will see a 3×3 grid of nine identical symbols be played somewhere on the reel, triggering an instant win.
Kiss: This will add three sticky wilds to the screen in random locations. Each of these has three "lives," and each time they take part in a winning combination, they will lose a life. Once they are used up, these wilds will disappear just like any other symbol.
Rocket: This will add 10 stacked wilds to one of the columns on the screen, triggering at least one winning combination.
Hearts: This feature won't continue your gameplay, but it will increase your payouts. You'll get a multiplier equal to the number of times you've filled the hearts meter plus one, which will apply to everything you collected on this round of play.
Time to Press Send
If you've always wanted to get just a little more Internet mixed in with your gambling, then you'll definitely want to play Emojiplanet. That doesn't mean this is only for casual gamblers, but that's definitely where this game is being marketed: everything from the cluster pays format to the very social media-inspired graphics has been designed to appeal to new markets, rather than the same old players that have always enjoyed online slots. While we had a lot of fun playing this machine, we'd recommending playing a free Emojiplanet slot machine if you're not sure how you feel about the theme or format.
Game statistics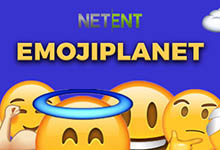 Players who played this game also played: