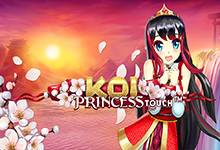 NetEnt
Koi Princess
Rate this game:
If youu2019re interested in animu00e9, then youu2019ll definitely be fulfilled by playing the u2018Koi Princessu2019 slot game from Netent. The game is obviously set in the Far East, presenting you with a wonderfully designed figure of the actual princess herself, who is stood to the left of the reels.
Play for free
If you're interested in animé, then you'll definitely be fulfilled by playing the 'Koi Princess' slot game from Netent. The game is obviously set in the Far East, presenting you with a wonderfully designed figure of the actual princess herself, who is stood to the left of the reels. As she overlooks your game play, you'll also be able to see a background of waterfalls and temples, giving an ultimately serene and almost zen feeling every time you access this product. Not only that, but there's also a very authentic and appropriate piece of music included in the game, affording you even more of a realistic Eastern experience. As the developer themselves state, it's also one of the "most featured-packed slots" that they've ever made, and when you put this together with the intricately designed graphics and expert animations, you'll surely have hours of endless fun playing the Koi Princess game.
Dynamic Reels with Intriguing Icons
As an online video slot, this product follows the same layout as the standard offerings for such, presenting players with a five reel and three row interface to play on. Of course, these are filled with symbols which are relative to its theme, which is something that Netent barely ever fails to deliver on. So, you can look forward to spinning icons of golden pendants which are strapped together by a blue piece of fabric, a lion statue, an icon that could potentially be a turtle, and one of the aforementioned princess herself as well. These are all joined by regularly appearing slot icons such as A, J, K, Q and 10. Alongside these, you'll find various different special feature icons, all of which trigger differing extras.
As well as its interface, Netent have also added a total of 20 separate pay lines to this game. These aren't able to be customised as they're fixed in place. However, if you do prefer to have a bit more control over the customisation options of a game, players can change around the bet amount placed per round. This is done firstly by altering the coin value, which has a range of between $0.01 and $1 per pay line, and secondly, via the amount of coins played per line. This has a range between one and 10. Should everything be placed at its maximum amount, you'll be able to place a high overall wager of $200 per spin.
Celebrate the Special Features in a Place of Tranquillity
The first added extra of this product is its 'Bonus Bet' feature. You'll be able to see this on the main game play layout in the bottom right hand corner. Activating this will double your bet, but it will also present you with a much stronger probability of being on the receiving end of a random feature and a bonus feature. It will also change the values on the included bonus wheel and increase coin wins for the 'Sure Win Freespins' round.
The touched upon 'Random Features' are four strong. These are as follows:
The 5-Hit Random Feature. This awards the player a single spin with a guaranteed 5-symbol win, which also includes a random symbol and bet line.
The Random Wild Random Feature. This will see you receive one spin with four to nine overlay wilds, which will be placed randomly on the reels.
The Wild Reels Random Feature. With this, you'll be given one spin where between two and five random reels are covered with only overlay wild icons.
The Bonus Activation Random Feature. This offers up a single spin where three bonus icons are presented to you and a single bonus feature is randomly awarded.
The game has its own 'Bonus Feature' round as well, which is activated when three or more bonus icons appear anywhere on reels one, three and five. There are also four of these, which are as follows:
Sure Win Freespins. Here, you'll be awarded a total of 10 freespins, and during this round, the win for each of your spins will be at least the same as the largest amount won during the session, except for the first one.
Wild Reels Freespins. In this version of the freespins mode, you're once again awarded 10 of them, but for each spin, between one and five random reels will be covered with overlay wilds.
Bonus Wheel. The bonus wheel offers a bonus game where the player can win coins and activate the two other freespins rounds. It's a 3-tiered wheel with each tier divided into 12 locations. The dice is clicked to set the wheel in motion.
Coin Win. This feature awards the player an instant coin win.
Summary
Koi Princess is definitely filled to an almost overflowing state with added extras. It's hard to not play the game just to see what is awarded to you next. With this and the added perk of great graphics and animations, you'll be sure to enjoy spinning a few rounds.
Game statistics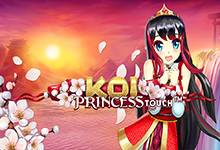 Players who played this game also played: